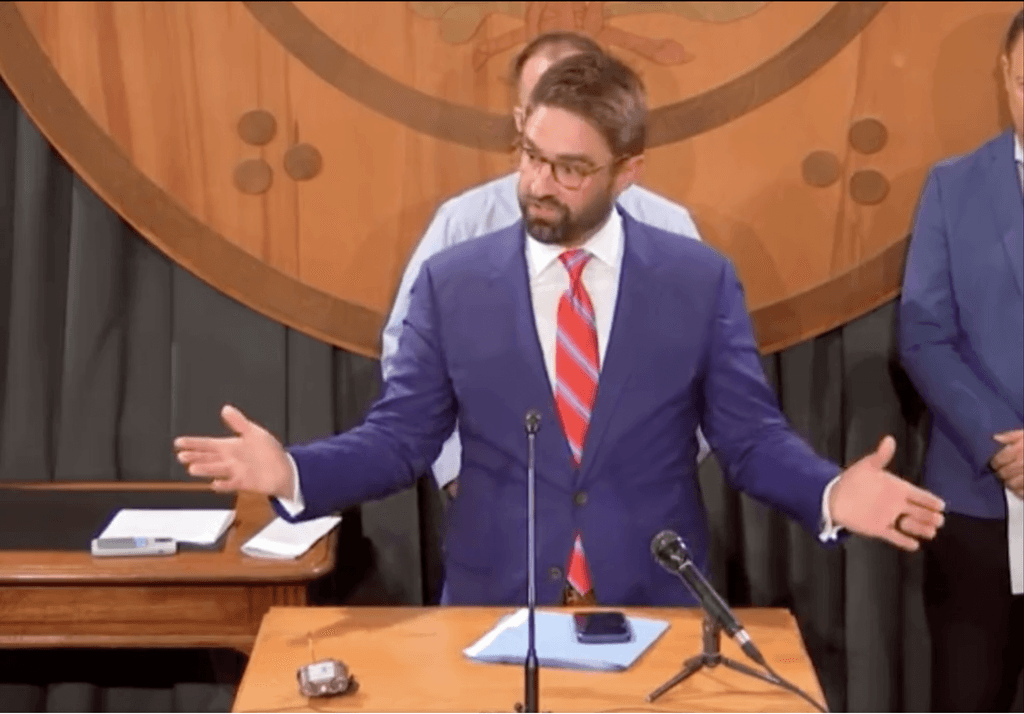 Nearly 90 members of the Texas House of Representatives from across the ideological spectrum have issued a bipartisan call for the Texas Board of Pardons and Paroles and Governor Greg Abbott to grant clemency to death-row prisoner Melissa Lucio.
In a news conference in the state capitol on March 24, 2022, State Rep. Jeff Leach (R-Plano, pictured), co-chair of the House's bipartisan Criminal Justice Reform Caucus, announced that 81 House members had signed a letter urging Governor Abbott and the pardons board to spare Lucio, who is scheduled to be executed April 27. Leach was joined in the well of the House by five other House lawmakers, Reps. Rafael Anchia (D-Dallas), Lacey Hull (R-Houston), Joe Moody (D-El Paso), Senfronia Thompson (D-Houston), and James White (R-Hillister), who urged that Lucio be granted clemency. By the end of the news conference, six more Republican House members had asked to sign on the letter, Leach said.
Lucio was sentenced to death in Cameron County, Texas in 2008 on charges that she murdered her two-year-old daughter, Mariah. Lucio's legal team filed a clemency petition with the pardons board on March 22, 2022, arguing that new expert reviews of the evidence in her case demonstrate that the toddler died from an accidental fall down steep stairs at the family's new home. The petition included statements of support from jurors, forensic and medical experts, anti-domestic violence activists, religious leaders, exonerees, and Lucio's siblings and children.
"The system literally failed Melissa Lucio at every single turn," Leach said at the news conference. "As a conservative Republican myself, who has long been a supporter of the death penalty in the most heinous cases, I have never seen a more troubling case."
Rep. Moody, the co-founder of the justice reform caucus, said "this case shows that the death penalty process in Texas cannot be trusted to provide justice to all of us."
Rep. Hull agreed, calling the case "especially troublesome, maybe the most questionable and concerning death penalty case Texas has seen in some time." "The facts simply do not support any conclusion that Ms. Lucio committed capital murder and is deserving of the ultimate punishment from the state of Texas," she said. "We policymakers have an obligation and opportunity to speak out when there is injustice. Here, in the case of Melissa Lucio, there is clear injustice."
Rep. Senfronia Thompson, D-Houston, said Lucio was subject to "a lifetime of domestic abuse and trauma that numerous studies have confirmed makes her especially vulnerable to coercion and accepting blame for a crime she didn't commit." She noted that the interrogation techniques used to secure Lucio's statement that she was responsible for Mariah's death "have been shown to wear down subjects into false confessions." "In this case, Melissa denied having done this 80 times over the course of interrogation before finally simply agreeing with the interrogators who were saying instead of supplying her own account of what happened," Thompson said.
Rep. Anchia stressed that all six of Lucio's remaining children submitted victim-impact statements to the pardons board imploring the board to spare their mother's life. "They are wanting to see their mother live," Anchia said. "The people who are alive to tell Mariah's story and advocate for Mariah, all are saying do not kill Melissa and that is the most important thing."
In an interview with The Texan after the news conference, White questioned the competence of Lucio's lawyers at trial. "It would be good for us to have an institution or a process where we nurture a core of attorneys that we know have the requisite skill set and experience in dealing with these cases," he said.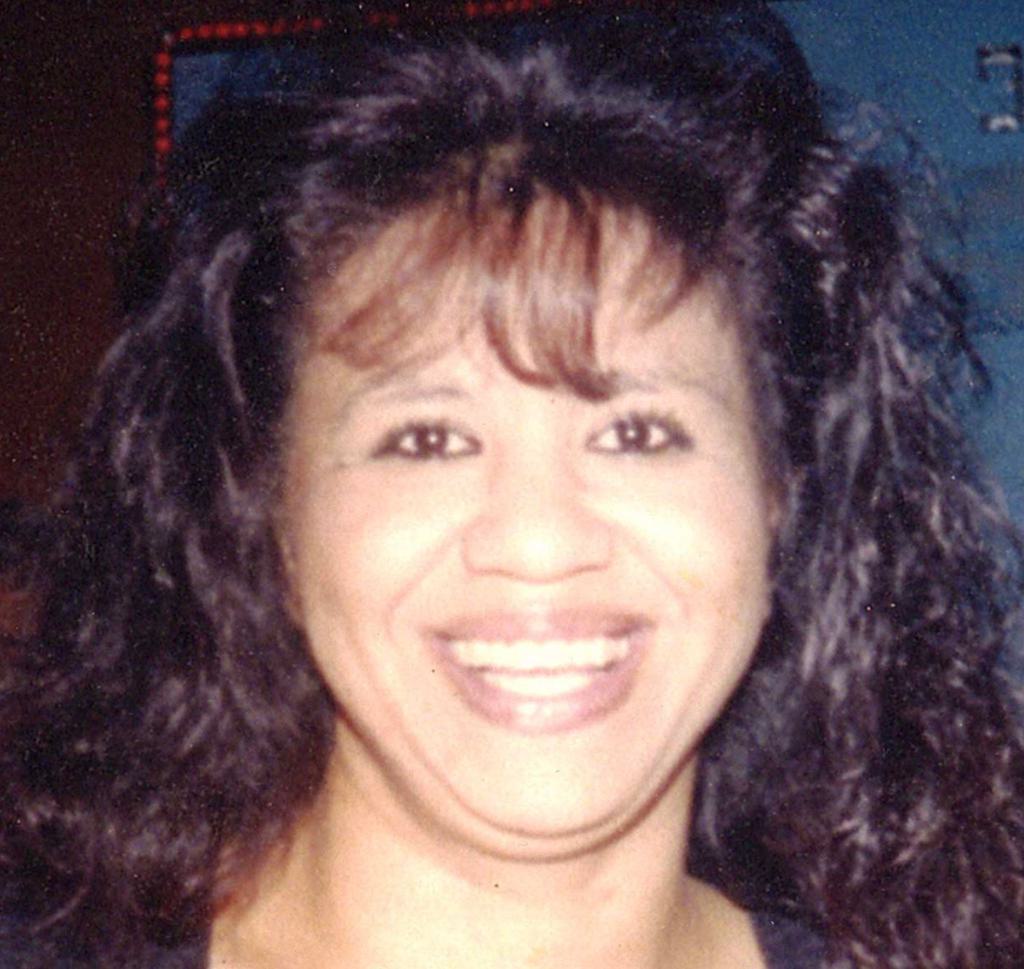 Lucio's Clemency Petition
Lucio's clemency petition described her case as a continuing victimization of her entire family.
"Fifteen years ago, a loving family suffered an unfathomable loss when two-year-old Mariah Alvarez died days after an accidental fall down a flight of stairs," her lawyers wrote. "The family now faces the incalculable loss of their beloved mother, sister, and grandmother, slated to be executed for a crime that never occurred. The execution of Melissa Lucio would be a historic miscarriage of justice. The Board has the power to prevent the execution of a wrongfully convicted woman and spare this family the anguish of losing Melissa, compounding the tragedy they have already endured."
The petition argues that prosecutors relied heavily on a coerced confession and unscientific testimony from an expert in their case against Lucio. Lucio, a survivor of domestic violence, has spent more than 13 years on death row after the death of her toddler.
Lucio's legal team contends that Mariah died from complications stemming from an accidental fall down stairs at the Lucio home two days earlier. Medical records show Mariah had a physical disability that left her prone to stumbling and falling. Hours after Mariah's death, Lucio was brought in for a late night of extensive questioning. According to the petition, Lucio reportedly denied hurting Mariah more than 100 times before, grief-stricken, she yielded to the interrogator's repeated demands to "get it over with" and said ""What am I going to say? I - I'm responsible for it."
Around the time of the trial, clinical psychologist Dr. John Pinkerman said he reviewed the interrogation and was prepared to testify that Lucio's psychological characteristics increased the likelihood that she would acquiesce during interrogation. Pinkerman said that when Lucio admitted "I'm responsible" hours after her child's death, she appeared to be taking responsibility for the "whole configuration of the abuse and medical neglect by the family," not for allegedly killing Mariah by physically striking her.
"My review of her videotaped statements revealed that she was isolated for approximately 5 hours, repeatedly interrogated by male police officers in close quarters, was not provided a place of opportunity to rest and not provided food or water," Pinkerman said in an affidavit submitted to the pardons board. Pinkerman said he raised these issues in meetings with defense counsel, but he was never called to testify and trial counsel never raised the issues.
The clemency petition also sharply criticized the methodology and conclusions of the state's trial expert, Dr. Norma Jean Farley, who told the jurors that Mariah could only have died from abuse. The petition argues that Farley's conclusion was likely tainted by confirmation bias from the coerced confession. National recognized forensic experts who reviewed the evidence for the defense concluded that Mariah's death was consistent with medical complications from a fall down the stairs.
"Dr. Farley failed to consider Mariah's prior medical history, which included trouble walking and documented falls, as well as a prior traumatic brain injury; information about Mariah's behavior in the days before she died, including excessive sleep and loss of appetite, which were consistent with head trauma after an accidental fall; or potential non-abuse causes for Mariah's injuries, including evidence that Mariah had a blood coagulation disorder that causes profuse bruising throughout the body," the petition said.
The petition also presented affidavits from four of the jurors who voted to sentence Lucio to death. Each of the jurors expressed concern about the misleading nature of the evidence presented at trial and said that they would have voted differently had they been presented the evidence Lucio's legal team uncovered after the trial.
The petition also asks the board to show mercy to Lucio as a result of the years of domestic abuse she experienced. Her lawyers argue that a grant of clemency would be advance the policies behind Governor Abbott's decision to establish a special pardon process for survivors of domestic violence and human trafficking.
In a letter of support for the petition, a coalition of 50 anti-domestic violence organizations echoed this call. "The police officers who led the interrogation were male and some were armed," the coalition wrote. "One stood over her. One yelled at her. Another detective, who was clearly armed, leaned within inches of her face. … Simply put, this type of interrogation does not comport with best practices in the treatment of trauma survivors. The tactics used by the police who interrogated Melissa were not designed to let her tell her story. They were designed with one end in mind: to get Melissa to admit that she killed her daughter."
Abbott has granted clemency in a death sentence case only once, commuting the death sentence of Thomas "Bart" Whitaker to life in prison less than an hour before he was scheduled to be executed. Lucio's petition notes that Whitaker had been convicted of killing members of his family and commutation was granted at the request of the surviving member of his family, his father. Similar considerations favor clemency in Lucio's case, the petition says.

Sources
Jolie McCullough, More than half of the Texas House wants to stop the exe­cu­tion of Melissa Lucio, con­vict­ed of killing her tod­dler, Texas Tribune, March 24, 2022; Laura B. Martinez, Bipartisan law­mak­ers show sup­port for Melissa Lucio, Brownsville Herald, March 24, 2022; Edward McKinley, More than 80 Texas law­mak­ers request reprieve for Melissa Lucio, sched­uled for exe­cu­tion in April, Houston Chronicle, March 24, 2022; Chuck Lindell, Bipartisan major­i­ty of Texas House urges clemen­cy for death row inmate Melissa Lucio, Austin American-Statesman, March 24, 2022; Hayden Sparks, Texas House Members Say South Texas Woman Scheduled for Execution Could Be Innocent, The Texan, March 25, 2022; Michelle Onello, Bipartisan Groups Urge Reconsideration of Melissa Lucio's Death Sentence, Ms. Magazine, March 25, 2022; Staff report, Melissa Lucio, Scheduled to be Executed on April 27, Appeals to Texas Pardons Board and Governor for Clemency, Innocence Project, March 22, 2022; Melissa Lucio's Application for Commutation of Death Sentence to a Lesser Penalty or, in the Alternative, a 120-Day Reprieve from Execution; Erik Ortiz and Minyvonne Burke , Melissa Lucio, only Latina on Texas death row, seeks clemen­cy as exe­cu­tion looms, NBC News, March 22, 2022; Chuck Lindell, Seeking clemen­cy, lawyers argue Texas is about to exe­cute an inno­cent woman Austin American-Statesman, March 22, 2022.
Read the Texas leg­is­la­tors' let­ter sup­port­ing clemen­cy.