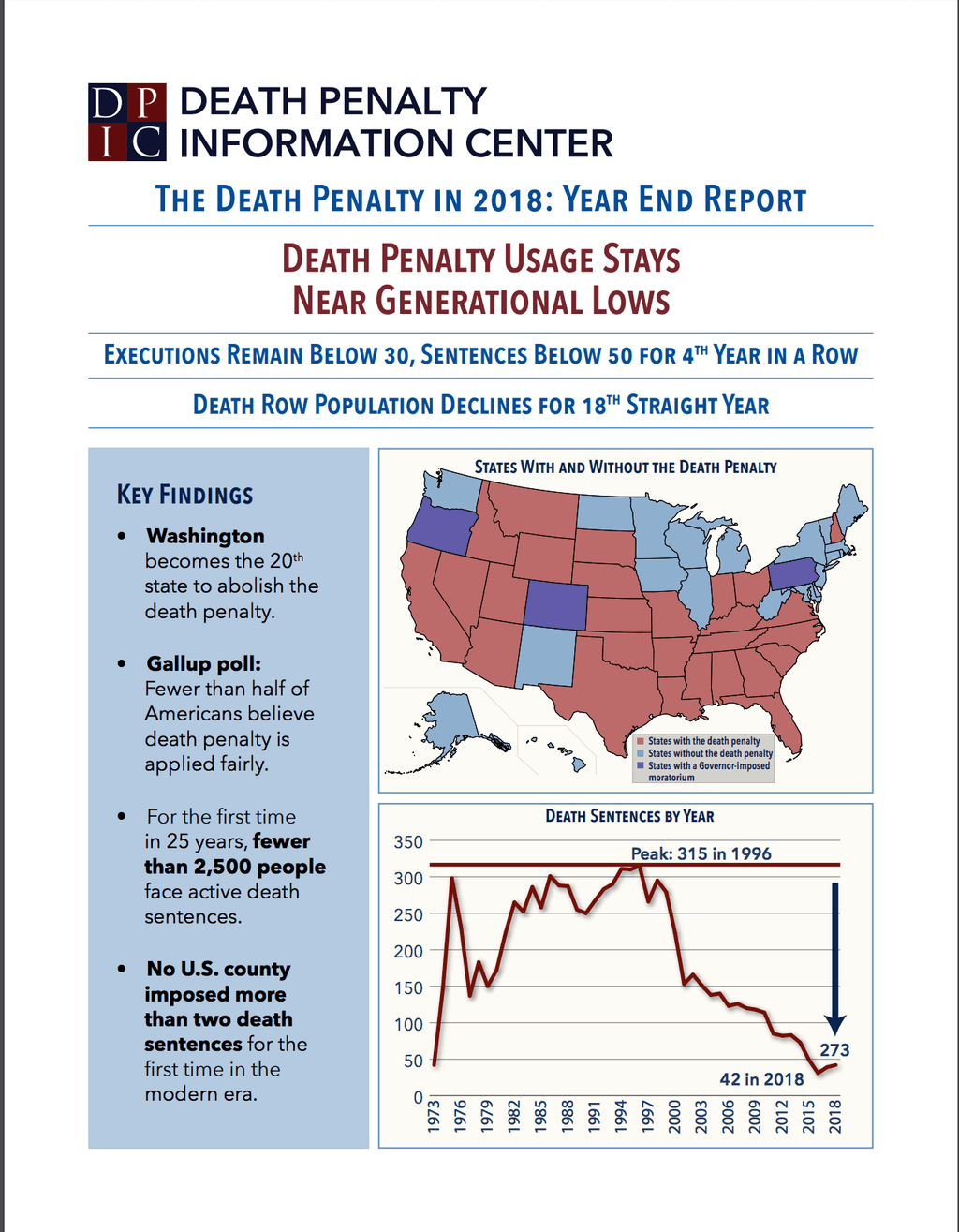 In the latest podcast episode of Discussions with DPIC, members of the DPIC staff discuss key themes from the 2018 Year End Report. Robert Dunham, Ngozi Ndulue, and Anne Holsinger delve into the major death-penalty trends and news items of the year, including the "extended trend" of generational lows in death sentencing and executions, election results that indicate the decline will likely continue, and the possible impact of Pope Francis's change to Catholic teaching on capital punishment. They explore the reasons for reduced death-penalty usage, highlighting the stories of people who were exonerated in 2018, the theme of executing people with characteristics that make them vulnerable to unfair legal proceedings, and the ongoing controversy surrounding execution methods.
DPIC Executive Director Robert Dunham noted the importance of the shrinking death-row population, saying, "Death row is declining in size even as the number of executions is declining, which suggests that the decline is a result of the erosion of capital punishment, as opposed to it actually being carried out." He explains the lack of death sentences in several traditional death-penalty states, including Virginia, North Carolina, South Carolina, and Georgia. "The biggest change is the availability of quality indigent defense," Dunham said, adding that the adoption of life without parole as a sentencing option has also been a major contributing factor.
Dunham addresses the theme of inadequate legal process, saying that the current system fails to ensure that prisoners' constitutional rights are fully upheld. "If we want the death penalty in the United States, … it's imperative that it be able to accurately assess whether somebody was fairly tried, whether somebody was fairly sentenced, and whether the individual deserves to live or die," he said. Those procedural failures, and the secrecy that surrounds executions, have created a "distrust" among the public that Dunham predicts with have a "prolonged and lingering effect." "In 2018, death sentences were down, executions were down for a variety of reasons, but I think one of the reasons that's going to last and contribute to a continued reduction in the future is that more and more people think that we can't trust the states to carry it out," Dunham concluded.
(Discussions with DPIC, 2018 Year End Report, December 21, 2018.) Listen to the podcast here. Read The Death Penalty in 2018: Year End Report. See Podcasts and Reports.
Representation
Nov 02, 2023
How A British Charity Works to Assist
US

Capital Defenders