Prosecutorial Accountability
Improper Argument: Skewing Jury Decisionmaking
It is fair to say that the aver­age jury, in a greater or less degree, has con­fi­dence that these oblig­a­tions [of fair­ness], which so plain­ly rest upon the pros­e­cut­ing attor­ney, will be faith­ful­ly observed. Consequently, improp­er sug­ges­tions, insin­u­a­tions and, espe­cial­ly, asser­tions of per­son­al knowl­edge are apt to car­ry much weight against the accused when they should prop­er­ly car­ry none.
Berger v. United States, 295 U.S. 78, 88 (1935)
Improper argument is a common form of prosecutorial misconduct; however, it often goes unremedied. Improper argument refers to anything the prosecutor says during opening or closing that violates the Constitution, state or federal law, or court rules that could prejudice the defendant. Improper argument is even more egregious considering it usually occurs during the opening or closing arguments, which lawyers painstakingly prepare for. Prosecutors have the floor to themselves, usually without interruption or surprises, and they choose to make arguments that misstate facts or are for the sole purpose of inflaming the jury.
Often, courts provide no remedy for improper argument, dismissing it as oratorical flair, or harmless error. Many instances of improper argument, however, tap into subconscious prejudices and beliefs, and the effects on a jury are difficult to quantify.
Improper argument can be difficult to appeal because of procedural bars. In most cases, challenges to improper arguments may only be heard on appeal if they were objected to at trial. However, many arguments may have not been objected for to avoid irritating the jury or judge or stopping the flow of the proceeding or because it has become clear that objections would not be sustained. Objections may also be missed due to ineffective counsel.
Some general classes of improper prosecutorial argument are: vouching for the credibility of witnesses; arguing facts not in evidence; inflammatory arguments such as direct insults toward the defendant or invoking religion; commenting on the defendant's decision not to testify in violation of the Fifth Amendment right against self-incrimination; misstating the law; or asserting one's own opinions on the defendant's guilt.

One insidious form of improper argument is invoking God or religion during trial. Prosecutors infuse biblical or religious law into their arguments for the death penalty. For example, in the case of Karl Chambers in York County, Pennsylvania, during the penalty phase, the prosecutor argued to the jury that Chambers should be put to death because, "[a]s the Bible says, 'and the murderer shall be put to death.'" The Pennsylvania Supreme Court held that the invocation of religious law was a deliberate attempt to destroy the jury's impartiality and objectivity. These types of statements violate the establishment clause of the First Amendment and remove the choice of the jurors by seemingly handing it to a higher power.
A related form of improper argument is the invocation of racial or religious animus during trial. Prosecutors exploit jurors' latent prejudices to secure a death penalty conviction. At the trial of Angle Joe Perrie Vasquez in Horry County, South Carolina, the prosecutor called Vasquez, a Muslim, a domestic terrorist and directly compared his actions to those that occurred on September 11, 2001. The court held that this invocation of religious animus, as well as incorrectly calling him a terrorist, a crime for which he was not charged, rendered the rest of the sentencing hearing fundamentally unfair. Other examples include tapping into longstanding racist tropes by using animal metaphors for black defendants to make the juries see the defendant as less than human. These types of arguments violate the Fourteenth Amendment and ask the jurors to consider factors that do not contribute to guilt or innocence, but merely play on potential biases.

Improper argument can also be part of a larger pattern of misconduct. Isaiah McCoy's Delaware death sentence was overturned in 2015 after the Delaware Supreme Court found that the prosecutor, R. David Favata, had improperly vouched for a witness and repeatedly demeaned McCoy for representing himself. Favata called McCoy illiterate, told him to act like a man, and said: "You can dress him up. He's still a murderer." Favata also lied to the trial court about attempting to intimidate McCoy. In a rare act of discipline, the Delaware Supreme Court suspended Favata from practicing law for six months because of his intentional misconduct. McCoy was later exonerated from death row.
Discussions With DPIC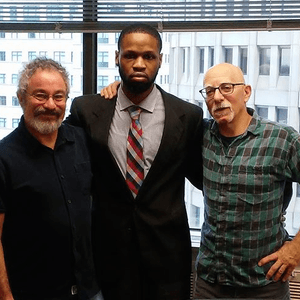 Innocence and Prosecutorial Misconduct