Doomed to Repeat: The Legacy of Race in Tennessee's Contemporary Death Penalty
Whenever the peo­ple of this city and coun­ty believe that cap­i­tal pun­ish­ment is nec­es­sary to expi­ate a crime, they hold their own court, select­ing a jury to their lik­ing, and if the deci­sion of ​'Guilty' is had, they fin­ish up their work at the old cour­t­house elm.
The Evening Scimitar, 1901
Could I put an amend­ment on that [bill regard­ing meth­ods of exe­cu­tion] that would include hang­ing by a tree?
Tennessee State Rep. Paul Sherrell, 2023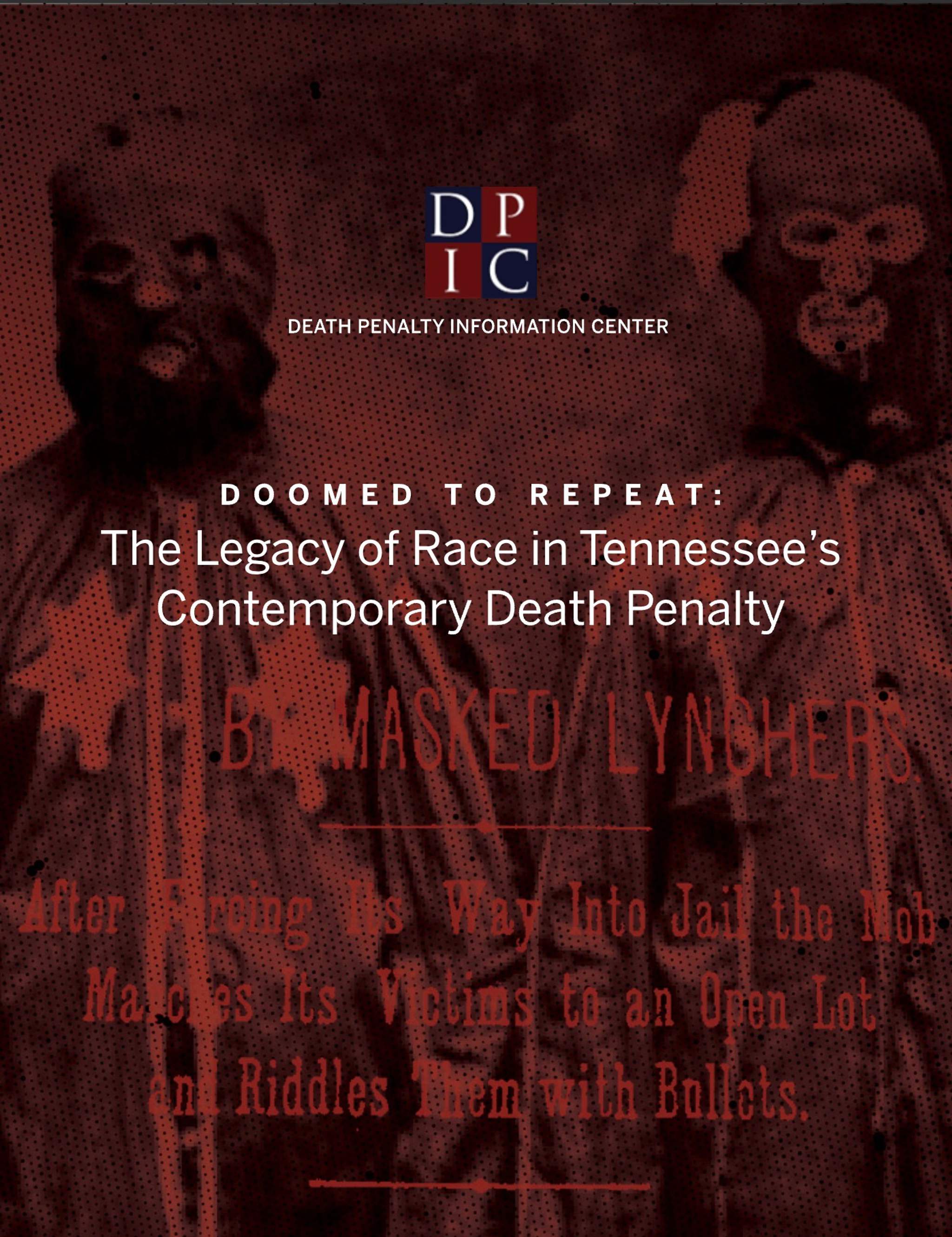 The historical use of capital punishment in Tennessee shows a clear connection between the extrajudicial lynchings of the 1800s and 1900s and the state sanctioned death penalty practices of today. As one lynching expert notes, "[l]ocal traditions, situations, and personalities must be considered in any attempt to explain patterns of lynching…." This emphasis on locality parallels modern death penalty trends in Tennessee—as well as the rest of the nation—wherein death sentencing is heavily dependent on local culture, prosecutors, and perceptions. An important legacy from the lynching era and early executions is the importance of race in determining how police, court systems, and the general public respond to crimes.
Given the intertwined nature of race, history, and the death penalty, lawmakers and Tennesseans who are considering the future of capital punishment in their state may find it useful to reflect on how Tennessee arrived at its current capital punishment system. State House Representative Paul Sherrell's suggestion to allow executions by hanging people on trees earlier this year shows the continued relevance of history.
At the time of publishing this report, Tennessee is not actively executing people because a review of the Department of Correction's lethal injection protocols revealed mistakes at every step in the lethal injection process. New protocols are expected to be released soon, allowing executions to resume. Best practices for execution protocols may change, but the state cannot change the history of capital punishment and how the legacies of racial injustice influence its modern capital punishment scheme.
This report explores the current issues with capital punishment in Tennessee through a historical lens, tracing the origins of the use of the death penalty from lynchings and other forms of racial violence directed at Black Tennesseans. The stories of individuals and communities that have interacted with different facets of Tennessee's justice system throughout history suggest that, in many ways, even though centuries have passed, the experiences of discrimination toward Tennessee's communities of color continue. A meaningful understanding of the state's history and its legacy of violence and racism is essential to avoid repeating the mistakes of the past.
To learn more, read DPIC's full report Doomed to Repeat: The Legacy of Race in Tennessee's Contemporary Death Penalty.
Below are key facts from the Doomed to Repeat report.
Historically, there were thirteen offenses for which Black people in Tennessee could receive the death penalty, compared to just two offenses for white citizens.
The Tennessee Slave Code of 1858­—which compiled all state laws relevant to slavery that were passed or revised following the state's creation in 1796—outlined 13 offenses for which Black people, both enslaved and free, could receive a death sentence. Eleven of these offenses carried a mandatory death sentence, and two provided a discretionary death sentence. From the beginning, the administration of the death penalty was largely dependent on the race of the defendant.

Historically, local officials were often complicit in lynchings and other forms of racial violence against Blacks in Tennessee.
White people who participated in racial violence operated with impunity in Tennessee. The complicity of local authorities ranged from active participation in race massacres—as demonstrated by the Memphis Massacre of 1866 in which police directed white mobs to "Kill every n***er, no matter who, men or women"—to passive inaction, when coroners and other officials refused to investigate lynchings and determined the victims were killed by unknown parties. Those who participated in these violent acts rarely faced consequences, which may be at least partially explained by the overlap between the perpetrators of violence and public officials.

Almost 40% of Tennessee homicide victims are white, but 74% of death sentences imposed in Tennessee since 1972 have involved white victims.


The race of victim effect is the most persistent, unexplained disparity in death penalty cases nationwide, and the bias for white victims holds true in Tennessee. A study of prosecutorial decision making in the state found that when the victim is white, prosecutors are 1.5 times more likely to seek a death sentence compared to cases with Black victims. The disproportionate rate at which prosecutors seek and juries impose death sentences for crimes involving white victims is reminiscent of historical death sentence and lynching trends in which defendants accused of harming white victims were more likely to find themselves on the receiving end of some form of lethal punishment.



Shelby County is a death sentencing outlier in the state and nationally.
Shelby County, where Memphis is located, is responsible for many of the state's death sentencing trends. Despite comprising just 13% of the state's total population, Shelby is responsible for one-third of all death sentences in Tennessee. Further, 60% of death sentences for Black defendants in the state have originated in Shelby County. In addition to being an outlier within the state, Shelby County is an outlier nationally. Compared to counties of a similar size (population between 750,000–1,000,000), Shelby County ranks third in the number of death sentences imposed.

The most likely outcome of a death sentence in Tennessee is reversal, commutation, or exoneration.
Two of every three death sentences in the state from 1972 to 2021 have resulted in a reversal, commutation, or exoneration. The reversal rate in Shelby County, the state's primary outlier county, is nearly 62%. These statistics point to the unreliability of the death penalty at both the state and county level in Tennessee.

In recent years, the state legislature has passed legislation that removes power from locally elected county prosecutors to handle various aspects of death penalty cases, allowing attorneys general to take control of local issues.
In 2021, the Tennessee legislature adopted a law that allows the state's attorney general to seek to replace a district attorney in a case if they believe that the locally elected district attorney is refusing to enforce the law. The state furthered their absorption of local control in 2023 by giving the state's Attorney General exclusive control over post-conviction proceedings in capital cases; some have suggested this law was a response to decisions by district attorneys general in Davidson and Shelby counties to reduce sentences for death-sentenced people whose trials had been tainted by racism or who raised substantiated intellectual disability claims. These laws remove the ability of local elected officials to decide how to best represent their constituents' interests.

Many historical issues related to race, including segregation and Black voter disenfranchisement, are still prevalent in Tennessee today.
Remnants of Jim Crow and segregation persist in Tennessee. Memphis, for example, is highly segregated. A 2021 study found 17 of the city's neighborhoods were at least 98% Black, and five were at least 90% white. Additionally, Tennessee has the highest proportion of disenfranchised Black residents in the United States, with more than 1 in 5 Black people unable to vote.

Homicides involving white victims in Tennessee are more likely to be solved than homicides involving Black victims.


A review of unsolved Tennessee homicides from 2013–2021 found that 29% of homicides of Black victims in the state went unsolved, compared to 11% of homicides of white victims. The racial discrepancies in homicide clearing rates suggest that cases involving white victims may be more likely to be prosecuted.



People on death row face legal barriers to seeking relief for jury discrimination in Tennessee because of the "reluctance by appellate judges to find racial bias when claims are presented."


A study on jury discrimination in the south conducted by the Equal Justice Initiative (EJI) suggested that, even when prosecutors used veiled race-based reasons to strike potential Black jurors, Tennessee's appellate courts rarely reversed decisions. At the time of EJI's study—and continuing for an additional six years—Tennessee was the only state studied whose appellate courts had

never

granted relief in a criminal case because of jury discrimination. The report attributed this anomaly to the failure of trial counsel to properly raise objections at trial and the "reluctance by appellate judges to find racial bias when claims are presented."



The Department of Justice's investigation into Shelby County's juvenile justice system found that "the data show that in certain phases of the County's juvenile justice system, race is—in and of itself—a significant contributing factor, even after factoring in legal variables.


In 2013, the U.S. Department of Justice launched an investigation into Shelby County's juvenile justice system. The investigation revealed that Shelby County was targeting youth of color, especially Black children, for prosecution in juvenile court. The investigation also found that Shelby County was transferring children—especially Black children—from juvenile courts to adult courts at a very high rate and was failing to "provide adequate due process protections for children before transferring them to the adult criminal court." Investigators concluded that "[the Juvenile Court of Memphis and Shelby County] transfers Black children to adult criminal court more than two times as often than white children…. This disproportionate impact cannot be explained by factors other than race."





Criminal histories developed as children have been shown to have a lasting effect. A study that analyzed the effect of juvenile records on those convicted of first-degree murder in Tennessee found that juries returned death sentences in 51.9% of capital convictions where the defendant had a juvenile record.The likelihood of a jury returning a death verdict for a defendant with one or two prior felonies was actually

lower

than the likelihood of returning a death verdict for defendants with juvenile records.
Ten Facts You Should Know About Tennessee's Death Penalty Administration