Recent court decisions in cases from Georgia and Arkansas reflect continuing judicial uncertainty regarding lethal injection secrecy. On October 12, an Arkansas trial court overturned the state's execution secrecy law and ordered the state Department of Corrections to disclose the drugs that it intends to use in executions and the source of those drugs. In a December 3 opinion requiring disclosure by the following day, Pulaski County Circuit Court Judge Wendell Griffen wrote, "It is common knowledge that capital punishment is not universally popular. That reality is not a legitimate reason to shield the entities that manufacture, supply, distribute, and sell lethal injection drugs from public knowledge." The next day, the state Supreme Court temporarily stayed Griffen's ruling, asking both sides to submit additional written arguments. On December 9, the U.S. Court of Appeals for the 11th Circuit issued a divided ruling in the case of Brian Terrell, denying him a stay of execution but expressing deep concern about execution secrecy. Judges Beverly Martin and Adalberto Jordan said they believed that Georgia's secrecy law created constitutional problems and that the appeals court's earlier rejection of a challenge to secrecy provisions had been wrongly decided. However, they said they were bound by precedent and therefore could not stay Terrell's execution. Judge Martin said, "Of course, I recognize the state's need to obtain a reliable source for its lethal injection drugs. But there must be a way for Georgia to do this job without depriving Mr. Terrell and other condemned prisoners of any ability to subject the state's method of execution to meaningful adversarial testing before they are put to death…Indeed, we have no reliable evidence by which to independently evaluate the safety and efficacy of the state of Georgia's secret drugs. For me, this raises serious due process concerns." Judge Jordan wrote, "Georgia can certainly choose, as a matter of state law, to keep much of its execution protocol secret, but it cannot hide behind that veil of secrecy once something has gone demonstrably wrong with the compounded pentobarbital it has procured."
Previously, in the case of Clayton Lockett, an Oklahoma trial court had overturned that state's secrecy law. The Oklahoma Supreme Court initially affirmed that ruling, but reversed its course after legislators had threatened them with impeachment. The Oklahoma Department of Corrections subsequently violated the execution protocol, botching Lockett's execution and executing Charles Warner with an unauthorized chemical. The Warner breach of protocol was not revealed until the state came within hours of repeating the violation in its aborted attempt to execute Richard Glossip. Oklahoma executions are suspended pending an investigation into the violations.
(C. Lauer, "Judge orders Arkansas to disclose source of execution drugs," Associated Press, October 12, 2015; C. Lauer, "ORDER FOR ARKANSAS TO RELEASE EXECUTION DRUGS SOURCE ON HOLD," Associated Press, December 4, 2015; B. Rankin, "Lethal injection secrecy rattles appellate court," Atlanta Journal-Constitution, December 9, 2015.) See Lethal Injection.
Innocence
Aug 17, 2022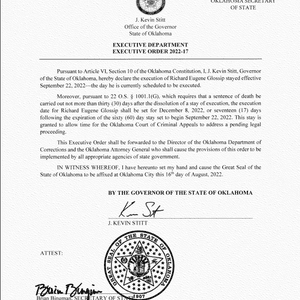 Oklahoma Governor Delays Richard Glossip's Execution to Allow Litigation of Innocence Claims