Forty-four former state and federal prosecutors and Department of Justice officials—including former U.S. Attorney General Michael Mukasey—have asked the U.S. Supreme Court to grant a new trial to Corey Williams (pictured), saying that Caddo Parish, Louisiana prosecutors violated their duty to ensure that "justice shall be done" by withholding exculpatory evidence in a murder case that sent an intellectually disabled teenager to death row.
Williams's petition alleges that police and prosecutors knew that Williams had been framed by the actual killers, that police coerced him to falsely confess, and that the prosecution deliberately withheld witness statements given to police that could have helped Williams prove he had been framed.
No physical evidence linked Williams to the 1998 robbery and murder of Jarvis Griffin, who was delivering a pizza to a Shreveport home. Several witnesses said they saw Gabriel Logan, Nathan Logan, and Chris Moore (nicknamed "Rapist") steal money and pizza from Griffin, while the sixteen-year-old Williams was simply standing outside at the time. The victim's blood was found on Gabriel Logan's sweatshirt; Nathan Logan's fingerprints were found on the empty clip of the murder weapon; and Moore was in possession of some of the proceeds of the robbery. Only Moore claimed to have seen Williams commit the killing.
Williams, who had intellectual disability caused by severe lead poisoning from regularly eating dirt and paint chips as a young child and who as a teenager still repeatedly urinated himself, initially told police he had nothing to do with the killing. But after six hours of police interrogation, Williams confessed to the murder. After detectives presented the older men with Williams's confession, their stories changed to corroborate it.
At trial, Caddo Parish prosecutor Hugo Holland presented the confession and Moore's testimony as evidence of WIlliams's guilt. Then, having withheld from the defense police statements that implicated his witnesses in framing Williams, Holland ridiculed the defense claim that Williams had been framed, calling it "the biggest set of circumstances concerning a conspiracy since John Kennedy was killed in 1963."
The prosecutors' amicus brief in support of Williams states that "[t]he prosecutor's goal is not only to strive for a fair trial, but also to protect public safety by ensuring that innocent persons are not convicted while the guilty remain free." It stresses that this is a case in which, "[h]ad the statements not been withheld, there is a reasonable probability that the verdict would have been different."
Ben Cohen, Williams's longtime lawyer, said that "[w]hat the prosecutor and the police did is outrageous. They knew Williams was innocent and they just went forward anyway…. They don't think his life matters."
Eleven men have been exonerated from Louisiana's death row since the 1970s, including the Caddo Parish exonerations of Glen Ford and Rodricus Crawford. All eleven cases involved police and/or prosecutorial misconduct.
Holland himself has been implicated in withholding witness statements in another capital prosecution showing the defendant had not participated in the killing. Holland was forced to resign his position as an assistant district attorney for Caddo Parish in 2012 after he and another prosecutor were caught falsifying federal forms in an attempt to obtain a cache of M-16 rifles for themselves through a Pentagon program that offers surplus military gear to police departments.
Williams was released from death row after the U.S. Supreme Court decided Atkins v. Virginia, barring the death penalty for persons with intellectual disability, and is currently serving a life sentence.

Sources
Radley Balko, The Watch: Lawyers want Supreme Court to hear claim that a Louisiana pros­e­cu­tor with­held evi­dence in death-penal­ty case, Washington Post, April 12, 2018; Michael Kunzelman, Lawyers: Prosecutors with­held evi­dence of teen's inno­cence, Associated Press, April 7, 2018; Radley Balko, The Watch: How a fired pros­e­cu­tor became the most pow­er­ful law enforce­ment offi­cial in Louisiana, Washington Post, November 2, 2018; Mark Joseph Stern, How to Frame a Man for Murder, Slate, December 22, 2015; Andrew Cohen, The Corey Williams Story, Brennan Center for Justice, December 17, 2015.
Read Corey Williams's peti­tion for writ of cer­tio­rari and the for­mer pros­e­cu­tors' ami­cus brief. See Prosecutorial Misconduct and Intellectual Disability.
Innocence
Sep 20, 2023
Glynn Simmons Exonerated
48

Years After He Was Sentenced to Death in Oklahoma
Arbitrariness
Sep 13, 2023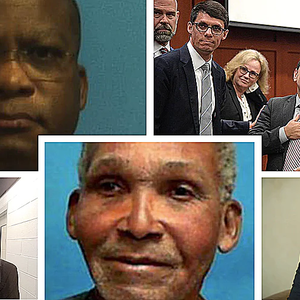 When Jurors Do Not Agree, Should a Death Sentence Be Imposed?