DPIC ANALYSIS: 2018 Exoneration Report Shows Official Misconduct and Perjury Remain Leading Causes of Wrongful Homicide Convictions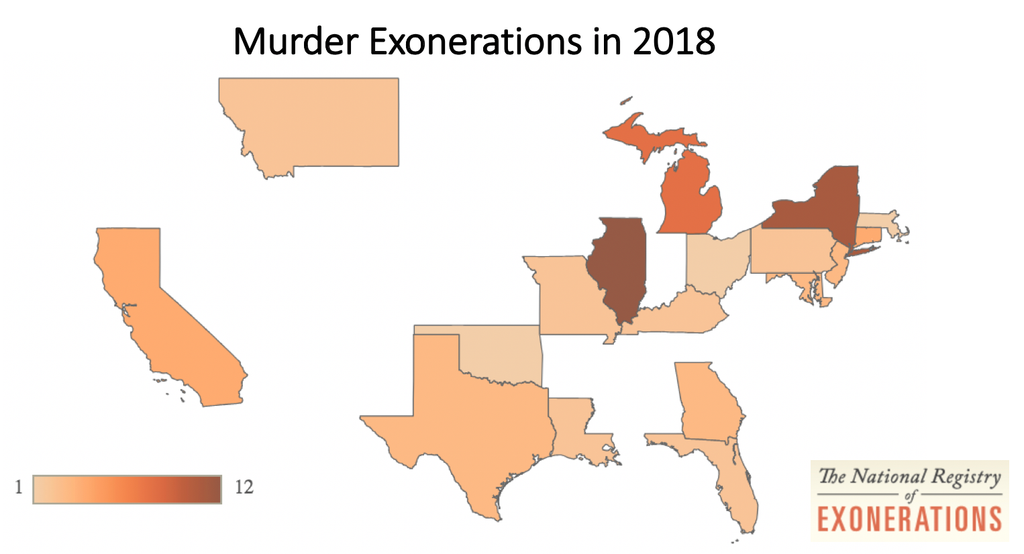 A record 151 men and women were exonerated across the United States in 2018, according to the National Registry of Exonerations' 2018 annual report on wrongful convictions. The report, Exonerations in 2018, included 68 exonerations resulting from wrongful homicide convictions. A DPIC analysis of data accompanying the report shows that at least five people were exonerated in 2018 after having been wrongfully convicted in cases that involved the misuse or threatened use of the death penalty, including 2018 death-row exonerees Vicente Benavides and Clemente Aguirre.
A record number of the exonerations in 2018 were the product of wrongful convictions obtained by police and/or prosecutorial misconduct (107) or perjury/false accusation (111), with both often occurring in combination. The two also were the leading factors contributing to wrongful homicide convictions, 79.4% of which involved police and/or prosecutorial misconduct (54 cases) and 76.5% of which involved perjury/false accusation (52 cases). Historically, those two factors are the leading causes of wrongful capital convictions. Both were present in more than two-thirds of the homicide exonerations (47 cases, 69.1%) in 2018, including the wrongful capital convictions of Benavides and Aquirre.
DNA evidence helped to exonerate 14 of those wrongfully convicted of homicide in 2018, accounting for only 20.1% of homicide exonerations. The prosecution presented perjured testimony or false witness accusations in all of the murder cases involving DNA, and police and/or prosecutorial misconduct was also present in more than 60% of those cases. DNA helped to rebut false or misleading forensic evidence presented by the prosecution in five of the homicide exonerations.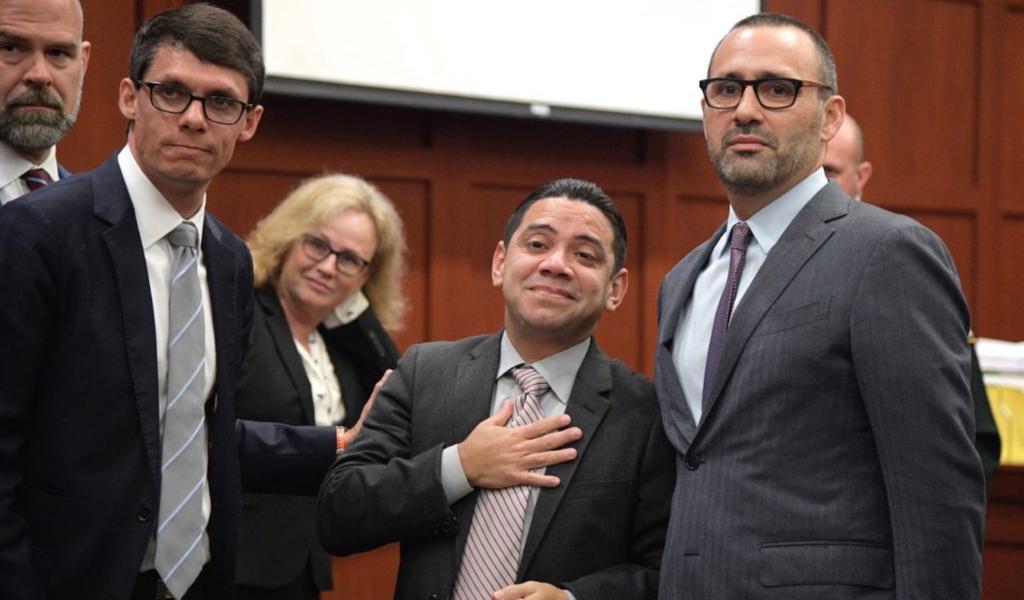 With newly discovered confessions and DNA evidence pointing to the prosecution's chief witness as the actual killer, prosecutors dropped all charges against Clemente Javier Aguirre (pictured, center, at his exoneration) in a Seminole County, Florida courtroom on November 5, 2018. The dismissal of the charges made Aguirre the 164th wrongfully convicted death-row prisoner to be exonerated in the United States since 1973 and the 28th in Florida.
Aguirre was convicted and sentenced to death in 2006 for the murder of two neighbors: an elderly woman and her adult daughter. He steadfastly maintained his innocence, saying he had discovered the women only after they had been killed. He did not report the murders to authorities, he said, because he was an undocumented immigrant and feared deportation.
Evidence has increasingly pointed to the victims' daughter and granddaughter, Samantha Williams, as the likely perpetrator, and an affidavit filed the week before Aguirre's scheduled retrial undermined Williams's alibi. DNA testing had revealed Williams's blood in several locations at the crime scene but had found none of Aguirre's blood. Williams also has reportedly confessed to the crime on at least five occasions. A sworn affidavit from the wife of Mark Van Sandt, Williams's boyfriend at the time of the crime and her key alibi witness, says that Van Sandt told his wife he saw Williams crawling out of his bedroom window on the night of the murders.
Prosecutors said that they dropped charges "based upon new evidence that materially affects the credibility of a critical State witness."
Aguirre was sentenced to death by the trial judge despite non-unanimous 7-5 and 9-3 jury votes for death in the two murders. 20 of the 22 Florida exonerations for which researchers have been able to determine the jury vote have been cases in which judges imposed the death penalty despite non-unanimous jury recommendations for death or overrode jury recommendations for life.
Mexican national Vicente Benavides Figueroa (pictured) was wrongly convicted and sentenced to death in Kern County, California for supposedly raping, sodomizing, and murdering his girlfriend's 21-month-old daughter. He was freed in April 2018 after nearly 26 years on death row.
In a media advisory on April 17, 2018, Kern District Attorney Lisa Green announced that her office would be dropping all charges against Benavides, one month after the California Supreme Court vacated the former farmworker's convictions for allegedly sexually assaulting and murdering Consuelo Verdugo. The court called the conviction a product of "extensive," "pervasive," "impactful," and "false" forensic testimony. Consuelo, the court said, had never been sexually assaulted and may actually have died from being hit by a car.
At trial, the prosecution presented testimony from forensic pathologist Dr. James Diblin, who told the jury that the toddler had died from "blunt force penetrating injury of the anus" and claimed that many of her internal injuries had been the result of a rape. Diblin further testified that arm injuries, other internal trauma, dilated pupils, and compression rib fractures Consuelo had sustained had been "caused by tight squeezing during a sexual assault."
During post-conviction proceedings, Benavides's lawyers presented evidence from Dr. Astrid Heger, one of the country's leading experts on child abuse, debunking Diblin's false testimony. Dr. Heger described Diblin's assertion that Consuelo's injuries had been the product of sexual assault as "so unlikely to the point of being absurd. … No such mechanism of injury has ever been reported in any literature of child abuse or child assault." Rather, she said, the internal injuries Consuelo sustained were commonly seen in victims of automobile accidents.
Hospital records and witness statements obtained by Benavides's appeal lawyers also undermined Diblin's false testimony. Records showed that the examining physicians from Consuelo's initial hospitalization had not seen any signs of bleeding when she was brought to the emergency room, and a nurse who helped treat Consuelo reported that neither she nor any of her colleagues had seen evidence of anal or vaginal trauma when the child arrived. Indeed, the court said, the medical records showed that the injuries to Consuelo's genitalia and anus that Diblin had claimed were evidence of sexual assault were actually "attribut[able] to medical intervention," including repeated failed efforts to insert a catheter and the improper use of an adult-sized catheter on the small child.
Associate Justice Carol Corrigan—a former prosecutor—described the forensic testimony that Benavides had brutally raped and anally sodomized Consuelo as "among the most hair-raising false evidence that I've encountered in all the time that I've been looking at criminal cases."
Three Other Homicide Exonerations in 2018 Involved the Wrongful Use or Threat of the Death Penalty

Up
Bobby Joe Maxwell was capitally prosecuted in Los Angeles, California for a series of ten murders and five robberies attributed to the "Skid Row Stabber" in 1978 and 1979. No physical evidence directly linked Maxwell to the murders and witnesses failed to identify him or his voice in police lineups. Tried in 1984, the jury convicted Maxwell of two of the murders based on questionable forensic testimony and the testimony of prison informant Sidney Storch, who claimed Maxwell had confessed to him and told the jury this was the first time he had ever testified or cooperated as a prosecution witness. The jury acquitted Maxwell of three other murders and the jury hung on the remaining five murder counts. A scandal in the late 1980s over the systemic misuse of jailhouse snitches in Los Angeles County murder cases exposed Storch as a "serial liar" and one of the most prolific false informants. In 2010 a federal appeals court granted Maxwell a new trial in 2010 and the U.S. Supreme Court declined to hear the case in 2012. Maxwell remained in custody facing retrial until December 2017, when he suffered a heart attack that left him comatose. Prosecutors dropped the charges against him in 2018.
Matthew Sopron was convicted of a double murder and sentenced to life without parole in 1998 in Chicago, Illinois after an 18-year-old prosecution witness falsely testified that he had ordered the killing. William Bigeck, who testified at trial that he had not initially implicated Sopron because Sopron was a gang leader who could kill him, later admitted to Sopron's lawyers that Sopron "had absolutely nothing to do with the murders." Bigeck testified in post-conviction proceedings in 2018 that police interviewers were angry with him after he initially refused to implicate Sopron, that he would have done anything to avoid the death penalty, and that he had changed his initial statement to obtain a plea deal that took the death penalty off the table. Two other prosecution witnesses later admitted that they also had implicated Sopron only after police or prosecutors had threatened to prosecute them for the murders.
Daniel Villegas was convicted of capital murder and sentenced to life in El Paso, Texas in August 1995 for a drive-by double murder. The 16-year-old falsely confessed after being handcuffed to a chair by a detective who threatened to take him to the desert and "beat his ass," slapped him, and said he would die in the electric chair if he didn't confess. "[T]errified out of his mind," Villegas confessed. The same detective coerced a false confession out of 15-year-old Michael Johnston, handcuffing him to a chair and interrogating him for eight hours, threatening him with the death penalty, lying to him that his friends had already implicated him in the shooting, and telling him he would be raped in jail if he did not confess. Villegas recanted his confession a few hours after signing his statement. His first trial resulted in a mistrial, but he was convicted on retrial. As evidence pointing to other suspects was unearthed, the Texas state courts overturned the conviction in 2012, citing ineffective assistance of counsel. Presenting evidence of innocence at his third trial, Villegas was acquitted in October 2018.
Annual Report, Exonerations in 2018, National Registry of Exonerations, April 9 2019.
Innocent Man Who Spent Over a Decade on Florida's Death Row is Exonerated, Innocence Project, November 5, 2018; Michael Williams, Prosecutors drop case against exonerated death-row inmate Clemente Aguirre-Jarquin, Orlando Sentinel, November 5, 2018.
Jason Kotowski, Delano man whose murder conviction in death of 21-month-old girl was overturned last month will not be retried, April 17, 2018; Bakersfield Now Staff, Kern DA won't retry overturned murder case, KMPH Fox 26, April 17, 2018; California death row inmate to be freed; no retrial planned, Associated Press, April 17, 2018; Death row inmate Vicente Benavides released from custody Thursday after charges dismissed, The Bakersfield Californian, April 19, 2018.
Maurice Possley, Bobby Joe Maxwell, National Registry of Exonerations, January 15, 2019.
Maurice Possley, Matthew Sopron, National Registry of Exonerations, December 31, 2018.
Ken Otterbourg, Daniel Villegas, National Registry of Exonerations, October 15, 2018.
DPIC analysis by Robert Dunham.
Photo of Clemente Aguirre courtesy of the Innocence Project.