The Death Penalty in
1997

: Year End Report
Texas Pushes Nation's Executions To Record Numbers in 1997, But Opposition Grows

Up
The number of executions in 1997 easily surpassed the highest figure for any year since the death penalty was reinstated in 1976. As of December 15, 1997, there were 74 executions in the country this year, 18 more than in 1995, the previous record year. The last time more people were executed in a single year in the United States was 1955, when 76 people were executed. The executions this year brought the overall total since the reinstatement of capital punishment to 432. The national death row population also reached a record high of 3,269.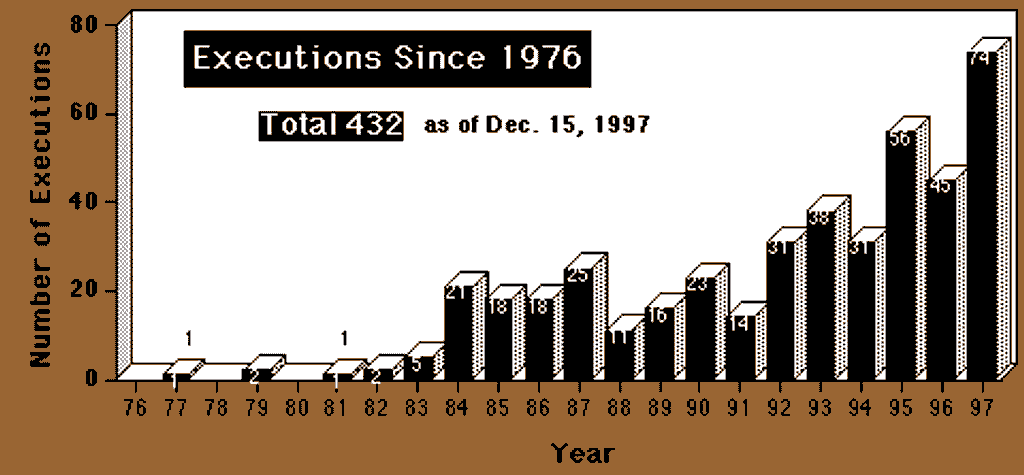 To a large extent, the high number of executions was the work of a single state. The number of executions in Texas this year equaled that of all the other states combined. While the executions in Texas reached an all-time high of 37, compared to only 3 last year, the numbers outside of Texas actually decreased from 1996. Twenty-one death penalty states, including Georgia, North Carolina and California, had no executions this year. In addition, neither the federal government nor the military conducted any executions.
The Massachusetts legislature narrowly defeated an effort to restore the death penalty following a particularly notorious murder in that state. After an initial vote indicated the measure would pass, one legislator changed his vote when the results of the au pair trial of Louise Woodward convinced him of the fallibility of the justice system and the danger of executing the innocent.
Over 80% of the executions occurred in the South, a pattern similar to previous years. Interestingly, the FBI Uniform Crime Report released in October showed that the South was the only region of the country to experience a rise in serious crime from the previous year.
No women or juvenile offenders were executed this year, but at least one mentally retarded man, Terry Washington, was executed in Texas. Three states, Texas, Florida and Virginia, executed foreign nationals this year.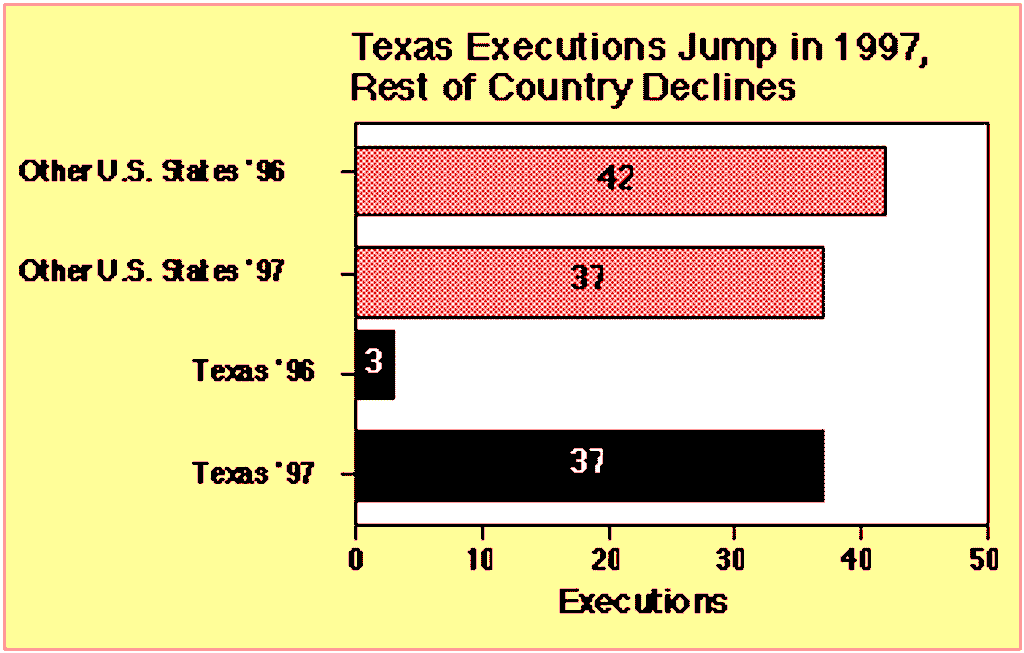 As executions rose around the country, a number of mainstream organizations from the legal, religious and international communities called for a halt to capital punishment in America. At its meeting in Texas in February, the American Bar Association voted by a two-to-one margin to endorse a moratorium on the death penalty because of the persistent inequities in its application. In its resolution, the ABA noted the inadequacy of representation for those facing execution, the racial disparities on death row and the curtailment of the appeals process as reasons for temporarily stopping the death penalty. This resolution has been echoed by state and local bar associations also citing the unfairness of the death penalty process.
The religious community was particularly vocal in opposition to the death penalty. Despite the frightening memories of the Oklahoma City bombing, as recalled by the trials of Timothy McVeigh and Terry Nichols, church leaders expressed their increasingly firmer opposition to the death penalty. In the leading death penalty state, the Texas Catholic Bishops called for an end to the death penalty. Pope John Paul II and Mother Teresa reflected this opposition with pleas for clemency in particular cases.
The U.S. also faced growing international pressure to halt its pursuit of more executions. In April, the U.N. Commission on Human Rights voted overwhelmingly (27 for, 11 against, 14 abstentions) to urge member countries to move towards abolition of the death penalty. The U.S., along with such countries as China, Bangladesh and Indonesia, was in the minority in opposing this resolution.
Russia and the Ukraine, formerly among the world leaders in executions, pledged to halt the death penalty as they sought entry into the Council of Europe, which requires abolition as a condition of membership. Mexico strongly protested the execution of some of its citizens in the U.S. because the defendants were not notified of their right to consult with their home country in conformity with the Vienna Convention. Italians took up the cause of Joseph O'Dell in Virginia, whom they believed was executed without a fair hearing.
In late September, the United Nations Special Rapporteur on Extrajudicial, Summary and Arbitrary Executions made his first visit to this country. This special envoy from the U.N. Commission on Human Rights examined executions which are alleged to violate international law, including the execution of those who were juveniles at the time of their crime and those with mental retardation, both of which are allowed by most death penalty states in the U.S. He also looked at the repeated allegations of racial discrimination in the application of the death penalty. Senator Jesse Helms (R-NC) called the Human Rights Commission visit "an absurd U. N. charade."
U.S. Opinion Favors Alternatives

Up
Ultimately, the future of the death penalty in this country will be decided by its citizens. Polls that were conducted this year show a growing disillusionment with the political promises made about the death penalty. In several polls, Americans showed a preference for the alternative of life without parole as a suitable sentence for murder.
Ohio: An Ohio State University poll in September reported that 59% of Ohioans support life without parole, plus restitution to the victim's family, as an alternative to the death penalty. Almost half of those polled believe that the execution of an innocent person is likely.
New York: A Qunnipiac College Poll of New Yorkers in September reported that 57% support alternatives, either a life sentence with no parole or life with the possibility of parole, over the death penalty, which received 37% support. Two-thirds of those polled did not feel that the death penalty has made N.Y. safer since it was brought back in 1995.
Kentucky: A statewide poll by the University of Louisville in June reported that 42% favored a sentence of life without parole, plus restitution, for murderers, while 35% would still choose the death penalty.
Virginia: Virginia Tech's Center for Survey Research in July reported that 57% of Virginians supported life with no parole for 25 years, plus restitution, while only 38% supported the death penalty when given a choice of alternatives.
On a national level, a number of polls were conducted around the time of the trial of Timothy McVeigh. Despite the fact that this was arguably the worst crime in U.S. history, only 61% of Americans in a CNN poll would have selected the death penalty for McVeigh. This was confirmed by a Harris poll which reported 63% for death, far lower than the usual 75% support which the death penalty receives in the abstract.
Americans Cite Problems with Capital Punishment

Up
The problems with capital punishment emerged in a number of other national polls. Time Magazine reported that 52% of Americans do not believe the death penalty deters people from committing crime and 60% rejected another leading justification for executions: vengeance on the part of the victim's family. A Newsweek poll found that half (49%) of Americans, and three-quarters of nonwhites, believe a black person is more likely than a white person to receive the death penalty for the same crime.
Politicians, however, largely ignored this discontent. When Pedro Medina caught fire as he was being electrocuted in Florida, the state's Attorney General, Robert Butterworth, actually claimed that Florida's faulty electric chair served as an effective warning to potential murderers. (After a flood of coverage highlighted the horror of this event, Butterworth retreated to a position favoring a change in method of execution to lethal injection.) The State Supreme Court held up all executions in Florida, finally deciding by a narrow vote that the electric chair does not constitute cruel or unusual punishment. One of the three dissenting justices wrote: "Florida's electric chair, by its own track record, has proven itself to be a dinosaur more befitting the laboratory of Baron Frankenstein than the death chamber of Florida State Prison."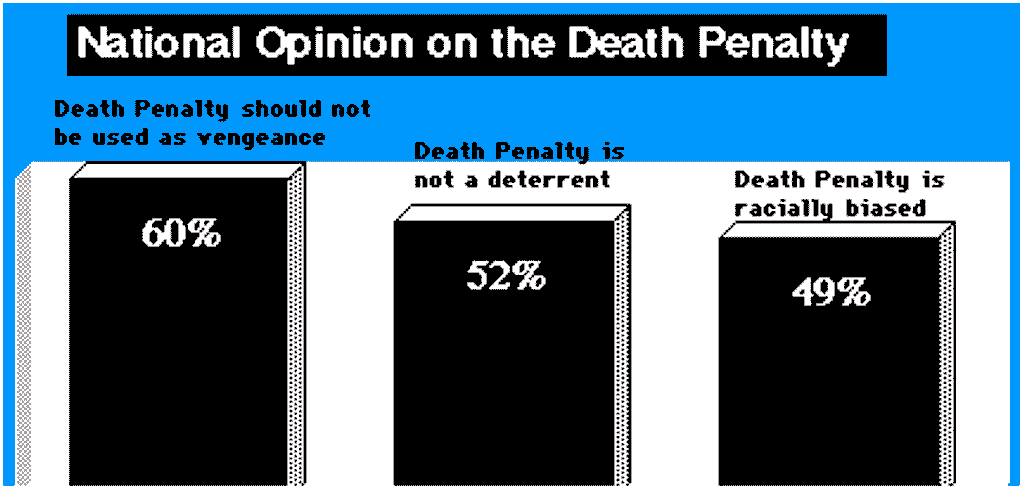 Discrimination and Arbitrariness

Up
As the number of executions reached a record high, the discriminatory nature of the death penalty became more apparent. Of the 74 executions this year, only 10% were punishment for the murder of a black person, yet blacks are victims in about 50% of the murders committed in the U.S. Their deaths rarely merit the attention and the expenditures associated with the death penalty. Since the death penalty was reinstated, six white defendants have been executed for murdering a black person, while 112 black people have been executed for the murder of a white person.
Lack of competent representation continued to contribute to the arbitrariness of the death penalty. Exzavious Gibson, a poor black man in Georgia, went before the Georgia courts to appeal his death sentence without a lawyer to plead his case. He lost the appeal. In Mississippi, a federal civil rights suit was filed on behalf of death row inmates against the state, which provides no money and no attorneys for the post-conviction appeals process. The suit cited the results of psychological testing given to the inmates which showed that one-third suffered from mental retardation. The inmates also were given the Law School Admission Test to test the assumption that they could act as their own lawyers (none of the inmates scored above the 1% level).
In the past, representation in Georgia and Mississippi might have been provided by the death penalty resource centers which were established to help with appeals. But federal funding for these centers in 20 states around the country, was cut off in 1996, leaving many inmates unrepresented.
Part of the increase in executions this year has been due to a faster appeals process. Last year, on the anniversary of the Oklahoma City bombing, Congress passed the Anti-terrorism and Effective Death Penalty Act, which had little to do with terrorism but much to do with speeding up state executions. The law is already restricting inmates with new evidence of innocence from obtaining review because of its stringent time limits and barriers to conducting evidentiary hearings.
In July, the Death Penalty Information Center identified 69 people who have been released from death row since 1973 after evidence of their innocence emerged. Many of these defendants came close to execution and only were saved as a result of extraordinary events outside of the normal appeals process. Fortuitous DNA testing, enterprising research of journalism students and reporters, and volunteer legal expertise available to few on death row, exposed this large number of mistaken convictions. Four more cases have been added since the publication of the report bringing the latest total of innocent people released to 73. However, quicker appeals, coupled with the elimination of funding for federal death penalty resource centers, will likely mean that other innocent inmates will be executed before they can prove their innocence.
Among those released this year was Ricardo Aldape Guerra of Texas. Guerra had been sentenced to death for the murder of a police officer in Houston in 1982. After new evidence revealed that witnesses had been pressured and abused to testify against Guerra, U.S. District Court Judge Kenneth Hoyt, a Reagan appointee, overturned the conviction in 1994, stating that the actions of the police and prosecutors in this case were "outrageous," "intentional" and "done in bad faith," and that their misconduct "was designed and calculated to obtain … another 'notch in their guns.'" Judge Hoyt's ruling was unanimously upheld by the U.S. Court of Appeals. A new trial was granted to Guerra, but in April of this year Houston District Attorney Johnny Holmes dropped charges instead. Guerra returned to his native Mexico, where ironically he died in an auto accident a few months later.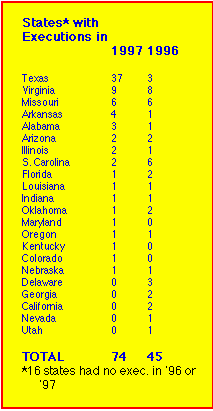 Persons Executed this Year

Up
As usual, the stories of many of the people who were executed this year illustrate the unpredictable and freakish nature of the death penalty. Among those killed this year were:
Coleman Wayne Gray, a black man, was convicted by an all-white jury of the murder of a white grocery store manager in 1985. At the time of his sentencing hearing, the prosecution introduced surprise evidence implicating Gray in two murders for which he had never been tried. Gray had no chance to refute this highly inflammatory evidence and was sentenced to death. Evidence concealed by the state later showed that Gray may have been innocent of these additional murders. Before Gray's execution, U.S. District Court Judge James Spencer stated that he did not believe Gray had received a fair trial, but that his hands were tied by the new restrictions on appeals. Gray was executed in Virginia on February 26.
Pedro Medina, a Cuban national who came to the U.S. as part of the Mariel boatlift in 1980, had been convicted of killing a former neighbor who had befriended him. There was considerable doubt about both Medina's guilt and his mental competence. The victim's daughter, Lindi James, said that she never believed Medina killed her mother, and that her mother would not want Medina executed in any event. Pope John Paul II also made a plea for mercy on Medina's behalf. The Florida Supreme Court concluded that Medina had mental problems but still could be executed. He was killed on March 25 in a fiery electrocution.
David Spence was executed in Texas on April 3 for the murder of two teenagers. N.Y. Times columnist Bob Herbert investigated his case and concluded: "Mr. Spence was almost certainly innocent." Marvin Horton, the police lieutenant who supervised the investigation of the crime, stated: "I do not think David Spence committed this crime." And Ramon Salinas, the homicide detective who investigated the murders, said: "My opinion is that David Spence was innocent. Nothing from the investigation ever led us to any evidence that he was involved." The case against Spence relied mainly on prison inmates who were given generous favors in return for their testimony.
Terry Washington, a mentally retarded man, was executed in Texas on May 6. He had an IQ of between 58 and 69, with an intellect comparable to an 8-year-old. The jury that sentenced him to death never learned about his retardation. Eleven states and the federal death statute forbid the execution of those with mental retardation, but not Texas.
Scott Carpenter was executed at age 22 in Oklahoma for a crime he had committed 3 years earlier. Carpenter, a Native American, pleaded no contest to stabbing the clerk of the Duchess Creek Bait and Grocery Store. He waived all his appeals and asked to be executed. Carpenter had no prior convictions.
Harry Charles Moore was executed in Oregon on May 16. Moore had been married to two of his nieces and was convicted of killing his half-sister and her former husband. He threatened to sue anyone who tried to stop his execution. Moore said he had killed his relatives because he thought they would move to Las Vegas with his estranged wife and infant daughter, and expose them to a life of prostitution and drugs.
Bruce Callins was executed in Texas on May 21 for the murder of a man in a topless bar. Supreme Court Justice Harry Blackmun used this case in 1994 to announce that he would henceforth oppose the death penalty in every case. "From this day forward, I no longer shall tinker with the machinery of death," he wrote. "I feel morally and intellectually obligated simply to concede that the death penalty experiment has failed."
Irineo Montoya, a citizen of Mexico, was executed in Texas on June 18. Over 300 Mexicans protested on the bridge connecting Texas and Mexico. The Mexican government also formally protested the death sentence because Montoya had not been told of his right under the Vienna Convention to contact his home country when he was arrested. His supporters maintained that Montoya was a laborer with a fifth grade education who signed a confession in English which he did not understand.
Harold McQueen was the first person executed in Kentucky in 35 years. McQueen was tried along with his half-brother, Keith Burnell, for a robbery and murder. While Burnell's father paid for a private attorney, McQueen had a court-appointed lawyer who, at the time of the trial, could be paid a maximum of only $1,000 for handling the case. McQueen was electrocuted on July 1; Burnell was sentenced to prison and has already been paroled.
Joseph O'Dell was executed in Virginia on July 23, despite pleas for clemency from the Pope, Mother Teresa and the Italian Parliament. O'Dell had represented himself at trial. Subsequent DNA testing threw considerable doubt on the blood evidence presented at trial. At sentencing, the jury was not told that O'Dell would serve a sentence of life without parole if spared death. Today, the jury would have to be instructed about that fact, but the U.S. Supreme Court held that this requirement was a new rule of law which did not apply retroactively to O'Dell's case.


The increasing frequency of executions in the U.S. has done little to settle the issue in the eyes of the public. Opposition has moved from candlelight vigils outside of penitentiaries to national and international critiques of the continuing arbitrariness and inequity in the implementation of the death penalty. Public disillusionment with the political promises made for capital punishment is evidenced in the high support for alternatives to executions. While the trend toward more executions will likely continue because of the vast number of people on death row and the shorter appeals process, there are signs that the public may be shifting its focus away from the death penalty as a solution to crime.
The Death Penalty Information Center is a non-profit organization serving the media and the public with analysis and information regarding capital punishment. The Center provides in-depth reports, conducts briefings for journalists, promotes informed discussion and serves as a resource to those working on this issue. This report was written by Richard C. Dieter, Executive Director of the Center. The sources for information in this year end report are available from the Center.