The Death Penalty in
2001

: Year End Report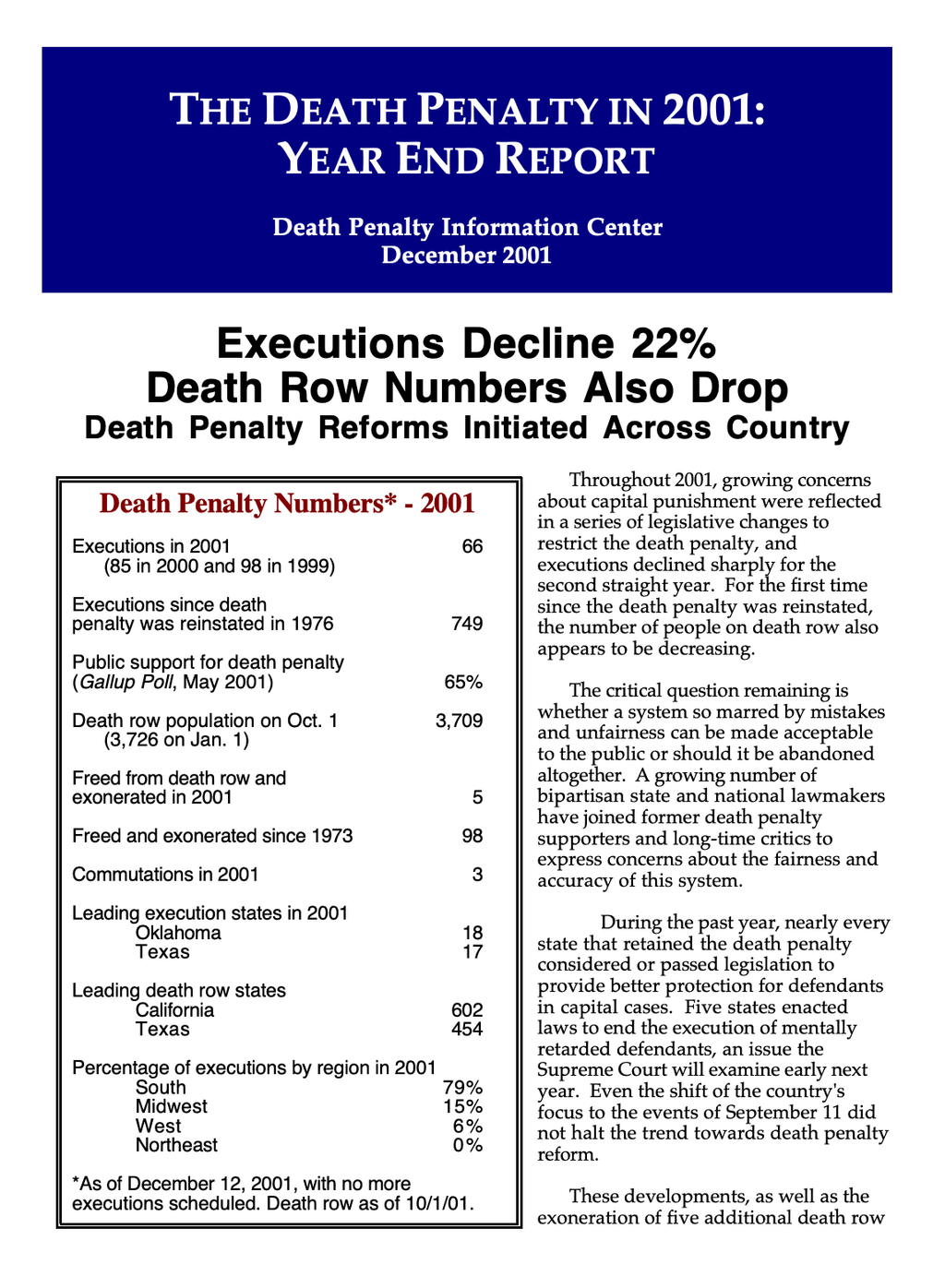 Throughout 2001, growing concerns about capital punishment were reflected in a series of legislative changes to restrict the death penalty, and executions declined sharply for the second straight year. For the first time since the death penalty was reinstated, the number of people on death row also appears to be decreasing.
The critical question remaining is whether a system so marred by mistakes and unfairness can be made acceptable to the public or should it be abandoned altogether. A growing number of bipartisan state and national lawmakers have joined former death penalty supporters and long-time critics to express concerns about the fairness and accuracy of this system.
During the past year, nearly every state that retained the death penalty considered or passed legislation to provide better protection for defendants in capital cases. Five states enacted laws to end the execution of mentally retarded defendants, an issue the Supreme Court will examine early next year. Even the shift of the country's focus to the events of September 11 did not halt the trend towards death penalty reform.
These developments, as well as the exoneration of five additional death row inmates, contributed to changes in the public's perception of the death penalty. Support for capital punishment dropped to its lowest level in over 20 years, and polls showed considerable support for a temporary halt to executions while governments study the problems in their capital punishment systems.
A drop in the number of executions in the leading death penalty states of Texas and Virginia contributed to the first two-year decline since the death penalty was reinstated. The number of people on death row also declined, from 3,726 at the start of the year to 3,709 as of October 1, reversing a trend of steadily increasing death row populations. The latest statistics available from the Justice Department reveal that the number of people sentenced to death in 2000 (214) dropped 24% from the previous year, and was the lowest number of death sentences in 20 years.
However, not all of the movement was toward restricting the death penalty. Both the federal government and New Mexico returned to the death penalty in 2001, after four decades of no executions. Timothy McVeigh was executed on June 11 and Juan Garza on June 19, marking the first federal executions since 1963. Despite problems with its death penalty, Oklahoma executions spiked to a new high of 18.
Read the press release here.