The Death Penalty in
2007

: Year End Report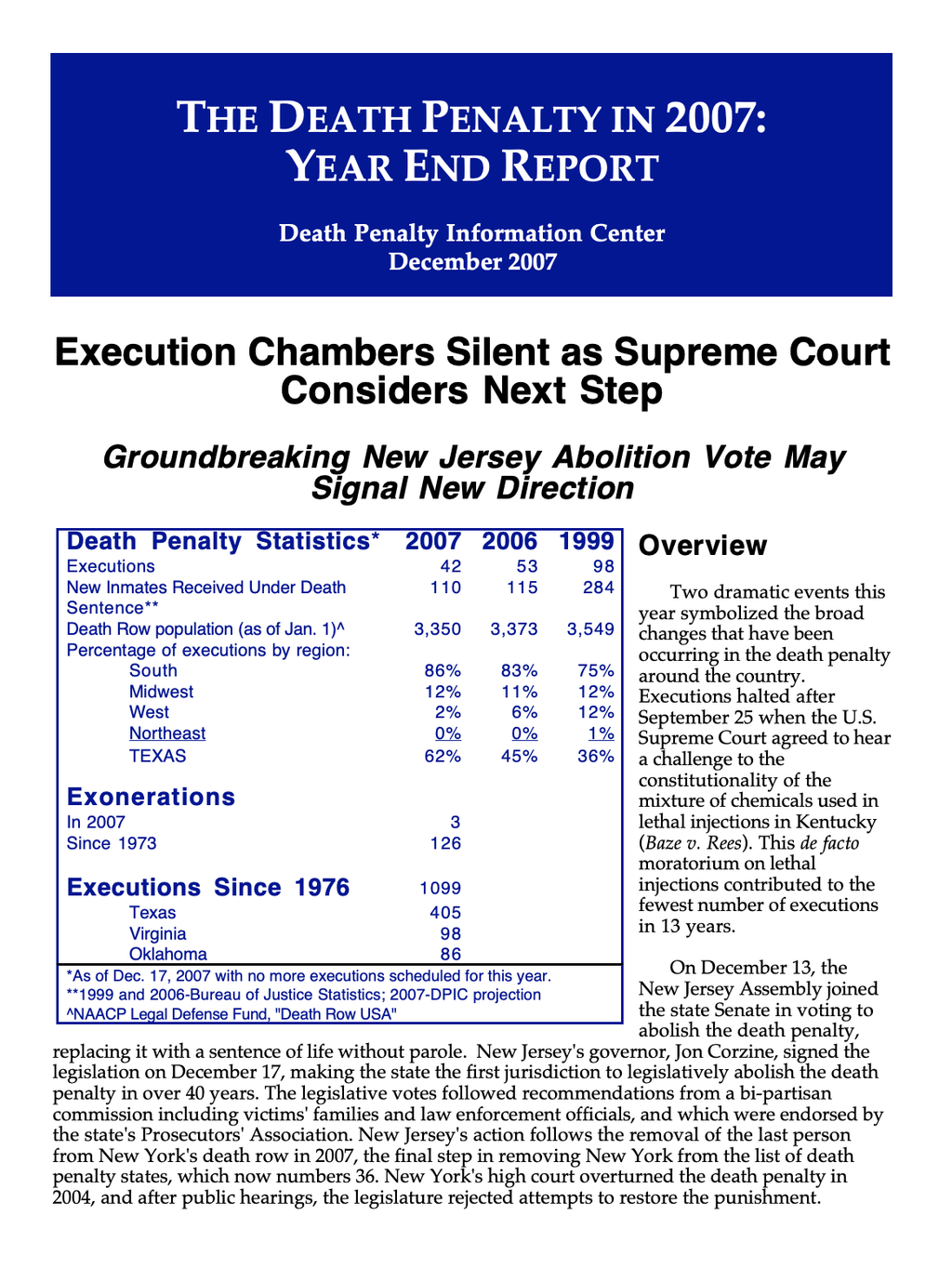 Two dramatic events this year symbolized the broad changes that have been occurring in the death penalty around the country. Executions halted after September 25 when the U.S. Supreme Court agreed to hear a challenge to the constitutionality of the mixture of chemicals used in lethal injections in Kentucky (Baze v. Rees). This de facto moratorium on lethal injections contributed to the fewest number of executions in 13 years.
On December 13, the New Jersey Assembly joined the state Senate in voting to abolish the death penalty, replacing it with a sentence of life without parole. New Jersey's governor, Jon Corzine, signed the legislation on December 17, making the state the first jurisdiction to legislatively abolish the death penalty in over 40 years. The legislative votes followed recommendations from a bi-partisan commission including victims' families and law enforcement officials, and which were endorsed by the state's Prosecutors' Association. New Jersey's action follows the removal of the last person from New York's death row in 2007, the final step in removing New York from the list of death penalty states, which now numbers 36. New York's high court overturned the death penalty in 2004, and after public hearings, the legislature rejected attempts to restore the punishment.
The current temporary moratorium may give policy-makers an occasion to reconsider the death penalty with a more critical eye. Courts, legislatures, and the public are increasingly looking at the death penalty through the prism of public policy, revealing its growing costs alongside its delays, frustration and mistakes. While the case now pending in the Supreme Court presents only a narrow challenge to a specific method of lethal injection, it is symptomatic of the many problems surrounding this punishment which are constantly being exposed and, once exposed, prove difficult or impossible to resolve. Meanwhile, the "closure" that proponents of capital punishment have argued it will bring to victims' families appears more and more illusory.