Recent Death Sentences By Name, Race, County, And Year
2018 Death Sentences by Name, Race, and County
2018 Death Sentences by Name, Race, and County
43* new death sentences were imposed in the U.S. in 2018, the fourth-fewest number of new death sentences imposed in any year in the modern history of U.S. capital punishment, which dates back to 1972 when the Supreme Court declared the country's death penalty laws unconstitutional in Furman v. Georgia.
Court rulings allowing impaired defendants to waive critical trial rights and death sentencing of individuals with obvious impairments raised concerns as to whether the sentences were reserved for "the worst of the worst" offenders or were being imposed upon the most vulnerable defendants in the most unreliable trial and sentencing proceedings.
Although capital sentencing decisions are supposed to reflect the conscience of the community, a disproportionate number of death sentences in 2018 were imposed without the unanimous agreement of death-penalty jurors that death was appropriate. One of every seven death sentences was imposed by a judge without a unanimous jury vote, and often after defendants were deemed to have waived crucial trial rights.
*NOTE: Updated on July 11, 2019 to reflect the discovery of a new death sentence in Nevada.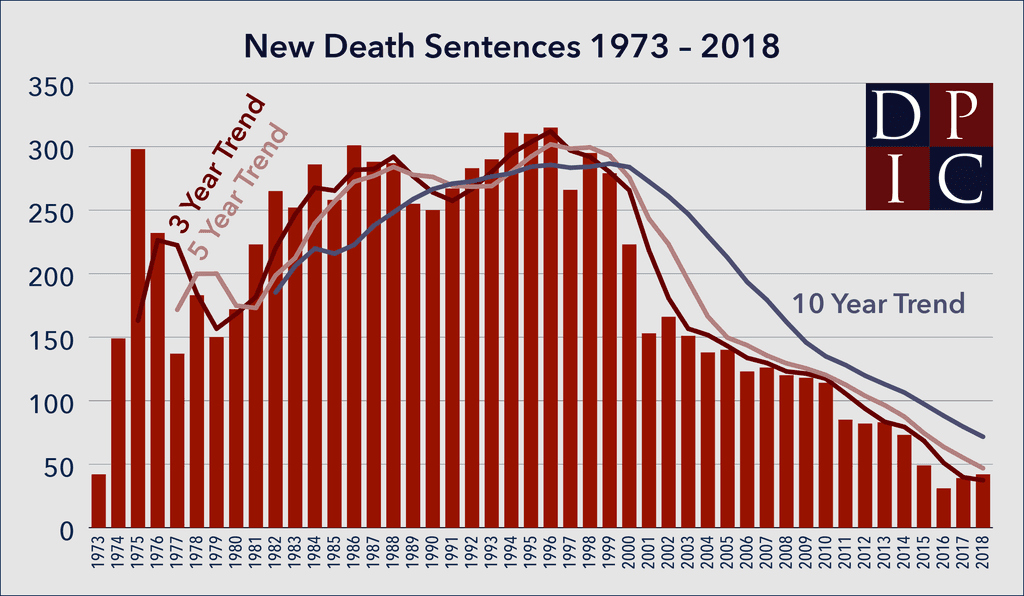 ---
Defendants Sentenced to Death in 2018
| First Name | Middle | Last Name | State | County | Race | Age at Crime | Non-Unanimous / Judge Sentencing |
| --- | --- | --- | --- | --- | --- | --- | --- |
| Peter | | Capote | AL | Colbert | W | 22 | 10-2 jury vote |
| Derrick | | Dearman | AL | Mobile | W | 28 | |
| Benjamin | | Young | AL | Colbert | W | 28 | 11-1 jury vote |
| Scotty | | Gardner | AR | Faulkner | W | 55 | |
| Eric | Allen | Reid | AR | Garland | W | 55 | |
| Dwandarrius | | Robinson | AZ | Maricopa | B | 21 | |
| Allyn | | Smith | AZ | Maricopa | B | 30 | |
| Isauro | | Aguirre | CA | Los Angeles | L | 32 | |
| David | | Cruz Ponce | CA | Los Angeles | L | 28 | |
| Eric | Patrick | Jimenez | CA | Tulare | L | 27 | |
| Luis | Enrique | Monroy Bracamontes | CA | Sacramento | L | 38 | |
| Andrew | | Urdiales | CA | Orange | W | 21-31 | |
| Christopher | Emory | Cramer | Federal | Court: Texas Eastern District | W | 32 | |
| Ricky | Allen | Fackrell | Federal | Court: Texas Eastern District | W | 30 | |
| Peter | | Avsenew | FL | Broward | W | 26 | |
| James | | Colley | FL | St. Johns | W | 35 | |
| Daniel | | Craven | FL | Jackson | W | 25 | |
| Angel | | Santiago Gonzalez | FL | Union | L | 31 | |
| Benjamin | | Smiley | FL | Polk | B | 20 | |
| Donald | James | Smith | FL | Duval | W | 56 | |
| Michael | | Woodbury | FL | Okeechobee | W | 41 | |
| David | | Brown | LA | Lafourche | W | 34 | |
| Craig | | Wood | MO | Greene | W | 45 | non-unanimous; judge-imposed |
| Tony | | Clark | MS | Madison | B | 34 | |
| Steven | | Wilbanks | MS | Lafayette | W | 22 | |
| Anthony | | Garcia | NE | Douglas | L | 34 | Three-judge panel |
| Patrick | | Schroeder | NE | Johnson | W | 39 | Three-judge panel |
| Keith | Junior | Barlow | NV | Clark | B | 57 | |
| George | | Brinkman | OH | Cuyahoga | W | 45 | |
| Shawn | | Grate | OH | Ashland | W | 40 | |
| Lance | | Hundley | OH | Mahoning | B | 46 | |
| Christopher | | Whitaker | OH | Cuyahoga | B | 43 | |
| James | | Worley | OH | Fulton | W | 57 | |
| Dustin | Melvin | Davison | OK | Oklahoma | NA | 22 | |
| Paul | Jackson | Henry | PA | York | W | 40 | |
| Urshawn | | Miller | TN | Madison | B | 26 | |
| Dillion | | Compton | TX | Jones | B | 21 | |
| Jason | Wade | Delacerda | TX | Hardin | L | 34 | |
| Isidro | | Delacruz | TX | Tom Green | L | 23 | |
| Ali | Awas Mahmoud | Irsan | TX | Harris | O | 54 | |
| Howard | Wayne | Lewis | TX | Walker | B | 45 | |
| Kristopher | | Love | TX | Dallas | B | 31 | |
| Gustavo | | Tijerina-Sandoval | TX | Willacy | L | 30 | |
---
2018 Death Sentences by Race of Defendant
| Race | Defendants |
| --- | --- |
| White | 21 |
| Black | 11 |
| Latinx | 9 |
| Native American | 1 |
| Other | 1 |
| Total | 43 |
---
2018 Death Sentences by County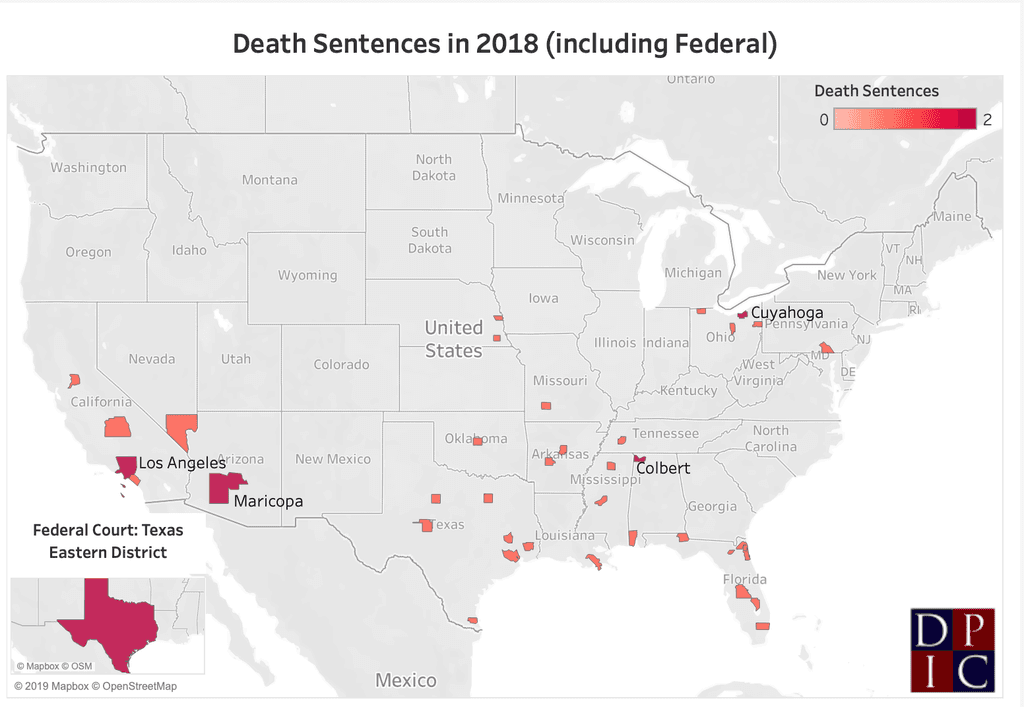 | County | Death Sentences in 2018 |
| --- | --- |
| Colbert, AL | 2 |
| Cuyahoga, OH | 2 |
| Los Angeles, CA | 2 |
| Maricopa, AZ | 2 |
| U.S. Gov't (Texas) | 2 |
| Ashland, OH | 1 |
| Broward, FL | 1 |
| Clark, NV | 1 |
| Dallas, TX | 1 |
| Douglas, NE | 1 |
| Duval, FL | 1 |
| Faulkner, AR | 1 |
| Fulton, OH | 1 |
| Garland, AR | 1 |
| Greene, MO | 1 |
| Hardin, TX | 1 |
| Harris, TX | 1 |
| Jackson, FL | 1 |
| Johnson, NE | 1 |
| Jones, TX | 1 |
| Lafayette, MS | 1 |
| Lafourche, LA | 1 |
| Madison, MS | 1 |
| Madison, TN | 1 |
| Mahoning, OH | 1 |
| Mobile, AL | 1 |
| Okeechobee, FL | 1 |
| Oklahoma, OK | 1 |
| Orange, CA | 1 |
| Polk, FL | 1 |
| Sacramento, CA | 1 |
| St. Johns, FL | 1 |
| Tom Green, TX | 1 |
| Tulare, CA | 1 |
| Union, FL | 1 |
| Walker, TX | 1 |
| Willacy, TX | 1 |
| York, PA | 1 |
2018 Death Sentences by State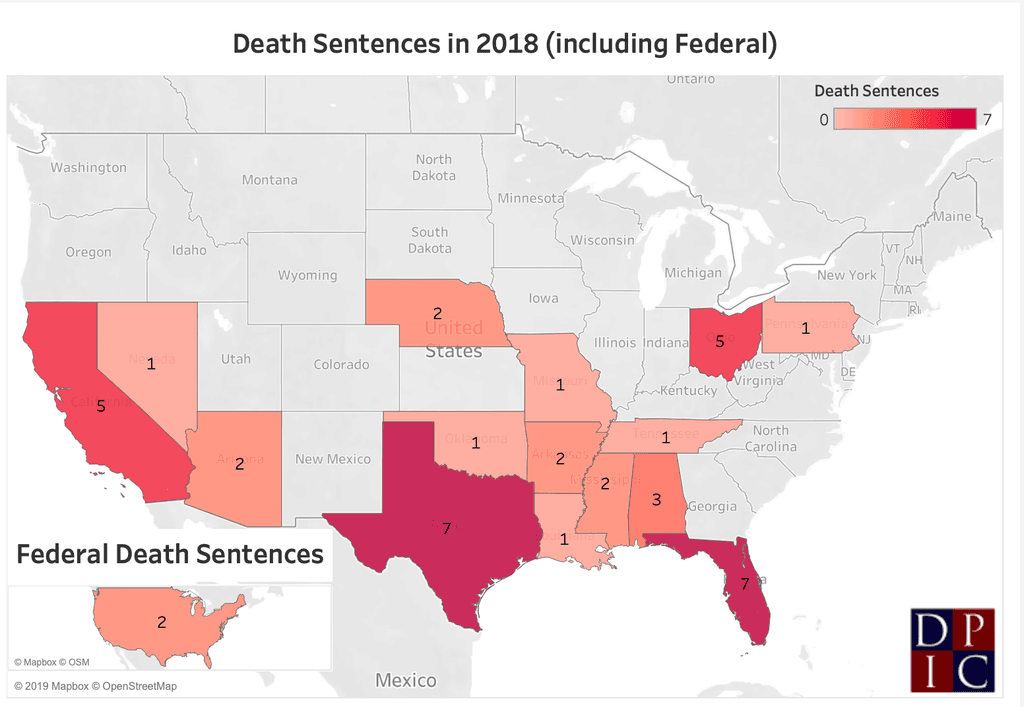 | State | Death Sentences in 2018 |
| --- | --- |
| Florida | 7 |
| Texas | 7 |
| California | 5 |
| Ohio | 5 |
| Alabama | 3 |
| Arizona | 2 |
| Arkansas | 2 |
| Mississippi | 2 |
| Nebraska | 2 |
| U.S. Gov't | 2 |
| Louisiana | 1 |
| Missouri | 1 |
| Nevada | 1 |
| Oklahoma | 1 |
| Pennsylvania | 1 |
| Tennessee | 1 |