Sentencing Data
2021 Death Sentences by Name, Race, and County
Eighteen new death sentences were imposed across the United States in 2021, matching 2020's total as the fewest in any year since the Supreme Court struck down all existing death-penalty statutes in 1972.
Seven states imposed death sentences in 2021. Oklahoma and Alabama each handed down four new sentences; California and Texas each imposed three. Florida imposed two; and Nebraska and Tennessee imposed one death sentence each. Alabama's disproportionately high number of death sentences was skewed by its outlier sentencing practices. No Alabama jury unanimously voted for death, but Alabama — alone among the states —permits judges to impose the death penalty based upon a non-unanimous jury recommendation. Three death sentences were imposed following non-unanimous jury votes. In the fourth case, the defendant waived his right to a sentencing jury.
Only two U.S. counties — Los Angeles County, California and Oklahoma County, Oklahoma — were responsible for more than a single death sentence. The two sentences imposed in Los Angeles both resulted from jury verdicts handed down before the county elected reform prosecutor George Gascón, who has pledged not to seek the death penalty. The final judicial sentencings in those cases had been delayed by the pandemic. One death sentence in Florida also was the result of pandemic-delayed court proceedings, after a jury recommended a death sentence in 2019.
Notably, there were no death sentences in many formerly heavy-use death-penalty counties, including Harris County, Texas; Philadelphia County, Pennsylvania; and Duval County, Florida. The election of reform prosecutors in those and other counties across the country has contributed significantly to the continuing low number of new death sentences.
The majority (61.1%) of people sentenced to death in 2021 were either Black or Latinx. No white defendant was sentenced to death in trial proceedings that did not involve any white victim. Alabama, Texas, and Oklahoma collectively accounted for 61.1% of the year's new death sentences.
---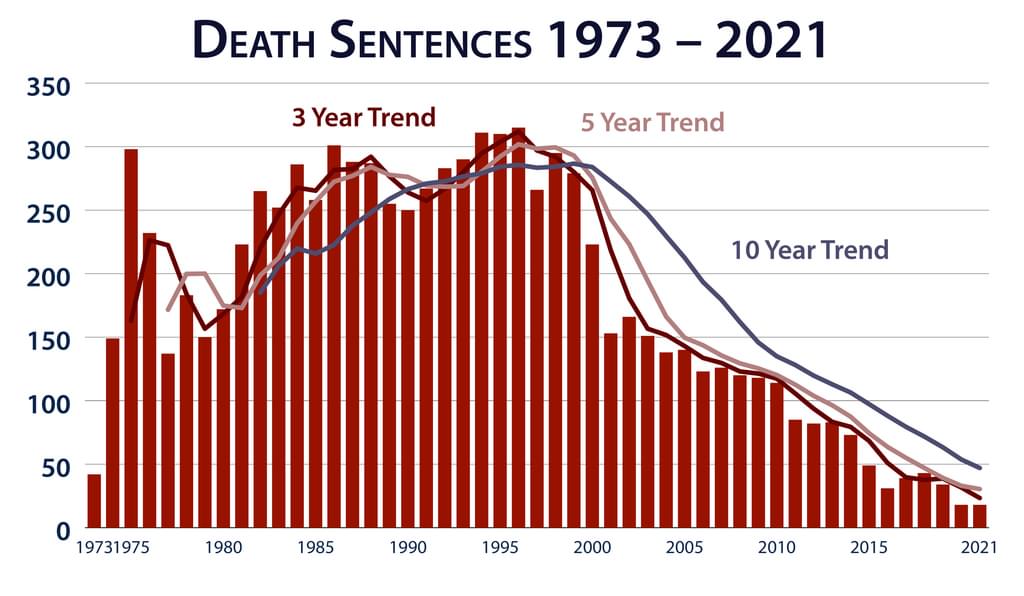 ---
Defendants Sentenced to Death in 2021
| First Name | Middle Name | Last Name | State | Date Sentence Formally Imposed | County | Race of Defendant | Number/Race of Victim(s) | Age at Crime | Non-Unanimous / Judge Sentencing |
| --- | --- | --- | --- | --- | --- | --- | --- | --- | --- |
| Donnie |   | Abernathy | AL | 11/29/21 | Cherokee | White | 3 White Females | 38 | Jury waived / 1-judge sentence |
| Christopher |   | Henderson | AL | 10/13/21 | Madison | White | 2 White Female; 2 White Males | 40 | 11-1 jury / 1-judge sentence |
| Michael | Anthony | Powell | AL | 5/24/21 | Shelby | Black | 1 White Female | 43 | 11-1 jury / 1-judge sentence |
| Michael | Dale | Iervolino | AL | 11/30/21 | St. Clair County | Latinx | 1 White Male | 32 | 10-2 jury / 1-judge sentence |
| Douglas | Jade | Harris | CA | 7/1/21 | Los Angeles | Black | 1 Latino Male, 2 Latina Females | 30 |   |
| Michael |   | Gargiulo | CA | 7/16/21 | Los Angeles | White | 1 White Female, 1 Latina Female | 25 |   |
| Adrian |   | Ortiz | CA | 2/26/21 | Tulare | Latinx | 1 Latino Male | 19 |   |
| Billy |   | Wells | FL | 5/25/21 | Bradford | White | 1 White Male | 43 |   |
| Reynald |   | Figueroa Sanabria | FL | 7/2/21 | Pinellas | Latinx | 1 White Female, 1 White Male | 41 |   |
| Aubrey |   | Trail | NE | 6/9/21 | Saline | White | 1 White Female | 51 | 3-judge panel |
| Joseph | Fidel | Alliniece | OK | 7/27/21 | Cleveland | Black | 1 White Female | 29 |   |
| Daniel |   | Vasquez | OK | 11/5/21 | McClain | Latinx | 1 Black female | 33 |   |
| Derrick |   | Laday | OK | 7/7/21 | Oklahoma | Black | 1 Black Male | 22 |   |
| William |   | Reece | OK | 8/19/21 | Oklahoma | White | 1 White Female | 38 |   |
| Steven |   | Wiggins | TN | 8/12/21 | Dickson | White | 1 White Male | 31 |   |
| Otis |   | McKane | TX | 8/6/21 | Bexar | Black | 1 White Male | 31 |   |
| Tyrone | Jamaal | Williams | TX | 11/19/21 | Hunt | Black | 2 White Females | 30 |   |
| William | George | Davis | TX | 10/27/21 | Smith | White | 4 White Males | 34 |   |
---
2021 Death Sentences by Race of Defendant and Victim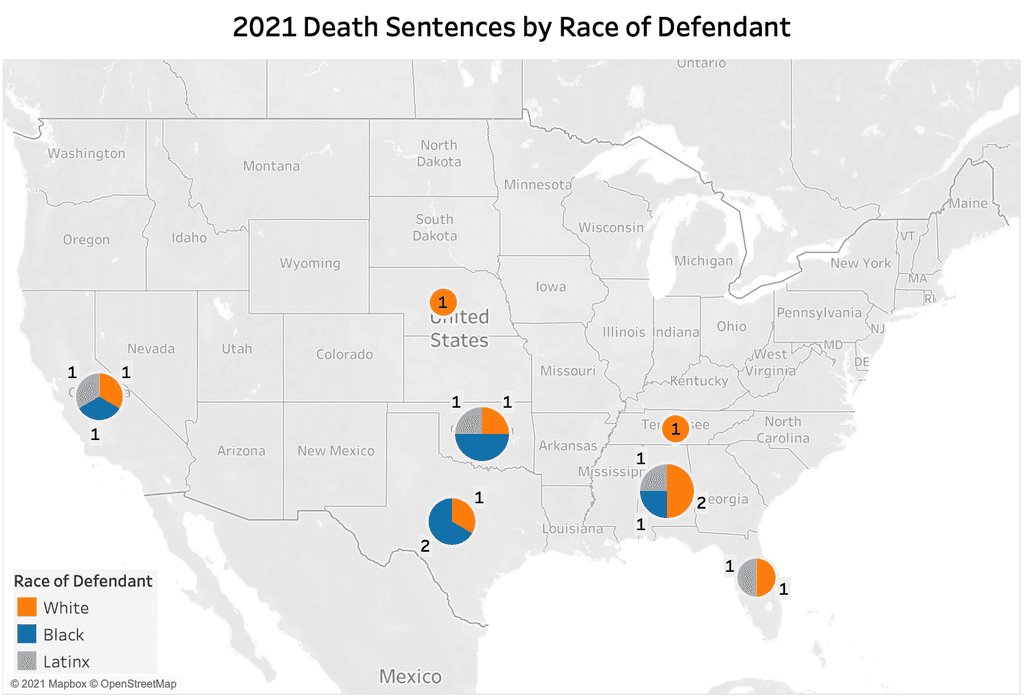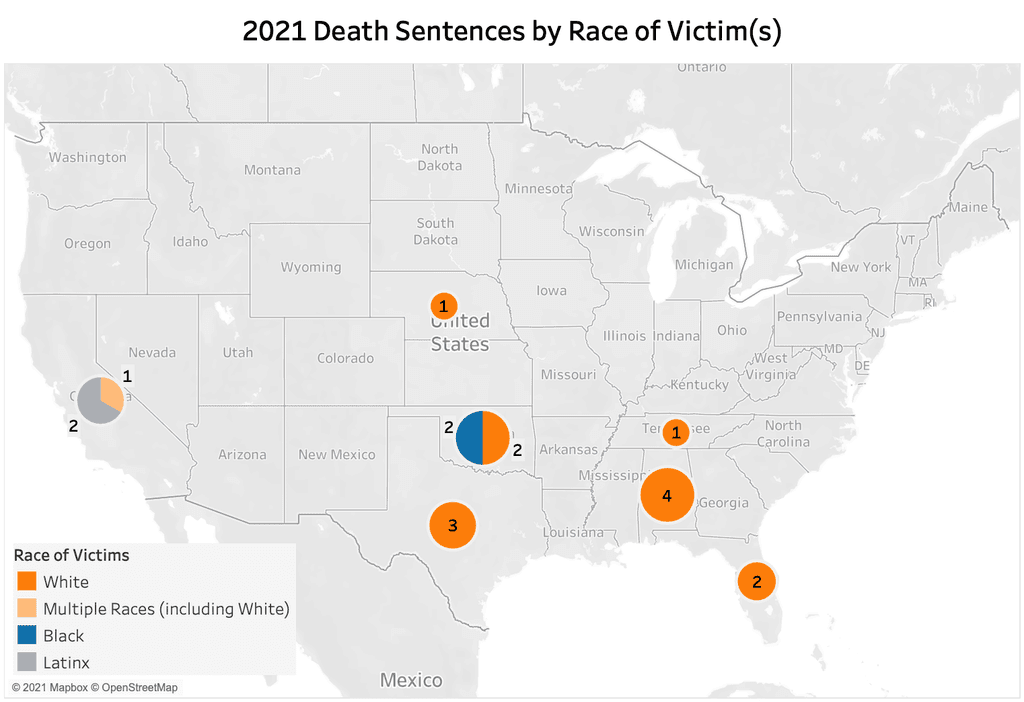 | Race | Number of Defendants Sentenced to Death |
| --- | --- |
| White | 8 |
| Black | 6 |
| Latinx | 4 |
| Total | 18 |
| Race of Victim(s) | Number of Cases |
| --- | --- |
| White | 13 |
| Latinx | 2 |
| Black | 2 |
| Multiple Races (Including White) | 1 |
---
2021 Death Sentences by County
| County | Number of Death Sentences |
| --- | --- |
| Los Angeles, CA | 2 |
| Oklahoma, OK | 2 |
| Bexar, TX | 1 |
| Bradford, FL | 1 |
| Cherokee, AL | 1 |
| Cleveland, OK | 1 |
| Dickson, TN | 1 |
| Hunt, TX | 1 |
| Madison, AL | 1 |
| McClain, OK | 1 |
| Pinellas, FL | 1 |
| Saline, NE | 1 |
| Shelby, AL | 1 |
| Smith , TX | 1 |
| St. Clair County, AL | 1 |
| Tulare, CA | 1 |
---
2021 Death Sentences by State
| State | Death Sentences in 2021 |
| --- | --- |
| Alabama | 4 |
| Oklahoma | 4 |
| California | 3 |
| Texas | 3 |
| Florida | 2 |
| Nebraska | 1 |
| Tennessee | 1 |