Sentencing Data
Death Sentences in the United States Since 1973
By State and By Year
SOURCES: DPIC's Death Penalty Census and annual death sentence tracking. Each year, DPIC collects information on the number of death sentences in the United States. We contact state agencies, state death penalty organizations, and death penalty litigators, and review news reports to confirm the numbers. We only count the number of "new sentences," i.e., we do not recount individuals who were sentenced to death in a previous year, had their sentenced overturned, and were resentenced in the current year. Sentences are only counted when a judge imposes the sentence, even though a jury may have returned a death verdict earlier.
Research for the Death Penalty Census is ongoing, and DPIC has identified three death sentences for which the year of sentencing is uncertain. Those three sentences are not included in the table above.
This page previously used data from the Capital Punishment Annual Reports produced by the Bureau of Justice Statistics (BJS). BJS counts only the most recently imposed death sentence for those individuals who were resentenced to death after their prior convictions or death sentences were overturned. BJS makes revisions to its national annual totals in subsequent reports, but does not provide information on which states' totals have changed.
---
National Death Sentences by Year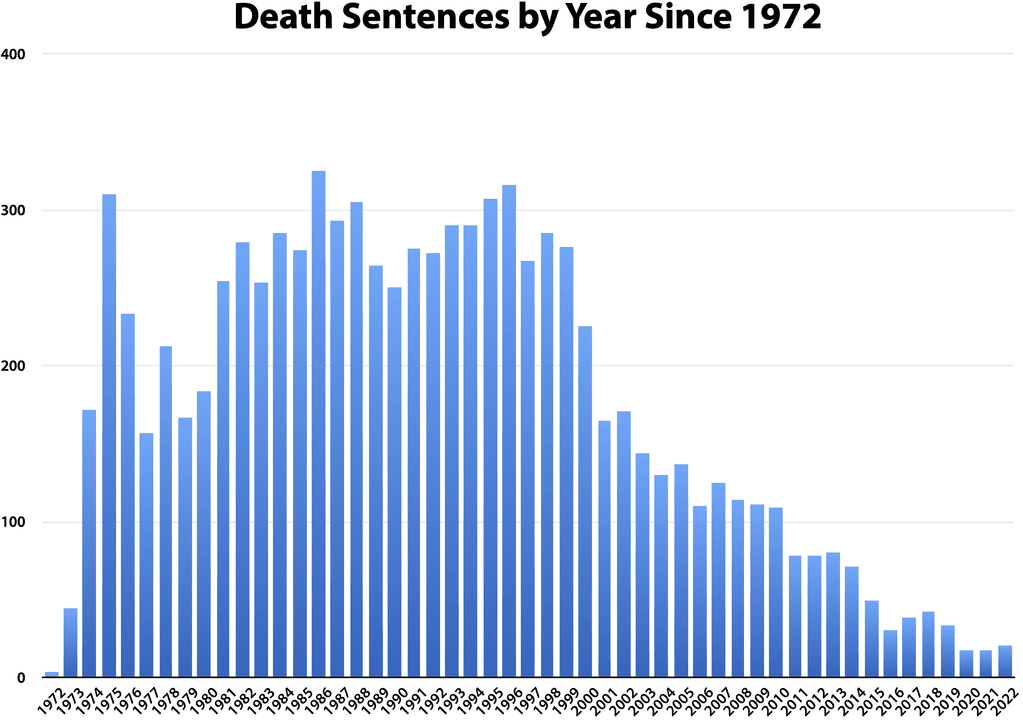 | Year | Sentences |
| --- | --- |
| Total | 8,957 |
| Unknown | 3 |
| 1972 | 4 |
| 1973 | 45 |
| 1974 | 172 |
| 1975 | 310 |
| 1976 | 234 |
| 1977 | 157 |
| 1978 | 213 |
| 1979 | 167 |
| 1980 | 184 |
| 1981 | 255 |
| 1982 | 279 |
| 1983 | 254 |
| 1984 | 285 |
| 1985 | 274 |
| 1986 | 325 |
| 1987 | 293 |
| 1988 | 305 |
| 1989 | 265 |
| 1990 | 251 |
| 1991 | 275 |
| 1992 | 272 |
| 1993 | 290 |
| 1994 | 290 |
| 1995 | 307 |
| 1996 | 316 |
| 1997 | 268 |
| 1998 | 285 |
| 1999 | 276 |
| 2000 | 226 |
| 2001 | 165 |
| 2002 | 171 |
| 2003 | 144 |
| 2004 | 130 |
| 2005 | 137 |
| 2006 | 110 |
| 2007 | 125 |
| 2008 | 114 |
| 2009 | 111 |
| 2010 | 109 |
| 2011 | 78 |
| 2012 | 78 |
| 2013 | 80 |
| 2014 | 71 |
| 2015 | 50 |
| 2016 | 31 |
| 2017 | 39 |
| 2018 | 43 |
| 2019 | 34 |
| 2020 | 18 |
| 2021 | 18 |
| 2022 | 21 |