The Recorder
By Dan Goodin
June 28, 1996

For the first time in 2 1/2 years, the California Supreme Court has reversed both the conviction and death sentence in a capital murder case.
The state high court on Thursday overturned a Fresno man's 1982 death judgment in In re Jones on Habeas Corpus, S016628, ruling that Troy Lee Jones' trial attorney failed to provide effective assistance of counsel.
Jones is the first death penalty case decided by the court under Chief Justice Ronald George, who succeeded Malcolm Lucas on May 1.
"We conclude that defense counsel's performance before and during the guilt phase of the trial was marked by numerous deficiencies," George wrote for a unanimous court, "and that the cumulative impact of counsel's shortcomings at that phase of the proceedings was prejudicial with regard to the judgment of guilt."
The opinion is significant because the state Supreme Court grants so few reversals in capital cases. Under former Chief Justice Lucas, the court affirmed about 90 percent of the death sentences it reviewed, according to J. Clark Kelso, a professor at McGeorge School of Law in Sacramento.
But Kelso warned against drawing too many inferences from such a rare reversal shortly after George has come on board, calling it "coincidental timing."
"I don't think you can read very much into this case," Kelso said. "The court did what it had to do under federal constitutional principles. [Defense] counsel in the case simply was poorly prepared and didn't know the facts."
The ruling entitles Jones, 45, to a new trial for the December 1981 killing of his girlfriend, Carolyn Grayson. Her body, with six bullet wounds, was found in a field near the Merced County community of Los Banos. There were no eyewitnesses, and the murder weapon was never found.
Prosecutors claimed Jones killed Grayson to keep her from revealing his role in a murder 11 months earlier; he was never charged for that murder. A neighbor testified she saw Jones beat Grayson with a tire iron a few weeks before her death and heard Grayson scream that she wouldn't say anything.
"Although … there was evidence suggesting [Jones'] guilt, this evidence was not overwhelming and there also was evidence that other members of [Jones'] family had attempted to kill Grayson," George wrote. He cited evidence that Jones' mother and sister had tried to poison Grayson and that Jones' wife had also discussed murder over Jones' objections.
Pointing to such circumstances, George said, the failings of Jones' trial lawyer, Hugh Wesley Goodwin, were "sufficiently significant to undermine our confidence" in the verdict.
Attempts to locate Goodwin for comment were unsuccessful.
Goodwin, a veteran criminal defense lawyer, was appointed to a Fresno Municipal Court seat by Gov. Jerry Brown in 1976 and was defeated in the 1978 election. In his brief judicial career, he attacked the constitutional separation of church and state, ordered defendants to attend church as a condition of probation, and called the Commission on Judicial Performance an "instrument of Satan" after it criticized him.
Two Fresno County defendants represented by Goodwin, Wilbur Jennings and Douglas Stankewitz, were also sentenced to death in separate cases and are appealing in federal court. Stankewitz's lawyer, Robert Bryan, said Goodwin's performance is a central issue in the appeal.
In Jones' case, the court said Goodwin did not hire an investigator and did little preparation apart from talking with Jones for three or four hours. Goodwin then elicited testimony from Grayson's 8-year-old daughter that her mother had said Jones committed the earlier murder. He also put Jones' mother -in-law on the stand, and she promptly testified that Jones had once shot her.
Merced Superior Court Judge William Ivey, who conducted an evidentiary hearing into the matter on the Supreme Court's behalf, described Jones as a "horribly tried case."
The Supreme Court agreed. "Taking into account the nature and extent of defense counsel's inadequate performance, and the evidentiary weaknesses in the prosecution's case … there exists a reasonable probability that the outcome of the guilt phase would have been different but for the cumulative impact of defense counsel's numerous failings," George wrote.
Law professor Kelso said of the court's few reversals, most involved habeas claims. In habeas cases, Kelso said, "the court doesn't really have any leeway" because it is bound by federal constitutional principals.
Still, he said the ruling was "unusual because this is not just a reversal at the penalty phase, but at the guilt phase as well."
It will take several years to determine if the Supreme Court under George is taking a more liberal stance on capital cases, Kelso said.
Jan 04, 2023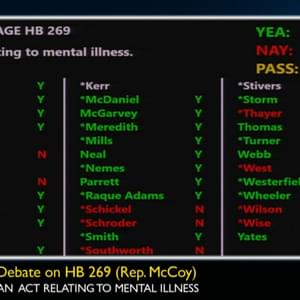 2022

Legislation Activity