The Times (London)
By BEN MACINTYRE in Washington

A quarter of the convicts on death row in Texas were represented by lawyers with records of professional misconduct, according to a report raising fresh doubts about the quality of justice in the state governed by George W. Bush, the Republican presidential candidate
The Dallas Morning News reported yesterday that a large proportion of the court-appointed lawyers representing the 461 death row inmates had been disciplined for incompetence or misbehaviour by the Texas State Bar Association. "About one in four of the convicts has been defended by lawyers who have been reprimanded, placed on probation, suspended or banned from practising law by the State Bar of Texas," the newspaper reported.
"The infractions that triggered bar discipline - an extraordinary step reserved for severe misbehaviour - included failing to appear in court, falsifying documents, failing to present key witnesses and allowing clients to lie." Some of the lawyers represented clients at trial, and others on appeal.
Mr Bush has presided over 144 executions since 1995 when he became Governor of Texas, where 231 people have been put to death since capital punishment resumed in 1982 - the highest tally of any state. The Republican candidate has repeatedly said that he has no doubts whatever about the guilt of any of the people executed under his governorship. While some states have full-time public defender systems, in Texas local lawyers are appointed by judges at low rates of pay that vary depending on the location of the case.
Some of the Texas system's defenders say that just because a lawyer has been disciplined does not necessarily mean he or she is a bad lawyer. "There are many, many, very, very competent attorneys who have had grievances and have had disciplinary sanctions that in no way impact or reflect upon their ability to try a lawsuit," Judge Mike McCormick of the Texas Court of Criminal Appeals said.
The report questioning the quality of legal representation on death row in Texas comes amid fresh signs of anxiety in the Bush camp. Time magazine reported yesterday that the Republican candidate, enraged by whispers of disloyalty in the ranks, is making his own "target list of all those supposed allies who have publicly worried or whined every time anything went wrong."
One adviser was quoted as saying: "When we win, all those people are going to be at the back of the line for favours and good jobs."
In another indication of a rattled campaign, Mr Bush was reported to have contacted his former rival, John McCain, to ask him to use his influence as head of the Senate commerce committee, to persuade the other television networks to carry the debates he proposed on NBC and CNN.
Mr McCain was said to have declined the request. Allies of the Arizona senator pointed out that barely seven months ago Mr Bush accused Mr McCain of misusing his Senate post.
After insisting that he would take part in only three debates, Mr Bush has since backed down and said he will negotiate over the format and location of debates with Al Gore, his Democratic challenger.
With eight weeks until the election most polls show the two candidates locked in a tight race, although the Newsweek survey yesterday showed Mr Gore holding on to a substantial eight-point lead.
Jan 04, 2023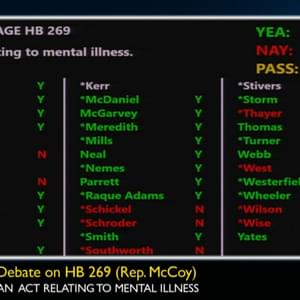 2022

Legislation Activity