Malcom Rent Johnson

Malcolm Rent Johnson, a Black man, was tried, convicted, and sentenced to death by an all-white jury for the rape and murder of an elderly white woman in Oklahoma City in 1982.[1] Johnson was tried by Bob Macy, and his conviction was based in part on testimony from Joyce Gilchrist. Johnson was executed in January 2000, only a year before Gilchrist's widespread misconduct came to light. [2] Doubts about Johnson's guilt still linger today.
At trial, Gilchrist testified that semen found at the victim's apartment was consistent with Johnson's blood type and that strands of hair found at the crime scene were "consistent microscopically" with Johnson's.[3] Johnson requested funds to hire his own forensic expert to review the evidence but was denied.[4] During federal habeas proceedings, Johnson was able to secure affidavits from two forensic experts that undermined Gilchrist's findings, but the court ruled that this evidence was not enough to change the outcome of the trial.[5] Johnson was executed without further scrutiny of his claim.
When Gilchrist's misconduct came to light, the Oklahoma City Police Department reviewed the evidence used in Johnson's case. In a July 2001 internal memorandum, forensic chemist Laura Schile wrote that a review of the semen evidence showed that sperm was not present in the samples. Schile's findings were corroborated by three other scientists at the forensics lab. [6] At the time, former Oklahoma County Chief Public Defender Robert Ravitz said that the review "really calls into question whether the state of Oklahoma executed an innocent person."[7]
While all this information does not necessarily exonerate Johnson, it seriously calls into question the integrity of his conviction and death sentence. Without Gilchrist's fabricated evidence, the jury may have had lingering doubts—the most persuasive type of mitigating evidence[8]—which could have led it to recommend a lighter sentence to Johnson.
[1] Johnson v. Gibson, 169 F.3d 1239 (10th Cir. 1999).
[2] Deborah Hastings, Executed Man's Voice Echoes in New Probe, L.A. Times, (Nov. 4, 2001).
[3] Johnson, 169 F.3d at 1244.
[4] Id. at 1246.
[5] Id. at 1247.
[6] Deborah Hastings, Executed Man's Voice Echoes in New Probe, L.A. Times, (Nov. 4, 2001).
[7] Associated Press, Disputed DNA Evidence Casts Doubt on Execution, Recordnet (Aug. 30, 2001).
[8] See Scott E. Sundby, The Capital Jury and Absolution: The Intersection of Trial Strategy, Remorse, and the Death Penalty, 83 Cornell L. Rev. 1557, 1583 (1998).
Jan 04, 2023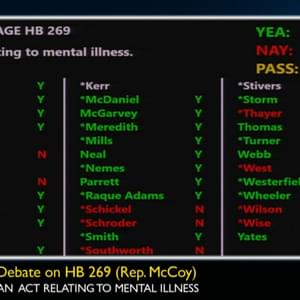 2022

Legislation Activity