The Death Penalty Information Center has assembled the following press materials and Web links to provide easy access to information regarding the work of the Illinois Commission on Capital Punishment, a blue-ribbon panel that has recently completed the nation's most comprehensive state review of the death penalty. The Commission's findings and recommendations will surely capture the attention of lawmakers and legal experts throughout the nation who are watching closely to track the impact of this review beyond Illinois. The Commission's recommendations aim to address problems Illinois Governor George Ryan identified two years ago, including potential safeguards to prevent the possible conviction and execution of innocent inmates.
Background Materials
Two years ago, Illinois Governor George Ryan appointed a 14-member Commission on Capital Punishment to closely examine Illinois's death penalty, and he declared the nation's first moratorium on executions until the review was completed. A milestone moment in America's quest for a fairer justice system, Ryan's step helped spark an unprecedented series of events throughout the country. Prior to forming this commission, the Governor declared that his state's death penalty was fraught with error, noting: "[The Illinois capital punishment system is] so fraught with error and has come so close to the ultimate nightmare, the state's taking of innocent life."
Since Ryan's call for a review of the death penalty in Illinois, many governors from coast to coast have voiced concerns about the fairness of their states' systems, and nine states have launched comparable studies of capital punishment policies. In addition, legislatures in nearly every state retaining the death penalty considered reform legislation, and an escalating number of communities and organizations are calling for a halt to executions until capital punishment concerns are addressed.
Further Developments
In April of 2003, Governor Rod Blagojevich announced that he would not recall the moratorium on the death penalty in Illinois, stating that "I don't feel any artificial pressure to lift the moratorium. I'd like to one day be in the position to do that, if I thought the position was foolproof. But I don't believe a series of reforms that the Legislature will pass, most of which I support, will do enough to have me feel that the system won't make those kinds of mistakes." While Blagojevich did support many of the measures approved by the Illinois legislature, he chose to partially veto the bill, which included provisions for the banning of the execution of the mentally retarded. On November 19, 2003, the Illinois legislature unanimously voted to override the partial veto, making the bill law.
Additional Links
Jan 04, 2023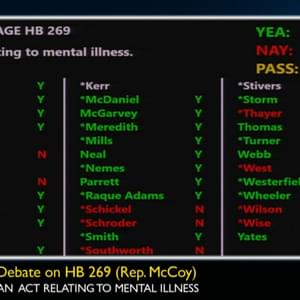 2022

Legislation Activity