FBI, state police investigating Wambaugh's $45,000 payment to Holtz
By Pete Shellem and Laird Leask
April 5, 1992
The Patriot News
The lead investigator in Susan Reinert 's slaying was paid at least $45,000 by an author the same year that Jay C. Smith was convicted of her murder.
Documents obtained by The Sunday Patriot-News show that state Trooper Jack Holtz received the money in 1986 from Joseph Wambaugh, who wrote "Echoes in the Darkness," a best seller that was the basis for a highly rated CBS miniseries.
Records also show that Holtz, a 23-year veteran of the state police, purchased a Porsche 944 and a resort home on North Carolina's Outer Banks in the year after the trial while earning a annual salary of about $35,000.
Agents from the FBI's Harrisburg office have launched an investigation into Holtz's actions, according to sources familiar with the probe. In addition, the state police are conducting an internal investigation.
State police regulations prohibit investigators from accepting outside money for police work unless specifically approved by the commissioner.
"A member shall not seek or accept any form of reward or renumeration excluding wages paid by the department as a result of his or her conduct while acting within the authority of his or her badge except as directed by commissioner," according to state police field regulations adopted in 1975.
Furthermore, the regulations prohibit dissemination of confidential information, especially that which might compromise the judicial process.
David J. Malarney, resident agent in charge of the FBI's Harrisburg office, would not confirm or deny the existence of an investigation, but said: "The FBI would look into any violations that it has jurisdiction over and follow the investigation to wherever the evidence may lead."
Holtz declined to comment.
"I'm in a very uncomfortable position and all releases are being handled by the department," Holtz said when contacted at his home late last week.
State police officials declined to comment on whether Holtz ever had agency approval to accept payment or on other aspects of the case. They noted that Holtz is under internal investigation and it is department policy not to comment on such matters.
Wambaugh did not respond to interview requests made through his publicists and agent.
The latest developments follow the discovery of a discarded box from Holtz's home two weeks ago that Smith 's attorney said in a court motion contained exculpatory evidence against Smith .
According to Dauphin County Court papers filed by Lemoyne lawyer William C. Costopoulos, the box contained a comb found under Reinert 's body and investigatory notes that contradicted trial testimony.
A similar comb was used at the trial to connect Smith to the crime scene. All evidence used at the trial was sealed by court order and is now in the hands of the state attorney general's office.
The box of evidence, which was found by a junk dealer contracted to clean out Holtz's attic and basement, also contained a letter showing that Wambaugh had offered Holtz' late partner, Sgt. Joseph Van Nort, $50,000 in January 1981. William S. Bradfield Jr., Smith 's accused co-conspirator, and Smith weren't arrested until 1983 and 1985, respectively.
Costopoulos sharply criticized Holtz and Wambaugh, and said the state attorney general's office should reconsider its case against Smith .
"The attorney general's office has done what they could to protect the reprehensible prosecution of Jay Smith ," Costopoulos said. "The integrity of the criminal justice system is now also at stake. Maybe now they will reconsider."
A federal 1099 tax form shows Wambaugh paid Holtz $45,000 in 1986, but other documents raise more questions about when and how much he
received. A draft copy of Holtz' 1987 federal income tax return, for example, bears the notation "$1,000 New World Direction Inc. Echoes in the Darkness," with an arrow pointing to the income line.
The 44-year-old trooper was instrumental in the prosecution of Smith , a former principal at Upper Merion High School, and Bradfield, Reinert 's fellow English teacher at the school. The pair were convicted of killing Reinert and her two children in 1979 in order to collect $750,000 in insurance money.
Bradfield was convicted in 1983 of conspiracy to commit murder and is serving three life sentences in the Graterford state prison.
Smith , who has been incarcerated at the State Correctional Institution at Huntingdon since his 1986 conviction, was granted a new trial in 1989 on grounds the trial court allowed inadmissible hearsay testimony to be presented. Costopoulos is arguing that a second trial would constitute double jeopardy because of misconduct by the prosecution.
The box containing the alleged evidence from the case was discovered by Wellsville antiques dealer Mark A. Hughes, who said Holtz had contracted with him to clean out the attic and basement of his Swatara Twp. home. Hughes gave the evidence to Costopoulos on March 17.
A hearing has been scheduled for April 27 on Costopoulos' petition demanding an explanation from the prosecution.
Along with questioning why the evidence was in Holtz' home, Costopoulos is expected to ask who else was paid and when.
Former Deputy Attorney General Richard L. Guida, who prosecuted Smith and Bradfield, said he was not paid anything from Wambaugh.
However, he said he received about $2,000 for legal work he performed for New World Television, the company that produced the miniseries a year after Smith 's conviction.
"I was a salaried employee of another lawyer at the time," Guida said. "So that money went to him and not me. I had no knowledge of the purported letter to Van Nort and I had no knowledge of anyone being paid anything other than directly related to the production of the film."
In a 1987 article about the movie, Guida said he and Holtz were scheduled to be technical advisers for the film. However, the director did not want real characters on the set.
Prosecutor William Behe, who assisted Guida in the Bradfield case, and Trooper Jack Lotwick, who participated in the investigation, went to the set instead, according to Guida.
Behe, who is now an assistant U.S. attorney in Middle District Court, said he was paid in cash for his help, but would not say how much.
"I don't think that's anybody's business," he said. "After everyone was convicted and they were putting this thing together was the first I heard they were going to do anything. I didn't see anything even remotely inappropriate with being contacted more than a year after it was over."
Lotwick, who received approval from former State Police Commissioner John K. Schafer for his advice on the film, declined comment.
Jim Zemmelman, an attorney for New World Pictures, said he did not know who was paid for their help with the movie. Individual producers decide their own expenses, he said.
Jan 04, 2023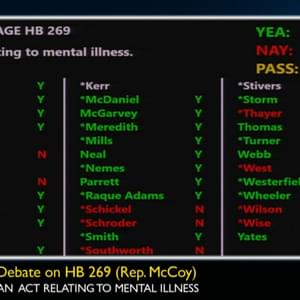 2022

Legislation Activity