DNA Exonerations Lead to Key Policy Changes Throughout the U.S. In the wake of more than 200 exonerations based on DNA evidence, including some wrongfully convicted death row prisoners, jurisdictions throughout the U.S. are enacting key policy reforms that add safeguards to protect against wrongful convictions and provide inmates with better access to crucial evidence during appeals. All but eight states now give inmates varying degrees of access to DNA evidence that might not have been available at the time of their convictions, and many states are overhauling the way witnesses identify suspects, crime labs handle evidence, and informants are used. Reform measures to change crime lab oversight policies are pending in 21 states, and more than 500 local and state jurisdictions have adopted policies that require the recording of interrogations. California lawmakers have also passed a bill that requires informant testimony to be corroborated before it can be heard by a jury. "The legislative reform movement as a result of these DNA exonerations is probably the single greatest criminal justice reform effort in the last 40 years," said Peter J. Neufeld, a co-director of the New York City-based Innocence Project. Efforts to pass key reforms have been bolstered by recent wrongful conviction research. A 2005 study conducted by University of Michigan Law School Professor Samuel R. Gross found that 340 prisoners sentenced from 1989 to 2003 had been exonerated. Of those, 205 were convicted of murder and 121 of rape. Half of the wrongful murder convictions and 88% of the wrongful rape convictions included false eyewitness identification. DNA evidence was used to exonerate 144 of these inmates. Gross notes that his research indicates a far larger problem, stating, "Of the 340 exonerations I looked at, 96 percent are for rape and murder. Does that mean nobody was wrongfully convicted for drug possession, or drunk driving or burglary? Chances are there are many, many more false convictions for lesser crimes." Only eight states do not have laws that give inmates access to DNA evidence, and reform advocates say they intend to lobby for passage of access laws in those states during the next legislative session.
(New York Times, October 1, 2007).
Senators Leahy and Specter Introduce Habeas Corpus Restoration Act On December 5, Senator Patrick Leahy of Vermont and Senator Arlen Specter of Pennsylvania introduced legislation (S. 4081) to restore the right to habeas corpus to those deemed to be enemy combatants and who are facing trial before military commissions, including those being detained at the U.S. Guantanamo prison in Cuba. Habeas corpus provides an avenue for inmates in detention to challenge the constitutionality of their confinement. The roots of this protection go back to early English law and the right to habeas corpus is guaranteed in the U.S. Constitution. The Military Commissions Act of 2006, passed in September 2006, precluded enemy combatants from pursuing habeas corpus relief and barred cases decided by military commissions from habeas review. Those to be tried before military commissions could face the death penalty. "The Constitution of the United States is explicit that habeas corpus may be suspended only in time of rebellion or invasion," observed Sen. Specter. "We are suffering neither of those alternatives at the present time. We have not been invaded, and there has not been a rebellion." "This bill would restore the great writ of habeas corpus, a cornerstone of American liberty for hundreds of years that Congress and the President rolled back in an unprecedented and unnecessary way with September's Military Commissions Act," said Senator Leahy. (See Congressional Record: December 5, 2006 (Senate), Page S11197-S11199, introductory statements of Sens. Leahy and Specter to the Habeas Corpus Restoration Act of 2006). See Military Commissions.
Former FBI Director Warns Against Stripping Death Penalty Appeals The former Director of the FBI, William Sessions (pictured), along with Timothy Lewis, a former judge of the U.S. Court of Appeals, called on members of Congress to refrain from barring death row inmates and other defendants from the full access to the federal courts in their appeals. Some legislators have proposed eliminating federal habeas corpus review in many cases, and barring access to the federal courts to many of those raising challenges to their death sentences. The authors of the op-ed wrote, in part:"We take a back seat to no one in our support for strong law enforcement, but we are equally committed to our country's long-standing commitment to fair trials and constitutional safeguards. These safeguards are essential to making as sure as possible that when we charge someone with a crime, we have the right person and that that person, if convicted, receives the sentence he or she deserves. All Americans should be alarmed at the many recent exonerations of innocent people who have served years in prison or on death row. Not only have we locked up the wrong people, but the true perpetrators remain free to inflict more harm. As a result, we are profoundly disturbed about reports of a new and misguided assault on the writ of habeas corpus. In a back-door action, the provision in question would be attached to entirely unrelated legislation in the few remaining days before Congress adjourns. It has never been examined by any congressional committee, so no senator or representative has heard what no doubt would be an outcry of public opposition against it. The provision would cover much of the same ground as the Streamlined Procedures Act, an ill-conceived bill that generated enormous opposition last year. For the first time, both the Judicial Conference, representing the country's federal judges, and the Conference of Chief Justices, representing the chief justices of all states, forcefully opposed the act because it would have stripped the federal courts of much of their jurisdiction to hear habeas petitions. Numerous other reasonable voices across the political spectrum also opposed this legislation. They did so because, as the chief justices stated, "The wrongful conviction of an innocent person leaves the actual perpetrator free and undermines public trust and confidence in our criminal justice system." (Pittsburgh Post-Gazette, Sept. 26, 2006).
Patriot Act Likely to Curtail Death Penalty Appeals Congress recently passed the re-authorization of the Patriot Act and this bill is likely to curtail the appeals of state death row inmates in federal courts. The legislation, which is due to be signed into law this week by President Bush, would allow states to obtain approval of their systems of representation in death penalty cases from the U.S. Attorney General rather than from the federal courts, as required under a previous law. Once approval is granted, habeas corpus petitions alleging constitutional error in death verdicts would be put on a fast track for resolution. (Under the old law (the Anti-Terrorism and Effective Death Penalty Act), only one state's (Arizona) system of appointment and compensation for defense counsel had been deemed adequate by the courts.) Critics of the new measure fear that U.S. Attorney General Alberto Gonzales (pictured), a strong death penalty proponent, will allow the faster appeals in many states that have failed to meet basic standards for competent defense representation. They also worry that the short timelines will deter private attorneys from taking capital cases in federal court, and could leave some people on death row without counsel altogether. (The (Calif.) Daily Journal, March 8, 2006).
Innocence Protection Act Signed Into Law President Bush signed into law the Justice for All Act (H.R.5107) that includes a version of the Innocence Protection Act. The bill was co-sponsored by Senators Patrick Leahy (D-Vt.) and Orrin Hatch (R.-Ut.). It will create a post-conviction testing process to protect innocent defendants and provide training funds for the defense and prosecution in death penalty cases. (Salt Lake Tribune, Nov. 2, 2004).
Senate and House pass versions of Innocence Protection Act On October 9, the U.S. Senate passed by voice vote a bill called the "Justice for All Act of 2004" that contains important elements of the Innocence Protection Act, originally introduced in 2000. A similar bill recently overwhelmingly passed the House of Representatives (HR 5107), and it is expected that the final legislation will now be signed into law. The bill provides for expanded access to DNA testing for prison inmates and assistance to states for both defense and prosecution in conducting death penalty trials. The broader legislation also provides assistance to victims of crime. (Washington Post, Oct. 10, 2004).
House Overwhelmingly Passes DNA Bill That Includes The Innocence Protection Act By a vote of 357-67, the U.S. House of Representatives passed legislation designating $25 million in funding over five years for DNA testing that could help prove the innocence of some death row inmates. The bill also provides funding for states to improve the quality of legal representation for those facing capital charges. The bipartisan-supported bill, entitled The Advancing Justice Through DNA Technology Act of 2003 (H.R. 3214), includes a comprehensive package of programs that provides over $1 billion over the next five years to assist Federal and State authorities in solving crimes and protecting the innocent. The U.S. Senate is considering a similar measure. (Associated Press, November 5, 2003)
Innocence Protection Act Clears Senate Judiciary Committee By a vote of 12-7, the Innocence Protection Act today cleared the Senate Judiciary Committee with bipartisan support. The legislation provides safeguards to prevent wrongful convictions and executions by ensuring inmate access to DNA testing and improving the quality of legal representation for capital defendants. (Congressional Quarterly.com, July 19, 2002) See also, The Justice Project's Press Release.
The U.S. Senate Judiciary Committee, led by Chairman Patrick Leahy (D-VT), held hearings on June 27, 2001 regarding the bipartisan Innocence Protection Act of 2001 (IPA). The hearings, which focused primarily on the need for defendants to be represented by qualified and experienced counsel in capital cases, included testimony from Beth Wilkinson, a former lead prosecutor in the Oklahoma City bombing case, and Michael Graham, a wrongly convicted man who spent 14 years on Louisiana's death row before being exonerated. "One of our nation's most fundamental rights is the right to counsel," said Senator Leahy. "In the most serious cases, where we are considering the execution of a human being, the Innocence Protection Act will help ensure that defendants have a right not just to counsel, but to competent counsel." Also testifying at the hearings in support of the IPA were Stephen Bright, director of the Southern Center for Human Rights; Texas state senator Rodney Ellis; IPA lead co-sponsors in the Senate, Gordon Smith (R-OR) and Susan Collins (R-ME); and House lead co-sponsors William Delahunt (D-MA) and Ray LaHood (R-IL). Testifying in opposition to the proposed legislation were The Honorable William H. Pryor Jr., Attorney General, Montgomery, AL; Mr. Ronald Eisenberg, Deputy District Attorney, Philadelphia, PA; and Kenneth S. Brlackett Deputy Solicitor, 16th Circuit, South Carolina. (The Justice Project Press Release, 6/27/01). On March 7, 2001, U.S. Senators Patrick Leahy (D-Vt.), Gordon Smith (R - Ore.), Susan Collins (R-Maine), and Russ Feingold (D-Wisc.), joined U.S. Representatives William Delahunt (D-Mass.) and Ray LaHood (R-Ill.) to reintroduce the Innocence Protection Act in Congress. The bipartisan legislation seeks to address problems of fairness in the death penalty in order to avoid the risk of wrongful convictions and executions. The bill requires states to provide qualified and experienced attorneys to all defendants facing the death penalty, and allows for greater access to DNA testing. Both bills (S.486 and HR.912) began with record levels of bipartisan support - 16 (4 R, 12 D) original cosponsors in the Senate and 119 (19 R, 100 D) in the House. Since the death penalty was reinstated, 95 people have been released from death row after new evidence led to their exoneration. Read about the Innocence Protection Act at www.thomas.loc.gov/bss/d107query.html (search by bill number S.486 or HR.912) or visit the Justice Project's Web site for a section-by-section summary. See also, Innocence. On January 31, 2001, Senator Russ Feingold (D-WI) introduced a bill to place a moratorium on executions by the Federal Government and urge the States to do the same, while a National Commission on the Death Penalty reviews the fairness of the imposition of the death penalty. Sen. Feingold also introduced a federal death penalty abolition bill. Read Sen. Feingold's moratorium and abolition bills at www.thomas.loc.gov/bss/d107query.html (search by bill number S233 for the moratorium bill and S191 for the abolition bill). Rep. Jesse Jackson Jr. (D-IL) introduced a companion moratorium bill in the House of Representatives (H.R. 1038).
Jan 04, 2023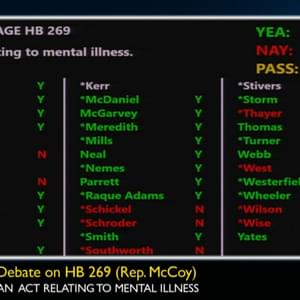 2022

Legislation Activity