In his wallet, Juan Florencio Ramos carries a pre-prison photograph of himself. Because of a five-year ordeal too painful to forget, Ramos now says: "That person is not me." [Times photo: Pam Royal]
Florida leads the nation in wrongful death sentences with 20. What has become of these survivors?
By SYDNEY P. FREEDBERG
July 4, 1999
© St. Petersburg Times

Twelve years after he left Florida's death row, Juan Florencio Ramos still paces like a prisoner locked in a tiny cell.
From the porch of his mother's house near Miami, he gazes at strange cars. He puffs on Marlboros. And when he climbs into his red Trans Am, he hits the gas and races down the street as if the guards are coming to drag him back to prison.
Ramos, a 41-year-old truck driver, is a member of a small but growing club that prosecutors don't like to talk about.
Ramos, released from death row 12 years ago, feels less numb now, "much calmer." He lives in a mobile home next to his mother's house near Miami. [Times photo: Pam Royal] Since 1972, 78 men and two women in the United States have been sentenced to death and then freed from death row — in some cases more than a decade later — when it became clear they were innocent, or at least wrongly convicted because of flawed evidence, prosecutorial misconduct or other problems.
Illinois, which has freed at least 12 condemned inmates, the latest on May 17, has attracted most of the national publicity lately. But it is Florida — with 20 death row survivors — that leads the nation in wrongful death sentences.
Three of the 20 came within 16 hours of the electric chair. Their last meals had been ordered, their $150 burial suits measured, tailored and waiting.
What has become of Florida's wrongly condemned?
One is dead, murdered on the streets of Medellin, Colombia, a few years after his release.
Two never left state custody. They are serving out sentences for other crimes.
'We'd rather have died than to stay in that place for something we didn't do'
'I had nothing … The world I left no longer existed'
'Yes, I'm angry… . Yes, I'm bitter. I'm frustrated'
The 13 other survivors and their stories
Four got a taste of freedom. They are back behind bars for offenses they committed after they were released.
The remaining 13 are back in society, free from death row but not from its shadows.
Many of those 13 live on the edge, modestly and anonymously, fearful that word of their past will get out, struggling to get back some of what they lost: marriages, self-respect, jobs, health, mental stability.
Outwardly, three or four of the survivors seem perfectly normal, with families, nice homes and good jobs. But every day, they must deal with the memories, the bitterness, the anger and fear.
Consider Juan Ramos. From his wallet, he pulls out a pre-prison photograph of a fresh-faced young man with a hard body and smiling eyes. Now that body is scarred from prison fights, those eyes sometimes glazed in anger.
"That person," he says, choking back tears, "is not me."
Experts say wrongful death sentences are built on similar circumstances: police who use coerced confessions or questionable eyewitness identifications; prosecutors who exploit false testimony or inaccurate scientific evidence; jurors who are tainted by prejudice; judges who are out for headlines; and suspects who are easy marks — because of their race, criminal background or inability to afford a good lawyer.
Only five of Florida's wrongly condemned have received compensation from the state, and they say the money can't replace what they lost.
There's an irony in the stories of death row survivors: It took a death sentence to free them. If they had received a life sentence, they probably never would have gotten out.
Michael L. Radelet, a University of Florida sociology professor who documents wrongful executions, says death row survivors are the lucky ones because only through good fortune and careful scrutiny of their cases were they vindicated before a fatal error. "As long as we have the death penalty," Radelet says, "innocent people will be executed."
With more capital punishment cases and shrinking legal resources, the danger of wrongful convictions and wrongful executions is "getting worse," says Richard Dieter, executive director of the Death Penalty Information Center in Washington.
Most prosecutors, judges and Florida officials won't admit an innocent person has ever been executed here or convicted in error.
But Gerald Kogan, who recently retired after 11 years on the Florida Supreme Court, told the Associated Press in December that he wasn't convinced of guilt in "two or three" of the 25 state executions while he was on the court.
"There are several cases where I had grave doubts as to the guilt of a particular person, (and) other cases where I just felt they were treated unfairly in the system," Kogan said.
Kogan, a former prosecutor, refuses to elaborate on which cases he had in mind. "I've said what I'm going to say on that. I don't want to talk about that any more."
Gov. Jeb Bush, who has signed death warrants to send two convicted killers to the electric chair this week, declined to comment for this story. In meetings, Bush has voiced concern about people on death row who may be innocent, according to Carol Licko, his general counsel.
She says the governor signed the warrants only after a careful review of the cases to eliminate any possibility of a wrongful execution.
Life on death row
Each of the cells is 6 feet wide, 9 feet long and 91/2 feet high, with concrete walls on three sides and steel bars in front that look out over a 3-foot-wide catwalk. Each cell has a steel toilet, a steel sink, a steel footlocker and a steel bunk with a mattress 4 inches thick. Each cell also is equipped with a 13-inch black-and-white television. Meals, mail and Bibles are passed to the condemned through a slot in the bars
Inmates can't see into other cells, but they can look down the corridor by angling a piece of a mirror. They communicate with one another by talking down the corridor — called "getting on the bars" — or yelling through a vent or the plumbing pipes. Or throwing a long stick with a note attached to the person in the next cell.
Twice a week, they are let out for a two-hour trip to an exercise yard. Three times a week, they are escorted to the shower stall, where the water runs for five minutes. Occasionally, guards jerk open a cell door to search an inmate's belongings or body for drugs or shanks (crude, homemade knives).
Death row survivors remember the numbing cold in winter, the hellish heat in summer and the non-stop din of hundreds of voices and noises, relieved only by an eerie quiet on execution days.
Alone with nothing but time, they did almost anything to keep their minds occupied.
They counted every dent in the walls, every crevice on the floor. They learned the heavy footsteps of their favorite nighttime guard. They prayed for life and sometimes hoped for death.
They slept and wrote poetry, usually at night when there was less noise. They read and argued about things such as whether to go to the execution chamber kicking and screaming or "like a man."
Anthony Peek, who survived a decade on the row, paced so much — five steps back and forth — that his knees are weak. Dave Keaton, released from death row 26 years ago, could catch a glimpse of the afternoon sun if he stood at the right angle. Sonia "Sunny" Jacobs, who for a time was the only woman in the country on death row, painted by dipping strands of her hair in beet juice.
One rule of survival: be buddies with everyone but close friends with no one. That's because it hurts too much when a friend is executed.
Anthony Brown, who watched and listened 12 times as guards prepared for executions, tears up when he remembers his final hours with Marvin Francois. Francois, 39, was executed in 1985 for killing six people during a robbery of a Miami drug house.
"We wanted to send him out on a high," says Brown, 43, recounting how they shared a cigarette and fantasized it was a joint. "It took a little out of me when they killed him. I'd grown real attached to him."
No matter how they passed the time, they had one thing in common: a date with death in Florida's electric chair.
Too painful to forget
"No matter how hard he screams," Ramos says, "no one hears him.
Ramos grew up in Cuba, served three years in the Cuban military and came to Florida in the 1980 Mariel boatlift. Within a year, he was married, living in Cocoa and making $11 an hour in a steel factory.
His new world collapsed in June 1982 when police arrested him for raping, beating, strangling and stabbing Sue Cobb, 27, an acquaintance who lived a block away. No physical evidence linked Ramos to the homicide, but there was seemingly damning evidence provided by a police dog named Harass II.
After sniffing an empty pack of Ramos' cigarettes, the dog was put in a room with five knives and five blouses. Harass stopped at blouse No. 5, the victim's bloody blouse, then licked knife No. 3, the bloodstained knife that had been embedded in her chest.
These were the only knife and blouse with blood on them — which seemed to prove only that Harass was attracted to blood. But that was enough for a Seminole County jury to convict Ramos, who spoke little English, and for a judge to overrule its recommendation of life and sentence him to death.
Norman Wolfinger, who was Ramos' public defender and now is state attorney for Seminole and Brevard counties, cited another factor in what he called "the weakest murder case I've ever seen" — racism. "Absolutely no attempt was made from Day One to pin the murder on anyone but the sap, the Cuban," Wolfinger said at the time.
Isolated from the world, Ramos remained defiant in his cell on death row. "I thought about my last meal," he says. "I was gonna tell them, "Just feed me the same s—-. It's disgusting of you to offer me the best food when I'm gonna puke it back in your face.' "
Before he talked to the Times, Ramos, who learned English on death row, had never spoken about his ordeal to the media. His 61-year-old mother, Ena Garcia, tells him not to talk now. "You know it upsets you," she says in Spanish. "Why start trouble?"
But Ramos needs to talk, and for six hours, at times angry, at times tearful, he pours out details of his five years of wrongful imprisonment: beatings, a stabbing, paralytic asthma attacks and an attempted gang rape.
Once, he tried to commit suicide by making a noose with a bedsheet, tying it to the bars and sticking his head inside the loop. Another time, he fought with a guard and was sent to solitary, now known as "X-wing." The cell doors in "X-wing" are solid steel. To see out, Ramos scrunched his face against a half-inch crack between the steel door and the concrete wall.
And in his regular cell, he steeled himself for "Old Sparky," once shocking himself with the hot wire of his TV. "I wanted to know what it felt like to get cooked," he says.
While Ramos tried to keep a grip on his sanity, his lawyers fought for his life in the courts. In October 1985, they got a boost when the TV newsmagazine 20/20 exposed the unreliability of scent-tracking dogs, including Harass II, the German shepherd that put Ramos behind bars. The dogs and their trainer, 20/20 reported, had several times identified suspects who probably were innocent.
In August 1986, the Florida Supreme Court reversed Ramos' conviction, ruling that the dog-scent evidence was completely untested. At a retrial, Ramos was acquitted, and on April 24, 1987, he drove to his new home in Miami.
He enjoyed long showers and time with his wife, Danette, whom he leaned on to guide him. But he felt "like a time bomb." He had a hard time relating to people, especially women. "They talked only about superficial things," he says. "How can they really understand what it's like to be on death row?"
Ramos went into therapy, but four years ago his marriage fell apart. He moved in with his mother, claiming a mobile home on the property in south Miami-Dade County. He planted avocado, mango and sugar-cane trees, and now cares for four dogs, a cat and 20 roosters that wander around behind the locked front gate.
Every night, Ramos comes home to a hug from his mother and the smell of her cooking. Every morning, she delivers him cafe Cubano in a thimble cup.
Ramos says he feels less numb now, "much calmer." The only time the adrenaline really pumps is when he's tooling around in his red Trans Am or hauling steel in a semitrailer truck. As a truck driver, no one looks over his shoulder or watches what he's doing.
Still, he feels like a prisoner sometimes — able to face up to death but worried he can't face up to life.
"I came here (to America) for a better life," he says. "In Cuba, I'd be dead. I was found innocent here, but it didn't wipe anything away. You're free, but free for what? The best, best years of my life are gone… . I carry this with me until the day I die."
Jan 04, 2023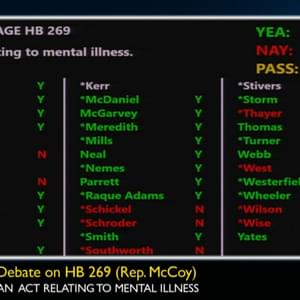 2022

Legislation Activity