By SYDNEY P. FREEDBERG
July 4, 1999
© St. Petersburg Times

'We'd rather have died than to stay in that place for something we didn't do'
'I had nothing … The world I left no longer existed'
'Yes, I'm angry… . Yes, I'm bitter. I'm frustrated'
The 13 other survivors and their stories
When Sonia "Sunny" Jacobs went to prison for murder in 1976, her son was 9. Her daughter, 10 months old, was still nursing.
When she was freed in 1992, her son was married with a child of his own and her daughter was a 16-year-old stranger.
"Getting back family is the hardest part," says Jacobs, now 51, who teaches yoga and lives in Los Angeles. "They live with embarrassment for so long: You say you didn't (commit the murder), but everyone says you did."
Fresh out of prison, Jacobs made her first non-collect telephone call in 16 years to son Eric, and then headed to North Carolina to see him, his wife and their 4-year-old daughter.
"Grandma, were you lost?" the girl asked when they met.
"Yes," Jacobs replied. "I was."
The reunion with her daughter didn't go as smoothly. Jacobs found her at a high school in Maine, but Tina kept her distance.
The wounds began to heal a few months later. Tina accepted her mother's invitation to attend an anti-death-penalty rally in Pittsburgh. The crowd applauded Jacobs, then cheered non-stop when Tina was introduced. Mother and daughter hugged. Eventually, they began living together, got their first drivers' licenses and climbed mountains.
By then, Jacobs and her children had grown accustomed to overcoming obstacles.
In 1976, they were all in the back seat of a green Camaro when Jacobs was arrested with her boyfriend, an ex-con named Jesse Tafero, and his prison pal, Walter Rhodes. They were charged with murdering Florida Highway Patrol Trooper Phillip Black and a visiting Canadian policeman named Donald Irwin a few minutes earlier at an Interstate 95 rest stop.
Rhodes was the only one who tested positive for gunpowder residue. But after he agreed to testify against Jacobs and Tafero, he got a life sentence. They were sentenced to die.
Jacobs spent the next five years in solitary confinement, her vocal cords becoming atrophied because of non-use and denied even her photos of Eric, a son by her first marriage, and Tina, her baby by Tafero. She meditated and practiced yoga. "I figured if people could survive the concentration camps, then surely I could survive this," she says.
In 1981, the Florida Supreme Court commuted Jacobs' sentence to life in prison after her lawyers uncovered a polygraph test suggesting that Rhodes, the prosecution's chief witness, might have lied. The next year, Rhodes recanted, saying he — not Jacobs or Tafero — pulled the trigger. (He later changed his story again and again.) The case grew even more wobbly when a jailhouse snitch said she, too, had lied against Jacobs at trial.
Tafero was not so lucky. He remained on death row while his appeals slipped away. In May 1990, he was executed.
By then, a childhood friend of Jacobs, filmmaker Micki Dickoff, had become interested in her case. Using court transcripts, affidavits and old newspaper stories, Dickoff found discrepancies in testimony and put together a color-coded brief for the 11th U.S. Circuit Court of Appeals. It was enough to overturn Jacobs' conviction.
Rather than risk an acquittal at retrial, the Broward State Attorney's Office offered a plea to second-degree murder in which Jacobs, then 45, did not have to admit guilt. On Oct. 9, 1992, she was released.
She remembers seeing the sun and the moon as she left the Broward County Courthouse.
"I felt like an alien at first," Jacobs says, adding that in prison at least she had stature. "Outside, I had nothing: no money, no place to go. The world I left no longer existed."
For a time, Jacobs had flashbacks and a recurring dream: "I'm madly dashing up and down the corridors trying to find my cell. I couldn't and I was gonna get in trouble… . So I ran to the lobby — it looked like a hotel lobby — and I asked the desk to call and say I was really here, but I just couldn't find my cell."
The nightmares have ended. The bad feelings come and go. Whenever things get too bad, Jacobs takes long walks along the beach, runs her fingers through the sand and listens to the ocean. "I let the sea take me away," she says.
She lives with her daughter and the mutt she laughingly calls her "grand-dog-ter," and runs a growing yoga business in Los Angeles. She dabbles in filmmaking with Dickoff and in her spare time writes a memoir of death row and life after. She also keeps in touch with old prison friends — "a little group from the lost planet."
"We're all a little reclusive," Jacobs says of death row survivors. "We all struggle a little to find a life and fit in."
Jan 04, 2023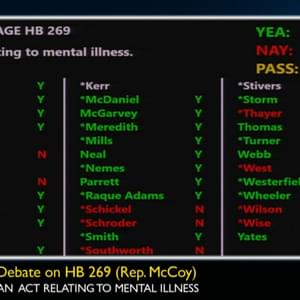 2022

Legislation Activity