New York Times
By CRYSTAL NIX HINES
Dozens of inmates on death row lack lawyers for their appeals, in part because private law firms are increasingly unwilling to take on burdensome, expensive and emotionally wrenching capital cases, death penalty lawyers say.
The shortage of counsel to help death row inmates file state and federal habeas corpus petitions challenging their convictions and sentences places them at risk of missing crucial filing deadlines, possibly preventing them from raising appeal issues.
The situation has dire consequences, experts say, because 2 out of 3 appealed death sentences are set aside because of errors by defense lawyers at trial or prosecutorial misconduct, according to the most comprehensive death penalty study to date, by lawyers and criminologists at Columbia University.
Untimely petitions generally are not reviewed by courts without a compelling claim of innocence.
In a speech before Minnesota Women Lawyers on Monday, Justice Sandra Day O'Connor of the Supreme Court said the problem was one troubling feature of a capital punishment system that she said "may well be allowing some innocent defendants to be executed."
The Associated Press reported that Justice O'Connor said defendants with more money got better legal defense.
"Perhaps it's time to look at minimum standards for appointed counsel in death cases and adequate compensation for appointed counsel when they are used," she said.
Justice O'Connor is often viewed as a crucial vote on the court between its more liberal and more conservative justices.
"We have a crisis," said Elisabeth Semel, director of the American Bar Association's Death Penalty Representation Project, which seeks to find law firms to represent death row defendants.
"Firms can save lives and make a difference and they're not doing enough, Ms. Semel said.
"There are other reasons for the shortage of counsel, including swelling death row populations and declining government resources to finance public defender organizations.
Nonetheless, Ms. Semel and Lawrence J. Fox, the chairman of the bar association's project and a partner at Drinker, Biddle and Reath in Philadelphia, said that many lawyers have told them that increased profit pressures and large associate pay raises are deterring them from taking the cases.
"They're saying they're paying associates $125,000 a year end can't afford to have someone off spending 1,000 hours on a death penalty case," Mr. Fox said.
To pay for 40 % salary increases two years ago, many firms also raised billable hour requirements, with some firms either ceasing to count pro bono hours as satisfying such requirements or reducing the weight given to non billable hours.
"There's no question about it. Law firms are in competition with each other and are expecting, because they are paying increasingly high salaries to associates, for them to work harder," said Michael A. Cardozo, a partner at Proskauer & Rose in New York and past president of the Association of the Bar of the City of New York. "There are only so many hours in a day."
Stephen B. Bright, director of the Southern Center for Human Rights in Atlanta, said that although he often appealed to lawyers to accept capital cases, firms had been more reluctant since the salary increases.
The situation is most troublesome in Alabama and Georgia, the only 2 states that do not guarantee counsel to death row inmates after a direct appeal to the highest state court. These inmates largely rely on volunteer lawyers to raise additional claims in subsequent state reviews and federal habeas corpus petitions, in which federal courts examine proceedings in state courts for error.
In Alabama, about 40 of the approximately 185 death row inmates - some within five months of filing deadlines for state appeals - do not have counsel, said Bryan Stevenson, executive director of the nonprofit Equal Justice Initiative of Alabama. Mr. Stevenson said his five-lawyer staff had taken on more than 100 death penalty cases, "which is way more than we should be involved in."
The seven-lawyer staff of the Georgia Resource Center is juggling 135 capital cases and must decide whether to add 12 more unrepresented inmates, said Thomas H. Dunn, the center's executive director. "It's embarrassing to have to go out and beg people to take these cases," Mr. Dunn said.
The shortage of competent lawyers has taken its toll even in states that guarantee the right to counsel after the initial direct appeal. In Louisiana, at least 10 of about 52 inmates in the appeals process are without lawyers, said Denise LeBoeuf, director of the Capital Post-Conviction Project in New Orleans.
And of the about 600 inmates on California's death row, at least 161 have no lawyers to handle their direct appeals, and 72 others have no counsel for federal habeas corpus petitions, said Robert D. Reichman, automatic appeals monitor for the California Supreme Court. As a result, Mr. Reichman said, some inmates with death sentences dating from 1996 and 1997 have not begun appeals.
Not everyone blames private law firms for the shortage. Mr. Stevenson said that states were primarily to blame for the lack of competent counsel. "
I don't feel the need to beat up on the private bar as much as I feel the need to challenge this notion that states can or should execute people without investing the resources to make sure those executions are fair and just," Mr. Stevenson said. "There are close to 4,000 people on death row, and it's not reasonable to expect that they are all going to be able to get pro bono assistance from private law firms."
Mr. Stevenson said that "states have gotten off cheap for 2 decades by being insensitive to the needs of death row prisoners," and added that they should adequately finance public defender organizations to compete with well-equipped prosecutors' offices.
Law firm leaders disagree about whether their willingness to take capital cases has declined.
Kenneth W. Irvin, a partner at Morrison & Foerster, said that although there were no capital cases in the firm's Washington office, there is "absolutely no restriction about doing death penalty cases or any type of case because it's bad for revenue." Mr. Irvin said the firm prided itself "on the pro bono commitment historically we've always made."
John S. Kiernan, chair of the pro bono committee at Debevoise & Plimpton and a member of the firm's management committee, said that a recently completed survey of 29 law firms in New York by the nonprofit Volunteers of Legal Service showed that firms had met or exceeded the goal of providing at least 30 hours of pro bono work per lawyer per year.
The survey did not specify the kind of pro bono work being done, however, and Mr. Kiernan and other lawyers acknowledged that it was more difficult to find firms that were willing to handle capital cases.
Toni P. Wise, a partner at Cooley Godward in Palo Alto, Calif., said her 700-lawyer firm has represented 1 death row defendant since 1990 but would not handle another death penalty case until that case concluded.
"Death penalty cases are an unbelievable time sink, and it's very hard to find people who have the resources and the time to take them on," Ms. Wise said
Mr. Cardozo of Proskauer said that his firm represented a death row inmate in Florida for more than 10 years and spent at least $10 million worth of lawyer time. Before taking on another pro bono capital case, he said, the firm would consider a number of factors, including its impact on other pro bono work.
"While I certainly wouldn't compare the plight of a person who doesn't get Social Security benefits or can't find a place to sleep with someone on death row, when a firm takes on a death row case, with the hours involved, other pro bono work in some way has got to decrease," he said.
"It's a terrible thing to say you're balancing one type of case against another, but one has to be practical."
Mr. Cardozo said that death penalty cases also do not provide associates with the same learning experience as other pro bono cases because the stakes are too high to allow them to play a primary role.
Death penalty lawyers complain that the lawyer shortage is also forcing inmates to rely on incompetent or overworked court-appointed lawyers who miss filing deadlines, fail to investigate cases or submit inadequate appeals. Some have even fallen asleep while prosecutors put on their case, according to Mr. Bright.
The Texas Legislature recently passed a measure designed to create minimum standards for court-appointed lawyers and provide $20 million a year in state funding.
The lack of competent counsel to handle capital cases was a significant factor in the American Bar Association's decision to call for a moratorium on executions, said James E. Coleman, a professor of law at Duke University and past chair of the bar association's Section on Individual Rights and Responsibilities.
Factors other than economic pressures have made death penalty work less appealing, said Ronald J. Tabak, special counsel and coordinator of pro bono work at Skadden, Arps, Slate, Meagher & Flom in New York. Those factors include increased complexity of the law governing habeas corpus petitions and termination in 1995 of federal money for local death penalty resource centers. These centers provided firms with expertise on local law and access to in-state investigators and experts, but with most of them shut down or truncated, Mr. Tabak said, firms must fend for themselves.
Until more lawyers step forward, death penalty lawyers continue to race against the clock. "There's probably not a night when you could stop by here and not find someone at 2 or 3 o'clock in the morning," said Mr. Dunn, of the Georgia Resource Center.
Ruth Friedman, a senior lawyer at the Equal Justice Initiative, said she frequently received calls or letters from inmates wondering how their appeals are proceeding. "It's heartbreaking," Ms. Friedman said, "to know what to say to them."
Jan 04, 2023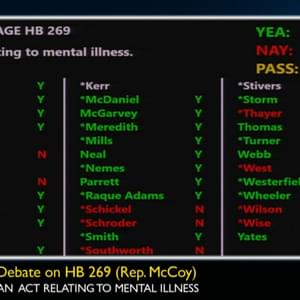 2022

Legislation Activity