In 1996, a trusted informant told the FBI that Dan Bright was doing time for a murder committed by someone else. For years, the bureau fought to hide the name that's listed on Document 212. That fight may finally be over.
By Katy Reckdahl
Gambit Weekly
March 3, 2003


In 1999, as Daniel Bright III sat on death row at Angola, he wrote the FBI, asking that they release any files on him. After back-and-forth correspondence, Bright received a 65-page packet. One of those pages was FBI 166E-NO-58945-212, or Document 212.
Document 212 looks more like a Rothko painting than a law-enforcement report. The sheet is filled with black, except for two thin lines of type near the center, which read, "The source further advised that Daniel Bright, AKA 'Poonie,' is in jail for the murder committed by —." The next word — like the rest of the page — is blacked out.
For years, the FBI has fought the release of what's beneath that blotch of black. It is a name, they've said, and that name is not Dan Bright. Bright and his family say that revelation was no surprise. For years, they've watched this case's odd twists. Now, they are now pinning their hopes on this document, which a New Orleans federal judge may be viewing this week.
Dan's mother, Rose Bright, spent Jan. 29, 1995, inside her former apartment in the Florida housing projects with her twin granddaughters. When Dan — her oldest son — was about this age, an auntie had dubbed him "Pooney" because he was such a tiny, pretty baby "with big eyes and lots of hair," she recalls.
It was Super Bowl Sunday, and the twins' parents — Dan and his girlfriend, Shelita Christmas — were at a party Uptown. Rose Bright remembers that the TV news had already gone off when the couple returned, so it must have been after 10:30 p.m., she guesses. She kept the smaller baby, Dana, who had colic. Dan and Shelita packed up Danielle — the bigger twin — and drove off in Christmas' little gray car.
Before heading back to their apartment in eastern New Orleans, the couple made a stop at their friend Yam's house, about a block and a half from a little neighborhood bar called Creola's. They were at Yam's, Christmas would testify, when they heard gunshots.
Creola's sits on the first block of a five-block street called Lausat Place, in a part of the Ninth Ward known as "the Hole." A big silver door spells out the bar's name in homemade silver letters. Nearby, young kids play ball in the street and neighbors linger on the side of the street, talking.
Nights can be less idyllic. During the mid-1990s, the Hole became known as one of the city's murder hotspots — in part because of its geography. The area is a triangle with railroad tracks on two sides and the Industrial Canal on the other. A gunman can take off on foot and be long gone before a police car can wend its way to the scene of the crime.
One recent afternoon, Genore "G" Bickham stands behind Creola's long, dark wood bar topped with slightly worn Formica. Two young girls in pigtails and school uniforms dash in, hand Bickham their backpacks and jackets, and run back outside to play. A couple customers walk in and sit at the bar. Bickham pulls two cold beers — $2.50.
Bickham has been coming into Creola's since 1959 and has worked here for the past 20 years. The clientele is mostly family and friends, she says. "Everybody knows everybody."
Murray Barnes, the young man who was killed out front on Super Bowl Sunday, lived around the corner on Montegut Street. He drove trucks for a living and came into Creola's to shoot pool, she says. He was medium height, weighed more than 200 pounds, and was "a very nice guy who would give you his heart."
Bickham tells what she remembers from that night: Barnes came into collect his money — he'd won $1,000 in the bar's Super Bowl pool. Bickham counted out the money to him, and he handed her $30 and told her to play it at the casino. He was with two guys that Bickham had never seen before, and the men played a few games of pool before heading toward the front door around midnight. Bickham reminded Barnes of the tab they'd built up. He stopped and paid her, then strolled out. Almost immediately, she heard gunshots.
At first, Bickham thought the shots were Barnes and his friends celebrating. But then Barnes walked in Creola's side door, behind the bar. He was alone — his two friends, according to police accounts, had driven off in his truck — and he had his hands folded in front of his stomach. "He said, 'G, call somebody — I've been shot,'" she says.
"I said, 'Boy, stop playing,' and I hit him on top of his hand." With that tap, she says, Barnes started sinking down toward the floor, and Bickham rushed to the phone. "The police came, the ambulance came, everybody came. It just went wild."
Bickham didn't see blood until Barnes was turned over. He'd been shot in the back. The paramedics carried him out, she says, but a policeman soon returned and said that Barnes was dead.
Eighteen months later, Bickham would tell this account at Dan Bright's trial. Once in the courtroom, she says, "I asked which was Pooney because I didn't know." On the night of the murder, Bickham says, she did not see Bright in Creola's. "But there were so many people in here, I don't know if he was in here or not."
Bickham did, however, see a woman named Christina Davis, a Creola's regular, she says. Freddie Thompson, one of the guys who had been with Barnes that night, would testify that Davis had led Barnes outside to his death. Since Davis liked to shoplift, a fact confirmed both by neighbors and law enforcement records, Bickham suspects that she simply had something hot to sell.
Bickham was inside tending bar, so she isn't sure who killed Barnes. Driving around that part of the Ninth Ward, it seems as though others are less unsure. A group of men stand on a nearby yard, enjoying the sunshine and a few beers. The word on the street, they say, is that Bright had been "in the game" — involved with drugs — and in the midst of some pretty tough stuff. But he didn't murder Murray Barnes, they say.
Rose Bright remembers hearing, back in 1995, that somebody had been murdered down in the Hole on Super Bowl Sunday.
About a week later, she says, Dan's 5-year-old daughter Ronaisha, who lives with her, was watching America's Most Wanted. Suddenly Ronaisha started hollering, "My daddy's on TV!"
Rose Bright rushed into the room and saw Dan's name and picture on the screen. She was shocked. No police detectives had even come to her house looking for Dan, she says. She called Dan's father and then Dan, who told her he hadn't been involved. "Turn yourself in and we'll get a lawyer," she and his father told him. "Don't let yourself get gunned down out there for something you didn't do."
Rose Bright had a reason to worry about her son's safety on the streets. Less than a year before, in April 1994, Dan's younger brother Donnie was shot 11 times in front of her door. Rose Bright admits that Dan had been in trouble before — an aggravated drug charge in 1991 landed him in Angola for two years. But the shooting changed Dan, she says. "After Donnie got killed, Dan came in and settled down. He got quiet and started spending more time with his babies." To Rose Bright, this murder charge did not make sense.
Before Dan's murder trial, the Bright family took out loans and held bake sales, dinners and card games to raise money for his attorney's fees, says Dan's 31-year-old sister, Donna Bright. But on July 3, 1996, Daniel Bright III was sentenced to death.
It was a crushing end, especially because the prosecution's entire case hinged on the testimony of one eyewitness, Freddie Thompson, who had been with Barnes that night. Not only had Thompson left the scene when Barnes was shot, but he, on the stand, admitted that he had been drinking steadily for 12 hours before the murder.
Orleans Parish Prison records show that Dan Bright's attorney, the late Robert Oberfell, visited Bright just once before trial. In a series of 2001 hearings, Oberfell's friend and fellow attorney Gary Wainwright testified that Oberfell had told him that he was receiving only $5,000 and, therefore, "his sole strategy was to 'earn his fee' by trying it into a life imprisonment case."
Oberfell did not even call Creola's regular Christina Davis to the stand. Because she had accompanied — perhaps lured — Murray Barnes outside to his death, Davis received prison time, for accessory to murder after the fact. Soon after the murder, Davis began writing what would eventually become stacks of letters to Dan Bright, Rose Bright and District Attorney Harry Connick's office, telling them that she knew who the real killer was and it was not Dan. Her letters never were introduced as evidence. She has since reiterated those statements in court hearings.
During the murder trial, Rose Bright sat in the courtroom and watched the proceedings. Things were going so badly, she says, that she began her own investigation. She went to Charity Hospital for files showing that her son's left hand — Dan is left-handed — had been in a cast at the time of the murder. Thompson had testified that the shooter had no physical disability.
Rose Bright also took it upon herself to transport defense witnesses to the courtroom. Two eyewitness testimonies placed not Dan but another person — who they named — at the scene. Shelita Christmas and Yam — William Thomas — corroborated Bright's alibi. But the prosecution was able to pick apart all these testimonies for the same reason, says Rose Bright. "They said the witnesses weren't credible because of where they live and because they had little records," she says. "Let me tell you. There ain't no doctors or lawyers staying down in that Hole."
As it turned out, Thompson, the state's eyewitness, also had a felony record and at the time of the murder was under Department of Corrections supervision — on parole. Previous court opinions have maintained that a person's parole status can be significant, because law-enforcement officers can exert more pressure on a person whose parole is on the line.
Orleans Parish District Attorney records show that the prosecution knew of Thompson's rap sheet, but did not disclose that to the defense, even upon request.
Improper withholding of evidence was standard district attorney office practice for years, says local attorney Clive Stafford-Smith, who during the past few decades has represented more than 300 people on death row. "I have yet to defend a capital case from Orleans Parish where Harry Connick's office did not cheat to get a death sentence," he contends.
Connick categorically denies that charge. "There's not been one case of any assistant under Harry Connick where it's been shown that we intentionally withheld evidence," he says. Sometimes assistants — like other people — make errors in the course of their work, Connick admits. "But no one has ever shown that what we did was intentionally done. Mistakes, occasionally. But intentional, never."
Stafford-Smith will, however, get little argument about withheld evidence from the new district attorney, Eddie Jordan. "That's one of Mr. Jordan's issues, that the past administration had a policy of keeping information away from the defense," says Jordan spokesperson Melanie Roussell. Roussell can't comment on this ongoing case, but she notes that Jordan recently promised sanctions for any lawyers found to be withholding evidence from the defense.
Stafford-Smith, along with his colleague Ben Cohen, represent Bright on his criminal case. As a result of their work, Bright was moved off death row in April 2000, after the Louisiana Supreme Court found that the evidence in his case did not merit a first-degree murder conviction. The next step would be a new trial.
Which is where FBI Document 212 comes in.
"You have this document that on its face appears to exonerate Dan Bright," says Jill Neiman, who, with her senior colleague John Shiner at the West Coast law firm Morrison & Foerster, heard about Dan Bright's FBI case from the American Bar Association's death penalty-defense arm. The pair enrolled as co-counsel on the case in August 2002.
"It's a shame that the government wouldn't hand this over, that we had to fight them so hard," says Neiman.
FBI spokesperson Theresa Hudson said that because Bright's case is an ongoing matter, it would be inappropriate for her to comment.
Bright's struggle might be typical, says Charles Davis, director of the Freedom of Information Center at the University of Missouri School of Journalism. "It's extraordinarily difficult — damn difficult — to obtain information about ongoing investigations by the FBI," he says. This is because, Davis says, the federal Freedom of Information Act contains a series of exemptions that FBI can use to block the release of information. "One is the law-enforcement privacy prong," he says, "which says that, if within the sweep of criminal investigative records, there are documents that identify third parties — innocent third parties, unindicted third parties, informants, neighbors, whatever — those records are going to be protected." That's perhaps too broad a standard, says Davis.
An earlier court order did allow Neiman and Shiner to ask the FBI a series of what she calls "is it bigger than a breadbox" questions. From that, they learned that the missing information was a name, that it came from a reliable source who regularly informed the FBI, and that it was procured on Feb. 9, 1996 — a few months before Bright's murder trial began — while the bureau was working on a joint state and federal investigation concerning racketeering in violent crimes.
Last month, federal judge Martin L.C. Feldman ruled that the FBI must produce Document 212 in its entirety on or before March 6. Feldman will then review it "in camera" — in his chambers — at the U.S. District Court for the Eastern District of Louisiana on Camp Street.
"He might look at it and say, 'Dan's right — he should have this document," says Neiman. "That's what we're hoping for. And we hope it's the first step in reversing his criminal conviction."
Shelita Christmas, Dan's girlfriend and the mother of his twins, died of lupus in October. Rose Bright and Dan's sister Donna are now raising all three of Dan's girls. (An eight-year-old son, Dan IV, has a different mother and lives with her.) "Pooney sent me Father's Day cards from Angola last year," says Donna.
Rose and Donna Bright are pinning their hopes on FBI Document 212. The twins were only five months old when their father was arrested, says Donna. And Ronaisha, now a long-legged 14-year-old, has always been close to her father. "The first name she said was Pooney," says Donna.
Ronaisha skips into the living room from the front yard. "Look at her ears," says Donna, pointing. Each earring reads "Pooney" in slanted gold script. "She's Miss Pooney," Donna says. "She wants that in all her jewelry."
Rose Bright takes a blood-pressure pill from a bulging bag of prescription bottles. She has suffered two heart attacks since Dan was convicted. "I've done every day of time with Dan since this happened," she says, sitting on her sofa.
Above her is a wall covered with family photos. Under the bed is an archive of clippings and documents about Dan's case. As she lists off the worst errors, it's apparent that she knows the case by heart. "I hope that somebody opens their eyes and sends my son home before I close my eyes," she says. "He should see his children grow up a bit."
Jan 04, 2023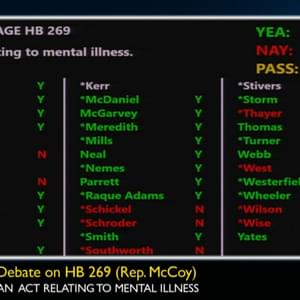 2022

Legislation Activity