Closing of the Capital Defender Office Will Save the State Millions as New York's Death Penalty Ends New York's Capital Defender Office is preparing to close its doors in the wake of a N.Y. Court of Appeals ruling that disposed of the final appeal of a death sentence under the capital punishment law declared unconstitutional in 2004. "It is … my intention to close the office as soon as practically possible," said Kevin M. Doyle, who has served as Executive Director of the defender office established in 1995. Doyle said there is no point in keeping the office open given the status of the death penalty in New York and noted that the office will close within a matter of months. At one time the Capital Defender Office had more than 70 staffers and an annual budget of $14 million. Now it has a $1.3 million budget and six people on staff. The remaining staffers now have the responsibility of reviewing some 3,000 boxes of information about its cases and finding a way to properly preserve privileged materials. Since the office was established, 10,000 murders have occurred in New York. Prosecutors considered bringing the death penalty in 877 capital-eligible cases, and district attorneys filed notice of intent to seek the death penalty in 58 cases. Juries in only seven cases ultimately returned death sentences. No one was executed. "In many instances, thanks to the Capital Defender Office, the D.A.s decided not to seek the death penalty. The relatively small amount of money spent on presentation before the D.A.s saved the state a lot of money," said attorney Ronald Tabak, president of New York Lawyers Against the Death Penalty and special counsel at Skadden, Arps, Slate, Meagher & Flom. The New York Department of Correctional Services will also benefit from the Court of Appeals ruling. The death row at Clinton Correctional Facility will now close, saving the state an estimated $300,000 per year. (New York Law Journal, October 29, 2007).
New York High Court Overturns Last Death Sentence Because Statute is Unconstitutional The New York Court of Appeals ruled today (October 23, 2007) that the death sentence of the last remaining inmate on the state's death row was unconstitutional under state law. John Taylor's sentence will be changed to life in prison without parole. An earlier decision by the state's high court in 2004 overturned the state's statute because of flaws in the jury instructions. (People v. LaValle). Following hearings on the problems with capital punishment in the state, the New York legislature has repeatedly rejected attempts to re-instate the death penalty. (Associated Press, NY Times, Oct. 23, 2007). New York is now in the same position of other states such as Massachusetts where the death penalty law was overturned and the legislature has not re-instated capital punishment. This leaves 37 states with death penalty laws in the country.
New York Assembly Committee Blocks Death Penalty By Wider Margin Members of the New York Assembly's Codes Committee recently voted 13-5 against a bill to reinstate the death penalty, a vote that revealed a growing bi-partisan opposition to capital punishment. Last year's vote on the same measure was 11-7. New York's death penalty was overturned in 2004 by the state's highest court. A number of Assembly members have said they no longer support the death penalty because of growing evidence that it risks innocent lives and because the state now has the alternative sentencing option of life without parole, which was not available when New York reinstated the death penalty in 1995. (Gannett News Service, June 14, 2006). See Recent Legislative Activity.
New York Takes Historic Step Towards Ending the Death Penalty The Codes Committee of the New York Assembly has voted 11-7 against considering legislation to re-instate the death penalty in New York, a decision that likely ends such efforts during this legislative term. The Committee vote came after five days of hearings in New York City and Albany at which almost all the speakers raised serious problems about New York's statute and the death penalty generally.
New York Lawmakers Say Death Penalty's Future May Be In Doubt According to prominent New York lawmakers, there is little chance that legislators will pass a bill this year to fix the state's unconstitutional death penalty. Many experts believe that the state's statute, which N.Y.'s highest court struck down earlier this year, may never be re-enacted. Republican Senator Dale M. Volker noted that when the Court of Appeals struck down the law, New York heard "the death knell of the death penalty, for the time being." Sheldon Silver, the Democratic Speaker of the Assembly and a death penalty proponent, noted that many people "are willing to accept life without parole, which was not an available remedy before 10 years ago." Silver stated, "Many people have questions. I don't think it's something that should be on a fast track." In the coming weeks, New York's Assembly will hold public hearings regarding the state's death penalty laws. (New York Times, November 18, 2004). The hearings are scheduled to take place in New York City on December 15 and in Albany on January 25. See DPIC's Summary of People v. Stephen LaValle (overturning N.Y.'s death penalty).
New York Legislators Put Off Attempts to Fix State's Death Penalty Law Despite efforts by some state leaders to quickly "fix" the state's death penalty statue, opposition from many legislators halted attempts to pass a bill before the summer recess at the end of July. At a legislative conference on the issue, Assemblyman Jeffrion Aubry noted that "a lot of people who spoke were against it." These sentiments prompted Majority Leader Paul Tokasz to announce that legislators were "going to take some time with it" before deciding how to address concerns raised by the court. The Court of Appeals struck down the law in June, saying its sentencing provisions were coercive. Legislators will reconvene in August. (Rochester Democrat and Chronicle, July 22, 2004) Read DPIC's summary of the New York ruling.
On September 18, 2001, the New York Legislature convened in a special session where it enacted a broad anti-terrorism law and expanded the scope of the state's death penalty. The Anti-Terrorism Act of 2001 establishes six new terrorism-related offenses, and amends the state's death penalty statute to allow the death penalty for someone who commits murder in furtherance of terrorist activity. State Senator Thomas Duane, who opposed the legislation, stated, "The federal government already has laws which would bring the death penalty to those who utilize weapons of mass destruction." The new laws also expand the number of offenses that enable law enforcement officials to obtain warrants for eavesdropping and surveillance. (New York Law Journal, 9/18/01)
By a vote of 39-12, the New York City Council has called for a moratorium on executions until a commission can investigate the state's death penalty in relation to issues of fairness, justice, equity, due process, and cost. New York City is the largest of 73 municipalities around the nation to pass similar resolutions in favor of a moratorium. "People are beginning to realize that a system that is unfair and plagued with problems should not be permitted to continue," said Councilwoman Yvette Clarke. New York City has been at the center of national attention since the tragic terrorist attacks of September 11th. In spite of this, the Council is urging state officials to more closely examine the death penalty before going ahead with executions. See NCADP's Press Release.
Jan 04, 2023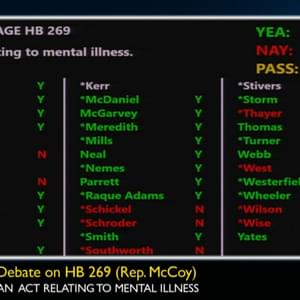 2022

Legislation Activity