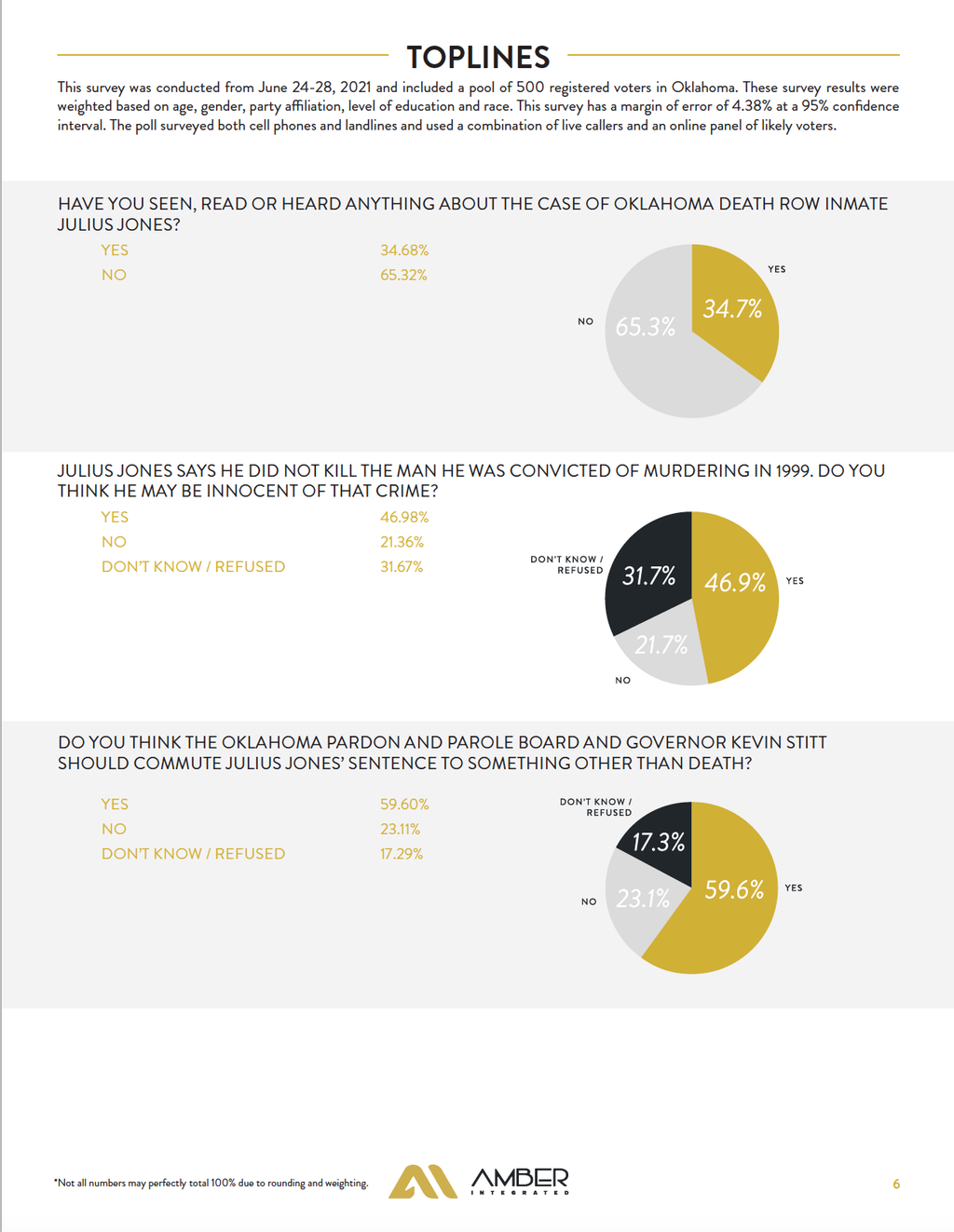 A survey of 500 registered voters in Oklahoma, conducted June 24-28, 2021 by the Oklahoma polling firm Amber Integrated, has found that 60% of those who said they knew anything about the case of death-row prisoner Julius Jones believe Oklahoma authorities should commute his death sentence. The poll results are virtually identical to those in an Amber Integrated public affairs survey conducted from December 14-17, 2020, except that a significantly larger percentage of Oklahomans are now aware of the case.
In the two polls, Amber Integrated surveyed Oklahoma registered voters about their views on public policy issues and the job performance of public officials, and included several questions about the Julius Jones case. 34.7% of respondents in the June 2021 poll said they had "seen, read, or heard" about Jones' case. Nearly 80% of those respondents indicated that they had an opinion about Jones' possible innocence, and by a more than a 2 to 1 margin believed he may be innocent of the murder for which he was sentenced to death. Told "Julius Jones says he did not kill the man he was convicted of murdering in 1999" and asked "Do you think he may be innocent of that crime?," 47.0% percent responded "yes"; 21.4% responded "no"; and 31.7% said they didn't know or refused to answer the question.
Amber Integrated also asked the respondents who had heard about Jones' case, "Do you think the Oklahoma Pardon and Parole Board and Governor Kevin Stitt should commute Julius Jones' sentence to something other than death?" By a margin of more than 2.5 to 1, respondents who had an opinion on the question believed Jones' sentence should be commuted. 59.6% of respondents answered "yes," Jones' sentence should be commuted; 23.2% said "no"; and 17.3% said they didn't know or refused to answer. (Click here to enlarge poll graphic.)
Jones, an African American student at the University of Oklahoma who had been an honors student and captain of the basketball team in high school, was sentenced to death in Oklahoma County for the murder of a prominent white businessman. His case raises serious questions about innocence, racism, and police and prosecutorial misconduct. Oklahoma County prosecutors have a documented history of misconduct in death-penalty cases and Oklahoma County has the fourth highest number of people exonerated from wrongful capital convictions and death sentences of any county in the country.
The poll responses reflected the racially charged nature of the case. Nearly two-thirds of African-American respondents (65.3%) believed Jones may be innocent as compared with 44.5% of White respondents. However, support for commutation was strong across all demographic groups, with 71.9% of Black respondents and 57.5% of White respondents favoring taking Jones off death row. Strong majorities of Democrats (73.4%) and Independents (64.8%) said they favored commutation, as well as pluralities of Republicans (49.5%) and Libertarians (40.7%).
In the December 2020 poll, 24.4% of registered voters said that had seen, read, or heard about Jones' case. 46.6% of those respondents said they believed he may be innocent and 59.5% favored commutation.
Sources
Darla Shelden, Six in ten Oklahomans sup­port com­mu­ta­tion for death row pris­on­er Julius Jones, City Sentinel, July 1, 2021; Darla Shelden, Poll shows 60 per­cent of Oklahoma vot­ers sup­port com­mu­ta­tion for Julius Jones on death, City Sentinel, February 27, 2021.
Read the Amber Integrated crosstab results for the December 2020 and June 2021 polls. View the topline results of the Amber Integrated June 24 – 28, 2021, Oklahoma Statewide Poll.
Deterrence
Nov 08, 2022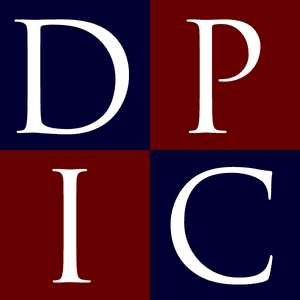 DPIC

Analysis: Pandemic Murder Rates Highest in Death Penalty States
Religion
Sep 08, 2022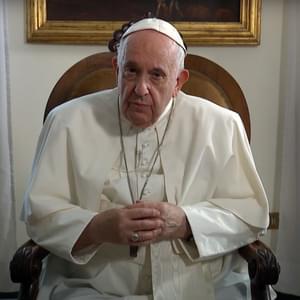 News Brief: Pope Francis Calls for Prayer to Abolish the Death Penalty