BY LESLEY CLARK
Miami Herald

Some of Florida's most notorious murderers could see their sentences commuted to life in prison — and many could even apply for parole — depending on how the U.S. Supreme Court rules in a murder case out of Arizona. In its most far-reaching capital punishment case since the 1970s, the court will decide whether it is constitutional for a judge, rather than a jury, to sentence convicted killers to death. Judges make the final decisions in Florida, Arizona and seven other states.
Legal experts watching the case say if the court rules that it is unconstitutional for judges to have the final say, it is highly likely to order states to commute death sentences to life in prison. That would affect 372 inmates on Florida's Death Row, along with 423 others convicted killers in the eight other states: Arizona, Alabama, Colorado, Delaware, Idaho, Indiana, Montana and Nebraska.
The justices "are seriously considering whether the jury should do the sentencing or the judge," said former Florida Supreme Court Justice Gerald Kogan, who has been outspoken about problems with the death penalty. 'If they come down with, `The jury should be doing the sentencing,' then we've got a problem."
If the high court rules against the state of Arizona and decides that the other states' sentencing schemes are unconstitutional as well, it could commute the death sentences in all those states to life, as it did in 1972 when it declared the death penalty unconstitutional nationwide.

RESENTENCE
Though the court might also simply order the states involved to resentence the inmates, experts think that's unlikely, because in essence the Supreme Court would have ruled that the entire sentencing scheme for capital cases would be unconstitutional. That would mean none of those 372 Florida inmates sentenced by a judge would be executed.
For more than half — the ones sentenced before 1995 — it could also mean a shot at parole. In 1995, Florida law changed and the state began meting out life sentences without parole. But inmates sentenced to life for first-degree murder before then were eligible for parole after serving 25 years. Among the inmates whose sentences could be commuted to life would be Amos King, who was convicted of raping, choking and stabbing to death Natalie Brady, a 68-year-old widow who died in her Tarpon Springs home on March 18, 1977. King came close to being executed in January, but the U.S. Supreme Court ordered a stay until it rules in the Arizona case.
Or Gary Alvord, the dean of Florida's Death Row, who as of April 9 will have served 28 years behind bars for the murder of three generations of women in a Tampa family.
Some inmates who began serving their time before 1995 would not be eligible for parole because, besides their death sentences, they are also serving consecutive life sentences, calling for 50 or more years in prison. And parole is far from a sure thing for anyone. The governor-appointed three-member parole board sticks to a formula for determining how long an inmate serving a life sentence should remain behind bars.
In 2000, for example, the board added 14 centuries to Miami-Dade child rapist and murderer Robert Frederick Carr's life sentence, imposed in 1976. His tentative release date: July 30, 3414. Parole "is no guarantee," parole commission chairman Jimmie Henry said of the process.
Many prosecutors and judges don't see the Supreme Court decision ever leading to parole. They argue that the conservative Supreme Court would be loath to abandon so many death sentences. Justice Antonin Scalia, a devout Catholic, recently said he believes Catholic judges who agree with the church's belief that capital punishment is wrong should resign from the bench."I don't see that they're going to want to throw out all those death penalty cases," said St. Petersburg Circuit Judge Susan Schaeffer, who teaches judges statewide how to conduct the penalty portion of capital cases.
ARIZONA CASE
At issue in the case of Timothy Ring v. Arizona are two conflicting Supreme Court court decisions: In 1990 the justices found in the case of Walton v. Arizona that a trial judge can impose a death sentence without violating a defendant's right to a fair trial. But in a subsequent, nondeath case, Apprendi v. New Jersey, the court ruled that a jury must determine what facts should be considered before an "enhanced sentence" is imposed. In Apprendi, a judge tacked on an additional two years to a defendant's sentence, using the state's hate crimes law.
But Seminole County Circuit Judge O.H. Eaton argues that death is already the maximum punishment for first-degree murder — not an enhanced penalty. "The question is whether judge-imposed death sentences are valid and constitutional and my prediction is that they are," Eaton said. "When the maximum penalty is death, I think the argument fails, because you're not sentencing someone to a penalty that is greater than the one authorized."
DEATH ROW
Attorneys who argue on behalf of Death Row inmates see it differently. Raag Singhal, a Fort Lauderdale-based defense lawyer, notes that before a death penalty can be imposed, a hearing is held to weigh the mitigating and aggravating facts in the case. In effect, he argues, that makes the death penalty an enhanced punishment. "If you had to sentence immediately after conviction, it would have to be life," Singhal said.
The justices are scheduled to hear arguments on the case the week of April 22; written arguments are due at the court in February and Florida Attorney General Bob Butterworth may weigh in with an opinion.
If the Supreme Court ruling does go against the Florida law, expect legislators to act quickly to devise a solution. "If they do find a constitutional problem, then we fix it," said Sen. Victor Crist, a Tampa Republican and staunch defender of capital punishment.
Jan 04, 2023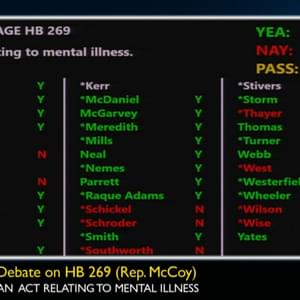 2022

Legislation Activity