Richmond Times-Dispatch
BY Frank Green, Times-Dispatch Staff Writer
CHESAPEAKE - Thursday evening, for the second time in a month, Robert Meyers faced the media and thanked another jury for convicting the killer of his brother.
Meyers, who was not answering questions, did not say whether he hopes Lee Boyd Malvo receives the death penalty. After the recommendation of a death sentence for Malvo's partner, John Allen Muhammad, Meyers said that although he took no joy in it, he thought execution is an appropriate punishment.
Larry Meyers Jr., a nephew of Dean H. Meyers, who was slain on Oct. 9, 2002, conceded after the Muhammad death sentence recommendation that his family struggles with capital punishment just like the rest of the country.
The Meyerses are not alone. That Malvo was a juvenile when he shot Dean Meyers to death is a further complication.
Just ask Martha Cotera of Austin, Texas, whose 25-year-old son, Juan, and his 20-year-old friend, Brandon Shaw, were locked in the trunk of a car by armed, 17-year-old carjackers who drove the car into a river, where the young men drowned. "It was vicious," Cotera said of the July 1, 1997, crime that took the life of her only son.
She and her husband, also named Juan, were devastated by the loss, but each asked the district attorney not to seek the death penalty in a state that leads the country in executions. She said the Shaws agreed with the final decision not to seek execution.
"We don't think that taking a life solves the problem," she said. "We don't think that life is replaceable. We don't condone killing by anybody or the state, for any reason… . We think there are other ways of addressing the juvenile-justice problem."
Her son's killers pleaded guilty, and each received back-to-back 40-year sentences.
Tom Mauser's son, Daniel, was a 15-year-old sophomore when he was among the murdered at Columbine High School in Littleton, Colo., in 1999.
There was a time, Mauser said, when he believed execution was the appropriate punishment, even for a juvenile killer such as Malvo, given the seriousness of his crimes. But his views changed after Daniel's slaying.
He said he attended some meetings of the Parents of Murdered Children and was shocked by the anger and anguish felt by some of the parents who were waiting for killers to be executed. "I came to realize that there really isn't closure regardless of whether your loved one's murderer is dead or alive; there is no closure," Mauser said.
"I found much more pain for those people" who had to attend trials and suffer through years of appeals. Because his son's killers are dead, some say, " 'Well, it's easy for you, for you to say - you haven't had to live through that murderer being alive,'" he said.
"I fully realize that. It's easy for me to say. But, again, I base it on some of the people I come across," Mauser said.
Bill Pelke, whose 78-year-old grandmother was murdered in 1985 by teenage girls in Indiana, also changed his mind about the death penalty. Reached by phone in Alaska, where he now lives, he said that well-meaning people, who thought they were extending sympathy, would tell him when referring to one of the defendants: " 'I hope the bitch burns.'"
One of the girls, Paula Cooper, who was 15 at the time of the crime, was sentenced to death. Pelke initially felt the death penalty was correct. But it hit him one day that his grandmother, who taught Bible lessons to neighborhood children, would not have wanted Cooper executed. He said he prayed for the strength to forgive.
He then fought the death sentence and worked to get it commuted to a 60-year prison term. Pelke also is a co-founder of Journey of Hope . . . From Violence to Healing, an organization led by murder victims' families that conducts speaking tours and addresses alternatives to the death penalty.
Mauser, Cotera and Pelke are among 10 cases of surviving family members of capital-murder victims, in cases where the killers were juveniles, featured in a recent report titled "I don't want another kid to die."
The report was written by Murder Victims' Families for Reconciliation, an anti-capital-punishment group. It states: "This report is a statement against state killing of juveniles, made by those who know violent loss most intimately and have been most directly affected by juvenile crime."
Renny Cushing, the group's executive director, said that "legislators, opinion-shapers, and members of the general public need to know that victims do not all speak with one voice on this important public-policy issue."
A Montgomery County, Md., victim-witness worker said during the Muhammad trial that while many of the surviving family members of the sniper victims wanted the death sentence, "I think a lot of them would be all right with a life sentence, as long as [Muhammad] was never free again."
Josephine Crutcher of Austin, Texas, sister of sniper-shooting victim Claudine Parker of Alabama, said after the Muhammad death-sentence recommendation that she does not "really believe in the death penalty."
But, she said, if anyone deserved it, it was Muhammad.
Although some who had believed in the death penalty changed their views after the murder of a loved one, the opposite can happen, too.
On Thursday, Malvo was convicted of the capital murder of Linda Franklin near Falls Church on Oct. 14, 2002. The jury must now decide whether to recommend to the judge if Malvo should be executed or spend the rest of his life in prison.
Franklin's father, Charles Moore, appearing on NBC's "Today" show Friday, said he had not supported capital punishment in the past, but Malvo "needs to die… . He needs to know he's dying for a reason," according to The Associated Press.
Rush Wickes, a representative of the Arlington County-based Virginians United Against Crime, a victims-advocacy group, said that watching an unrepentant Muhammad and seeing Malvo draw cartoons as graphic photographs of his victims were shown may have been the final straw that switched Moore's perspective.
Wickes said that "our organization believes that individuals are aware at the age of 16 and 17 that murder is wrong. If they are old enough to legally drive a car, they are old enough to understand the wrongfulness and consequences of committing capital murder."
"However, it remains up to the trial jury to decide upon the maturity and culpability of the offender and sentence them as they see fit. No two teenage murder convictions are alike, only a few will result in a death sentence, but we believe that option should indeed remain available for those who committed the 'worst of the worst' crimes," Wickes said.
Wickes contends that both Muhammad's and Malvo's cases appropriately qualify for the death penalty. "Their actions resulted in the malicious murders of random citizens, which not only wrecked the lives of their survivors but also terrorized the community at large," he said.
Survivors of victims in this case have mostly come out in support of the death penalty, Wickes said. "I'd suspect that some family members of victims in this case may have previously opposed the death penalty in principle or didn't feel strongly either way.
"However, after seeing the evidence of the broad swath of destruction left by these two individuals against good, ordinary people, these survivors may have concluded that such evil can only be dealt with through the ultimate penalty," he said.

Contact Frank Green at (804) 649-6340 or [email protected]
Jan 04, 2023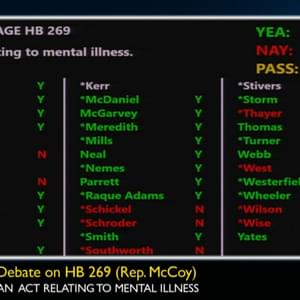 2022

Legislation Activity