2007: Virginia legislature passed 5 death-penalty expansion bills, which were vetoed by Gov. Tim Kaine. The legislature overrode his vetoes for bills making murder of a witness or a judge a capital offense.
Virginia Legislators And Victims Speak Against Death Penalty Two Virginia lawmakers who have had a family member murdered recently spoke in opposition to the death penalty. During a senate committee hearing on a bill to impose a moratorium on executions, Senators Henry L. Marsh III and Janet D. Howell noted that their opposition to the death penalty was based in their experience of losing a loved one to murder. Howell's father-in-law was murdered in his home eight years ago. She noted, "Up until then, I was in favor of the death penalty. But when my father-in-law was murdered, I discovered that the possibility of a death sentence on someone did not unify my family; it splintered my family. One of the reasons that I had always supported the death penalty was suddenly not there anymore." Marsh added that his brother was shot eight years ago. Though Marsh momentarily questioned his opposition to the death penalty, he stated that his brother's murder and the events that followed made him even more convinced that there could be innocent people sentenced to death. The legislation failed to pass out of committee. (Washington Post, January 17, 2006). See Victims and New Voices.
Passed a bill in May 2003, regarding the exemption of the mentally retarded from the death penalty. Retardation, described as "significantly subaverage intellectual functioning," is to be determined by the jury (or by the judge in non-jury trials) as a part of the sentencing phase. For more information regarding this legislation, Click Here.
On May 2, 2001, Gov. James Gilmore signed a bill to allow death row inmates access to DNA testing after their convictions. The legislation sets up procedures for the preservation of forensic evidence and allows inmates to petition the Virginia Supreme Court for a "writ of actual innocence" requiring the inmate to be released when he can prove his innocence using DNA evidence. The bill creates a significant exception to the state's "21-day rule," which bars appeals based on new evidence any later than 21 days after sentencing. The part of the legislation authorizing the Court to hear a "writ of actual innocence" requires a constitutional amendment. SJR 419 which proposes the amendment, was passed by both chambers and does not need action by the Governor. However, it will have to be passed again by the legislature in 2002 and then approved by the voters in the November 2002 election.
Virginia Governor Gilmore signed a bill that authorizes the Virginia Supreme Court to set standards for attorneys defending death penalty cases.
The bipartisan Joint Legislative Audit and Review Commission announced that they will study the fairness of Virginia's death penalty. The Commission plans to examine Virginia's 21-day rule which prohibits defendants from introducing new evidence, including DNA testing, three weeks after sentencing. The Virginia Supreme Court has already proposed a new procedure that would allow evidence of innocence to get a court hearing after the 21-day deadline. The Commission will also investigate whether the death penalty is applied fairly across racial groups and whether defendants in capital cases are getting adequate representation in court. The review could also focus on the fairness of executing those who are mentally retarded or who were juveniles at the time of their crimes. The Commission study is expected to take up to a year and plans to propose changes to the death penalty in time for the legislative session, which starts in January.
Jan 04, 2023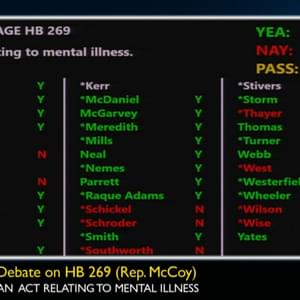 2022

Legislation Activity