By the Associated Press

August 2, 2002

WILLIAMSBURG, Ky. (AP) — The youngest man on Kentucky's death row was freed after a jury acquitted him in a second trial of murdering an 82-year-old man and his 76-year-old wife in 1997.
Larry Osborne, 22, walked out of the courtroom Thursday after a retrial prompted by a Kentucky Supreme Court ruling overturning his prior conviction. Last year the high court ruled it was improper to use the grand-jury testimony of a friend of Osborne's who drowned before the trial.
Osborne's case had become a rallying point for opponents of capital punishment because he was sentenced to death for a crime committed when he was 17. Opponents have tried without success to get the Legislature to abolish the death penalty for juveniles.
He is the first Kentucky death-row inmate to be found innocent since the state reinstituted capital punishment in 1976.
Relatives of Sam and Lillian Davenport said they remain convinced Osborne killed them.
"Two good people are dead and the community is at risk of a double-murderer that's already beat the system once," said Susan Davenport, the couple's daughter-in-law.
Defense attorney Tim Arnold said, "We felt like our client was an innocent person and the jury verdict was the correct one."
The slayings occurred in December 1997, when an intruder smashed a window and broke into the Davenports' home in southeastern Kentucky, bludgeoning the couple and setting fire to the house. The couple died of smoke inhalation.
Joe Reid, 15, a friend who said he was with Osborne the night of the slayings, told police Osborne broke into the couple's house and later came out with a pocketful of cash.
After hearing Reid's testimony, a grand jury indicted Osborne on charges of murder, robbery, burglary and arson. Reid drowned several months before Osborne's trial.
Osborne was convicted after the first trial judge overruled objections to Reid's testimony by defense attorneys who argued the dead teen could not be cross-examined, and had changed his story several times — leading to the Supreme Court action.
Not having access to Reid's testimony in the retrial left prosecutors "not a whole lot to work with," Susan Davenport said Thursday.
Kentucky
Jan 13, 2022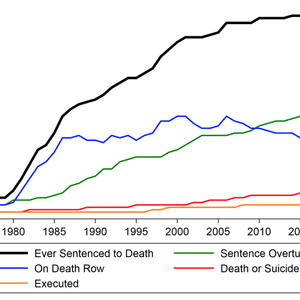 New Study: Kentucky Death Penalty Racially Biased, Arbitrary, Error Prone