The Death Penalty in
2013

: Year End Report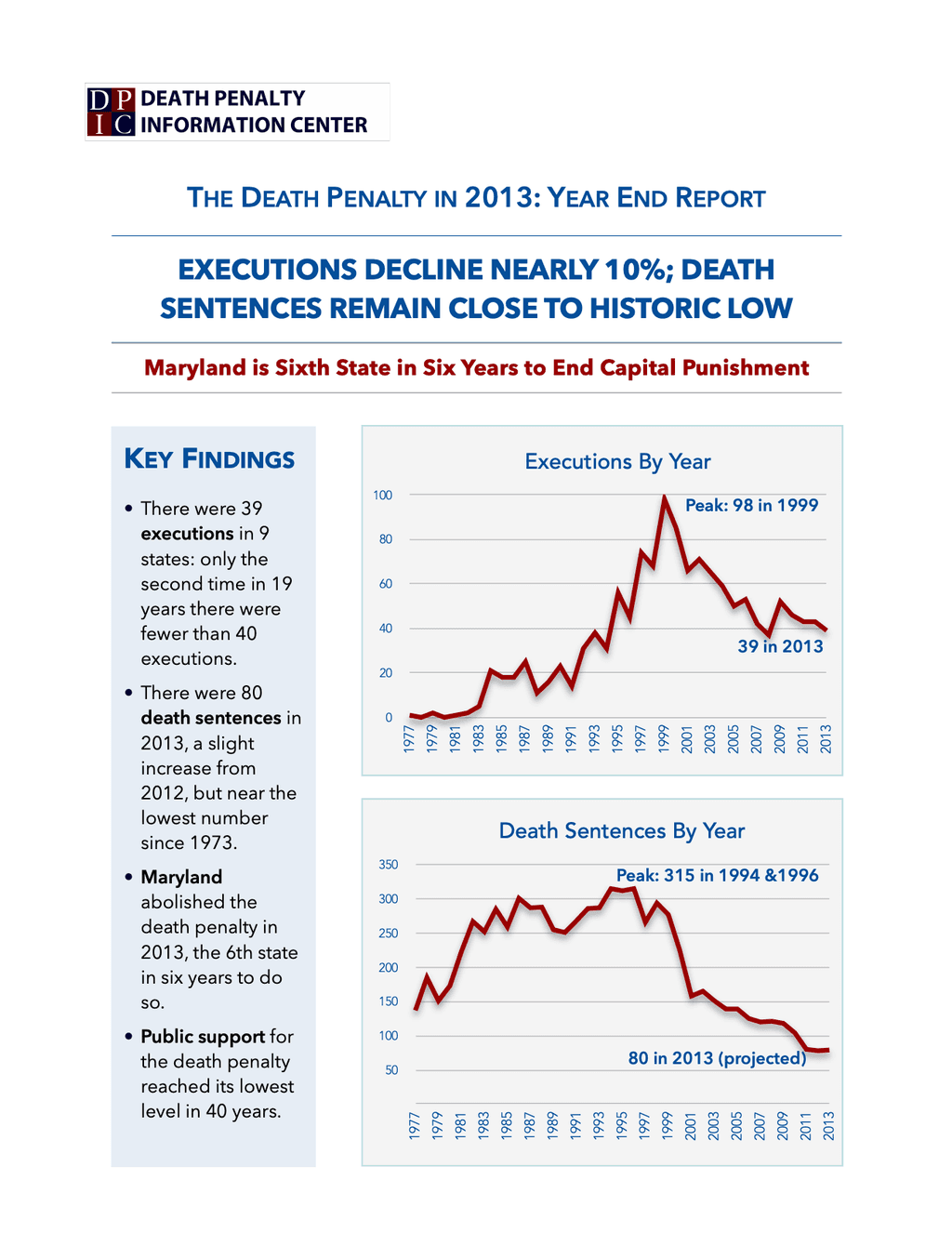 FOR IMMEDIATE RELEASE
Executions Drop Below 40 for Only Second Time since 1994
Death Sentences Remain Near Record Lows, Number of States Repealing Capital Punishment Grows,
and Public Support for Death Penalty at 40-Year Low
(Washington, D.C.) With 39 executions in 2013, this year marks only the second time in nearly two decades that the United States executed less than 40 people, according to a report released today by the Death Penalty Information Center (DPIC). One of the reasons for fewer executions in 2013 was states' inability to obtain lethal injection drugs.
Executions declined about 10% compared to 2012 - from 43 last year to 39 this year - and by 60% since 1999. There were 80 new death sentences in 2013, about the same as last year (77), which was the lowest number since 1973. Death sentences have declined by 75% from 1996, when there were 315.
"Twenty years ago, use of the death penalty was increasing. Now it is declining by almost every measure," said Richard Dieter, DPIC's Executive Director and the author of the report. "The recurrent problems of the death penalty have made its application rare, isolated, and often delayed for decades. More states will likely reconsider the wisdom of retaining this expensive and ineffectual practice."
In line with the death penalty's decline, the number of states with capital punishment laws dropped to 32 this year, as Maryland became the 18th abolition state. Six states in six years have abandoned capital punishment: Maryland, Connecticut, Illinois, New York, New Jersey, and New Mexico.
In 2013, public support for the death penalty as measured in the annual Gallup poll declined to 60%, its lowest level in 40 years. In Boston, a strong majority (57%) of residents supported a sentence of life without parole for Dzhokhar Tsarnaev, the suspect in the Boston Marathon bombing, while only 33% of respondents supported a death sentence.
State-by-state data illustrate the decline in death penalty use this year:
Two states, Texas and Florida, were responsible for the majority (59%) of executions nationwide. Texas had 16 executions and Florida had 7.
For the sixth year in a row, Texas had less than 10 death sentences, a stark contrast from 1999, when it recorded 48.
Prominent death penalty states, including South Carolina, Virginia, Tennessee, and Louisiana, had no death sentences in 2013.
California had about 30% of the country's death sentences, though the state has not carried out an execution in seven years.
In October, DPIC released an analysis of the death penalty by county that showed only two percent of the counties in the U.S. have been responsible for the majority of cases leading to executions since 1976. Eighty-five percent of the counties in the U.S. have not had a single case resulting in an execution in more than 45 years. (The 2% Death Penalty: How a Minority of Counties Produce Most Death Cases at Enormous Costs to All)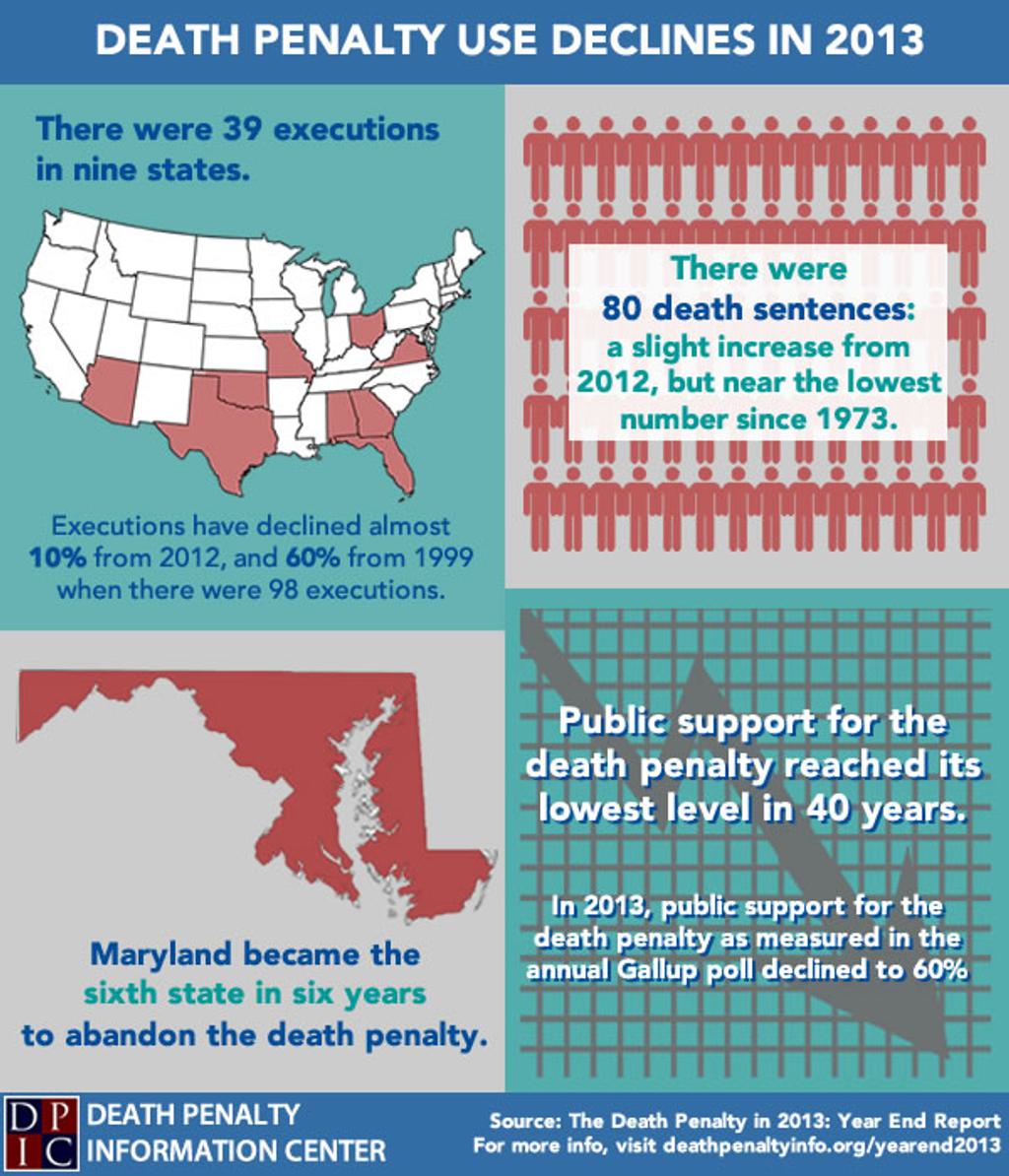 First Name

Last Name

State

County

Death Sentences by State

Dontae

Callen

AL

Jefferson

Alabama: 5

Thomas

Crowe

AL

Blount

Carlos

Kennedy

AL

Mobile

Joshua

Russell

AL

Calhoun

Nicholas

Smith

AL

Calhoun

Darrel

Ketchner

AZ

Mohave

Arizona: 3

Joel

Escalante-Orozco

AZ

Maricopa

Vincent

Guarino

AZ

Maricopa

Jeffrey

Aguilar

CA

Ventura

California: 24

Emilio

Avalos

CA

Riverside

Ronald

Brim

CA

Los Angeles

Nathan

Burris

CA

Contra Costa

Osman

Canales

CA

Los Angeles

Daniel

Cervantes

CA

Riverside

Carlos

Contreras

CA

Riverside

Rickie

Fowler

CA

San Bernardino

Travis

Frazier

CA

Kern

Robert

Galvan

CA

Kings

Richard

Hirschfield

CA

Sacramento

Emrys

John

CA

Riverside

Waymon

Livingston

CA

Orange

Jesse

Manzo

CA

Riverside

Desi

Marentes

CA

Los Angeles

Tyrone

Miller

CA

Riverside

Joseph

Naso

CA

Marin

Kenneth

Nowlin

CA

Kern

Christian

Perez

CA

Los Angeles

John

Perez

CA

Los Angeles

Rudy

Ruiz

CA

Los Angeles

Charles

Smith

CA

Los Angeles

Anthony

Wade

CA

Orange

Michael

Walters

CA

Kings

Kaboni

Savage

Federal

Federal District of Pennsylvania

Federal: 1

Michael

Bargo

FL

Marion

Florida: 15

John

Campbell

FL

Citrus

Steven

Cozzie

FL

Walton

Wayne

Doty

FL

Bradford

Richard

Franklin

FL

Columbia

Victor

Guzman

FL

Miami-Dade

Derral

Hodgkins

FL

Pasco

Kenneth

Jackson

FL

Hillsborough

Kim

Jackson

FL

Duval

Joseph

Jordan

FL

Volusia

Joel

Lebron

FL

Miami-Dade

Khadafy

Mullens

FL

Pinellas

Khalid

Pasha

FL

Hillsborough

John

Sexton

FL

Pasco

Delmer

Smith III

FL

Manatee

Jeremy

Moody

GA

Fulton

Georgia: 1

William

Gibson

IN

Floyd

Indiana: 3

Kevin

Isom

IN

Lake

Jeffrey

Weisheit

IN

Clark

Nidal

Hasan

Military

Military: 1

Robert

Blurton

MO

Clay

Missouri: 3

Jesse

Driskill

MO

LaClede

David

Hosier

MO

Cole

Timothy

Evans

MS

Hancock

James

Hutto

MS

Hinds

Mississippi: 2

Mario

McNeill

NC

Cumberland

North Carolina: 1

Bryan

Hall

NV

Clark

Nevada: 2

Gregory

Hover

NV

Clark

Richard

Beasley

OH

Summit

Ohio: 4

Steven

Cepec

OH

Medina

Curtis

Clinton

OH

Erie

Dawud

Spalding

OH

Summit

Mica

Martinez

OK

Comanche

Oklahoma: 1

Omar

Cash

PA

Philadelphia

Pennsylvania: 4

Kevin

Murphy

PA

Westmoreland

Ricky

Smyrnes

PA

Westmoreland

Aric

Woodard

PA

York

Micah

Brown

TX

Hunt

Texas: 9

Obel

Cruz-Garcia

TX

Harris

Franklin

Davis

TX

Dallas

Bartholomew

Granger

TX

Jefferson

James

Harris, Jr.

TX

Brazoria

Willie

Jenkins

TX

Hays

Matthew

Johnson

TX

Dallas

Albert

Love, Jr.

TX

McLennan

Naim

Muhammad

TX

Dallas

Byron

Scherf

WA

Snohomish

Washington: 1