Sentencing Data
2020 Death Sentences by Name, Race, and County
Driven by the combined effects of a global pandemic and the continuing decline in public support for capital punishment, new death sentences reached historic lows in 2020. Fewer new death sentences were imposed in the United States in 2020 than in any other year since the Supreme Court struck down all existing capital punishments statutes in the U.S. in 1972. With counties unable to safely conduct capital trials, states imposed a record low 18 new death sentences, 42% below the previous record low of 31 set in 2016.
Most of these sentences (11) were imposed in the first three months of 2020, before courts across the country halted trials as a precaution against the pandemic. Nearly all the death sentences imposed after that time involved judge-only proceedings, consisting of court decisions formally accepting pre-pandemic jury sentencing recommendations or trials in which a defendant waived the right to a jury.
Only seven states – Alabama, California, Florida, Mississippi, Ohio, Oklahoma, and Texas – imposed new death sentences this year, and just three – California, Florida, and Texas – imposed more than one.
Only two counties in the United States – Riverside, California (3 sentences) and Lafayette, Florida (2 sentences) – imposed more than one death sentence, and the Lafayette death sentences were the product of a single trial in which both defendants pled guilty, waived a sentencing jury, represented themselves, and presented no case for life. This was the third time in the last five years that Riverside County led the nation in death sentences. The fifteen counties that imposed death sentences represent less than half of one percent of all U.S. counties.
---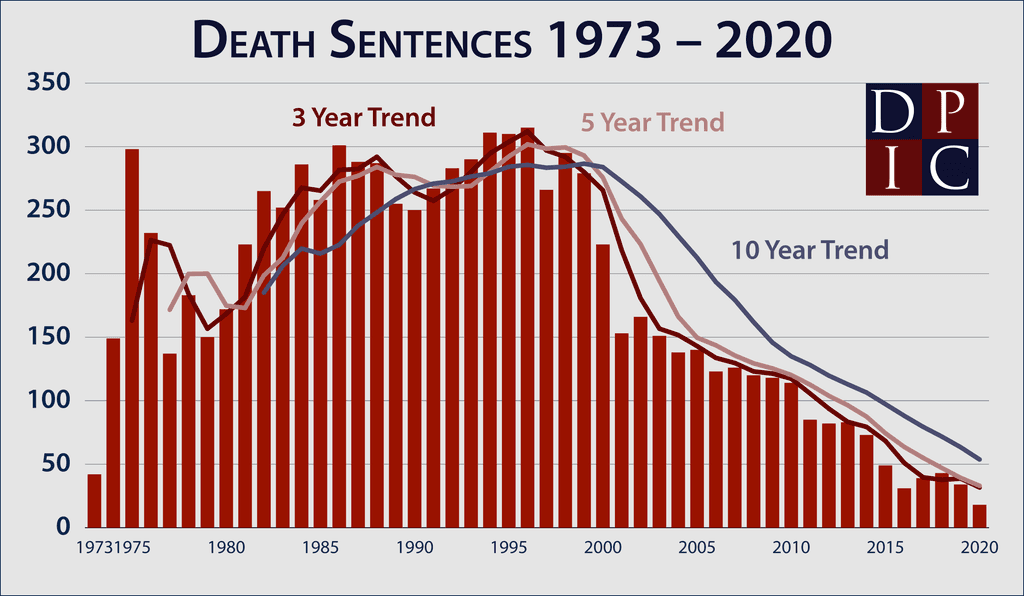 ---
Defendants Sentenced to Death in 2020
| First Name | Middle Name | Last Name | State | County | Date Sentence Formally Imposed | Race Defendant | Number / Race of Victim(s) | Age at Crime | Non-Unanimous / Judge Sentencing |
| --- | --- | --- | --- | --- | --- | --- | --- | --- | --- |
| Edward | Littleton | McCauley | AZ | Maricopa | 1/9/20 | White | 1 White Female | 58 | |
| Israel | Ramirez | Guardado | CA | Riverside | 1/24/20 | Latinx | 1 Latina Female | 37 | |
| Vincent | James | Marples | CA | Riverside | 6/26/20 | White | 1 White Female | 34 | |
| Jesse | Perez | Torres | CA | Riverside | 12/4/20 | Latinx | 1 Latina Female | 34 | |
| Charles | | Merritt | CA | San Bernardino | 1/21/20 | White | 3 White Males, 1 White Female | 53 | |
| Hernan | | Rodriguez | CA | Tulare | 6/26/20 | Latinx | 2 Latino Males | 24 | |
| Granville | | Ritchie | FL | Hillsborough | 9/11/20 | Black | 1 Black Female | 35 | |
| Jesse | | Bell | FL | Lafayette | 3/13/20 | White | 1 White Male | 45 | 1-judge sentencing |
| Barry | | Noetzel | FL | Lafayette | 3/13/20 | White | 1 White Male | 45 | 1-judge sentencing |
| Mark | | Sievers | FL | Lee | 1/3/20 | White | 1 White Female | 47 | |
| Marlin | | Joseph | FL | Palm Beach | 11/19/20 | Black | 2 Black Females | 26 | |
| Michael | | Gordon | FL | Polk | 2/7/20 | Black | 2 White Females | 34 | |
| Thomas | | Fletcher | FL | Santa Rosa | 11/24/20 | White | 1 White Male | 50 | |
| Willie | Cory | Godbolt | MS | Lincoln | 2/27/20 | Black | 1 White Male, 2 Black Males, 1 Black Female | 35 | |
| Joel | | Drain | OH | Warren | 5/18/20 | White | 1 White Male | 37 | 3-judge sentencing |
| Byron | | Shepard | OK | Pottawatomie | 1/3/20 | White | 1 White Male | 36 | |
| Brandon | | McCall | TX | Collin | 2/27/20 | White | 1 White Male | 26 | |
| Lucky | | Ward | TX | Harris | 3/10/20 | Black | 1 Latino Female, 1 Black Female | 44 | |
---
2020 Death Sentences by Race of Defendant and Victim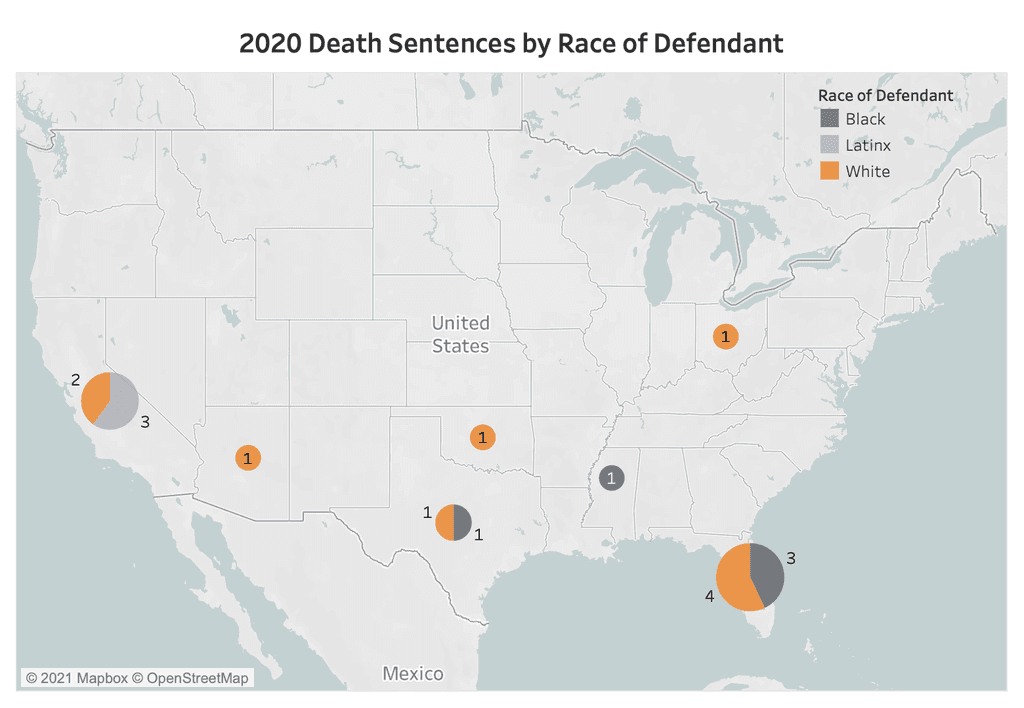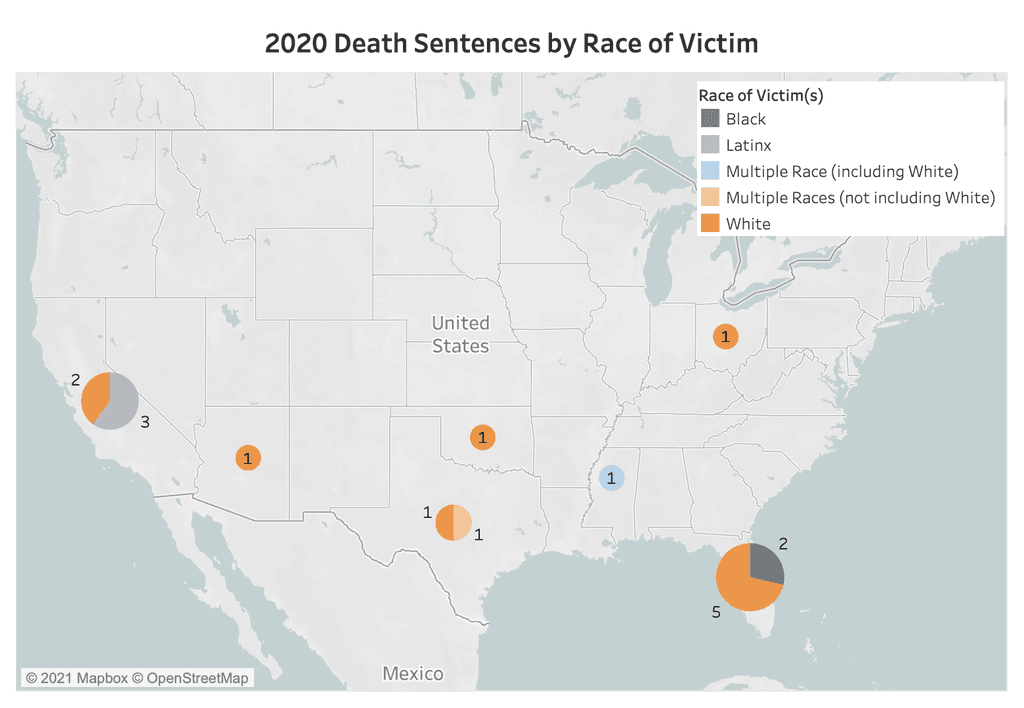 | Race | Number of Defendants Sentenced to Death |
| --- | --- |
| White | 10 |
| Black | 5 |
| Latinx | 3 |
| Total | 18 |
| Race | Number of Victims |
| --- | --- |
| White | 11 |
| Latinx | 3 |
| Black | 2 |
| Multiple Races (Including White) | 1 |
| Multiple Races (Not Including White) | 1 |
---
2020 Death Sentences by County
| County | Number of Death Sentences |
| --- | --- |
| Riverside, CA | 3 |
| Lafayette, FL | 2 |
| Collin, TX | 1 |
| Harris, TX | 1 |
| Hillsborough, FL | 1 |
| Lee, FL | 1 |
| Lincoln, MS | 1 |
| Maricopa, AZ | 1 |
| Palm Beach, FL | 1 |
| Polk, FL | 1 |
| Pottawatomie, OK | 1 |
| San Bernardino, CA | 1 |
| Santa Rosa, FL | 1 |
| Tulare, CA | 1 |
| Warren, OH | 1 |
---
2020 Death Sentences by State
| State | Death Sentences in 2020 |
| --- | --- |
| Florida | 7 |
| California | 5 |
| Texas | 2 |
| Arizona | 1 |
| Mississippi | 1 |
| Ohio | 1 |
| Oklahoma | 1 |