Recent Death Sentences By Name, Race, County, And Year
2022 Death Sentences by Name, Race, and County
Twenty-one new death sentences were imposed across the United States in 2022, the fewest in any year other than the pandemic-affected years of 2020 and 2021.
Twelve states imposed death sentences in 2022. Florida imposed five. Alabama imposed three. California, Texas, and North Carolina each imposed two. Those five states are the only states to have imposed more than a single death sentence this year. They are also the five states with the largest death rows in the U.S.

No U.S. county imposed more than a single new death sentence in 2022.
Eleven death sentences (55%) were imposed on defendants of color. Eight Black defendants and three Latino defendants were sentenced to death. Most cases involved defendants and victims of the same race, but one Black defendant was sentenced to death for the murder of a white woman and one white defendant was sentenced to death for the murder of his biracial daughter. At least four cases involved multiple victims of different races.
Note: In March 2023, DPIC learned of one additional death sentence that was imposed in 2022. This page originally reported 20 death sentences, but has been updated to reflect the death sentence imposed on Leo Boatman in Florida.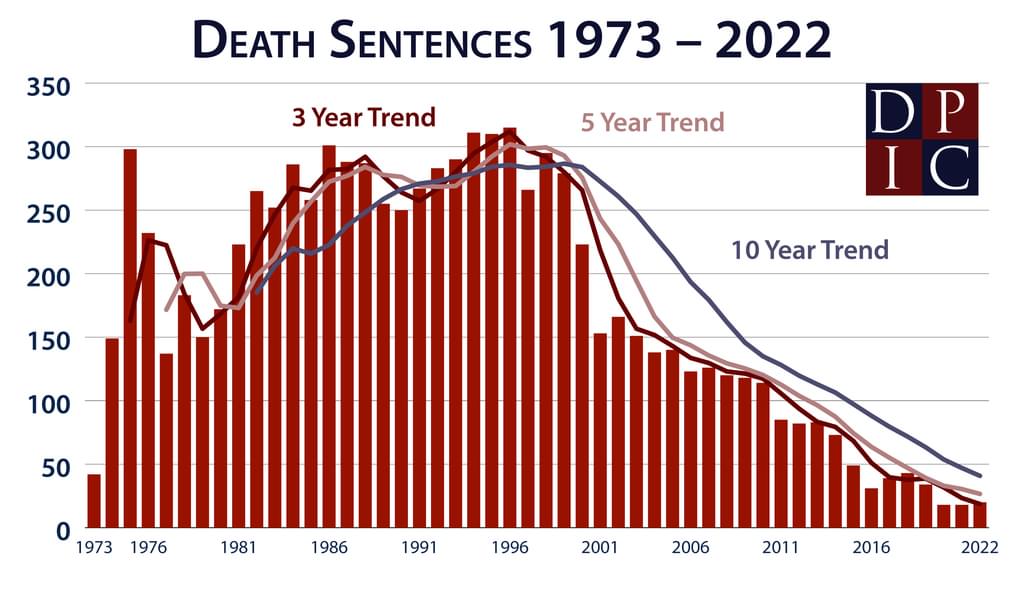 Defendants Sentenced to Death in 2022
| First Name | Last Name | State | Date Sentence Formally Imposed | County | Race of Defendant | Number/Race of Victim(s) | Age at Crime |
| --- | --- | --- | --- | --- | --- | --- | --- |
| Warren | Hardy | Alabama | 8/25/2022 | Madison | Black | 1 White Female | 27 |
| Jimmy | Spencer | Alabama | 11/14/2022 | Marshall | White | 2 White females, 1 White Male | 53 |
| Brandon | Sykes | Alabama | 4/5/2022 | Lamar | Black | 1 Black Female | 33 |
| Christopher | Montoya | Arizona | 4/12/2022 | Maricopa | White | 1 White Female | 32 |
| Jesse | Gomez | California | 3/4/2022 | San Diego | Latino | 1 Asian Male | 52 |
| Noel | Herrera | California | 3/15/2022 | Tulare | Latino | 2 Latino Males, 1 Unknown Male | 27,31,34 |
| Leo | Boatman | Florida | 11/09/2022 | Bradford | White | 1 White Male | 33 |
| Tyrone | Johnson | Florida | 12/12/2022 | Hillsborough | Black | 1 Black Female, 1 Black Male | 41 |
| Markeith | Loyd | Florida | 3/3/2022 | Orange | Black | 1 Black Female | 41 |
| Everett | Miller | Florida | 5/13/2022 | Osceola | Black | 1 Black Male, 1 Latino Male | 45 |
| William | Roberts | Florida | 7/28/2022 | Lake | White | 1 White Female | 56 |
| Ricky | Dubose | Georgia | 6/16/2022 | Putnam | White | 1 Black Male, 1 White Male | 24 |
| Kevin | Daigle | Louisiana | 10/20/2022 | Calcasieu | White | 1 White Male | 54 |
| Martez | Abram | Mississippi | 12/2/2022 | DeSoto | Black | 1 Black Male, 1 White Male | 39 |
| Richard | Emery | Missouri | 11/3/2022 | St. Charles | White | 3 White Females, 1 White Male | 42 |
| Joshua | Burgess | North Carolina | 6/3/2022 | Union | White | 1 Black Female | 24 |
| Tillman | Freeman III | North Carolina | 4/19/2022 | Hoke | Black | 2 Black Females | 30 |
| David | Ware | Oklahoma | 5/13/2022 | Tulsa | White | 1 White Male | 32 |
| Davone | Anderson | Pennsylvania | 5/31/2022 | Cumberland | Black | 1 Black Female, 1 White Female | 25 |
| Taylor | Parker | Texas | 11/9/2022 | Bowie | White | 1 White Female | 27 |
| Robert | Solis | Texas | 10/26/2022 | Harris | Latino | 1 Asian Male | 47 |
2022 Death Sentences by Race of Defendant and Victim
| Race | Number of Defendants Sentenced to Death |
| --- | --- |
| Black | 8 |
| White | 10 |
| Latinx | 3 |
| Race of Victim(s) | Number of Cases |
| --- | --- |
| Black | 5 |
| White | 9 |
| Asian | 2 |
| Multiple races (including White) | 3 |
| Multiple races (not including White) | 2 |
2022 Death Sentences by County
| County | Number of Death Sentences |
| --- | --- |
| Bradford, FL | 1 |
| Bowie, TX | 1 |
| Calcasieu, LA | 1 |
| Cumberland, PA | 1 |
| DeSoto, MS | 1 |
| Harris, TX | 1 |
| Hillsborough, FL | 1 |
| Hoke, NC | 1 |
| Lake, FL | 1 |
| Lamar, AL | 1 |
| Madison, AL | 1 |
| Maricopa, AZ | 1 |
| Marshall, AL | 1 |
| Orange, FL | 1 |
| Osceola, FL | 1 |
| Putnam, GA | 1 |
| San Diego, CA | 1 |
| St. Charles, MO | 1 |
| Tulare, CA | 1 |
| Tulsa, OK | 1 |
| Union, NC | 1 |
2022 Death Sentences by State
| State | Death Sentences in 2022 |
| --- | --- |
| Florida | 5 |
| Alabama | 3 |
| California | 2 |
| North Carolina | 2 |
| Texas | 2 |
| Georgia | 1 |
| Louisiana | 1 |
| Mississippi | 1 |
| Missouri | 1 |
| Oklahoma | 1 |
| Pennsylvania | 1 |
| Arizona | 1 |