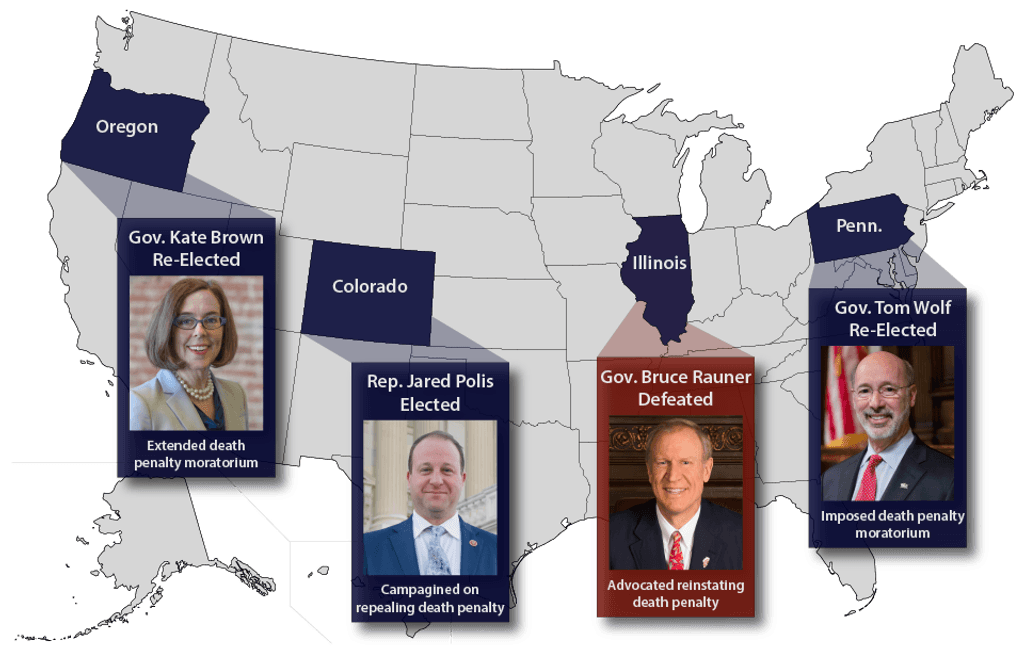 The results of the November 6, 2018 mid-term elections reflected America's deeply divided views on capital punishment, as voters elected governors who pledged not to resume executions in the three states with death-penalty moratoriums, defeated an incumbent who tried to bring back capital punishment in a non-death-penalty state (click on graphic to enlarge), and re-elected governors who had vetoed legislation abolishing capital punishment in two other states. Continuing a national trend, voters in Orange County, California ousted their scandal-plagued top prosecutor, marking the ninth time since 2015 that local voters have replaced prosecutors in jurisdictions with the nation's largest county death rows.
In the three states with Governor-imposed death-penalty moratoriums, candidates who said they would continue execution bans or work to eliminate the state's death penalty won easily. Tom Wolf, the Democratic governor of Pennsylvania who imposed the state's moratorium on executions in 2015, was re-elected by with 57.6% of the vote. His challenger, Scott Wagner, who had promised to resume executions and had advocated a mandatory death penalty for school shootings, trailed badly with 40.8% of the vote. Oregon's incumbent Democratic governor Kate Brown, who continued the state's death-penalty moratorium instituted in 2011 by then-governor John Kitzhaber, won re-election in a six candidate field with 49.4% of the vote, five percentage points higher than her Republican challenger Knute Buehler. In Colorado, Democratic congressman Jared Polis, who campaigned on the repeal of the state's death penalty, won the governorship with 51.6% of the vote, outpacing Republican state treasurer Walker Stapleton, who received 44.7% of the vote.
Democrats also took control of both houses of the Colorado legislature, increasing the likelihood that legislation to abolish the death penalty will be considered in the upcoming legislative session.
Illinois Republican Governor Bruce Rauner suffered an overwhelming election defeat at the hands of venture-capitalist J.B. Pritzker. Trailing badly in the polls, Rauner tried in May 2018 to condition passage of gun control legislation on reinstatement of the state's death penalty. Pritzker outpolled Rauner by 54.0% to 39.3%.
On the other hand, two governors who prevented death-penalty repeal bills from going into effect in their states also won re-election. Nebraska's Republican Governor Pete Ricketts, who vetoed a bipartisan bill to abolish the state's death penalty in 2015 and then, after the legislature overrode his veto, personally bankrolled a successful state-wide referendum in 2016 to block the repeal, cruised to re-election with 59.4% of the vote. New Hampshire Republican Governor Chris Sununu, who vetoed the state's death-penalty repeal bill in March 2018, won re-election with 52.4% of the vote.
In Florida, Republican Ron DeSantis won the governorship against Democratic candidate Andrew Gillum, who had pledged, if elected, to suspend executions in Florida until he was sure the death-penalty system was nondiscriminatorily applied.
Local voters in Orange County, California replaced District Attorney Tony Rackauckas with a political rival, county supervisor Todd Spitzer. Rackauckas has been embroiled in a scandal involving the secret use of prison informants to obtain or manufacture confessions from suspects and then stonewalling investigation of the multi-decade illegal practice. As of January 2013, Orange County had the seventh largest death row of any county in the U.S., and since then, it has imposed the fourth most death sentences of any county.
Voters in Florida and Louisiana also voted on criminal justice reforms that eradicated practices adopted in the Jim Crow era. Florida voters approved a referendum that ended Florida's lifetime termination of voting rights for anyone with a prior felony conviction, which passed with 64% of the vote. Louisiana, with the country's second-highest incarceration rate, abolished a post-slavery law that permitted felony convictions for crimes other than capital murder based on non-unanimous 10-2 or 11-1 jury votes. The vote leaves Oregon as the only state that permits convictions by non-unanimous jury votes, and Alabama as the only state to permit judges to impose the death penalty based upon a non-unanimous jury recommendation for death.
Sources
Bente Birkeland, Where Colorado's Governor Candidates Stand On Nathan Dunlap And The Death Penalty, Colorado Public Radio, November 2, 2018; Jim DeFede, Gillum Vows To Suspend, Review Death Penalty In Florida, CBS 4 Miami, August 2, 2018; Tim Elfrink, The long, racist his­to­ry of Florida's now-repealed ban on felons vot­ing, Washington Post, November 7, 2018; Julia O'Donoghue, Louisiana approves unan­i­mous jury require­ment, scrap­ping Jim Crow-era law, The Times-Picayune, November 6, 2018.
See Public Opinion, Death Penalty Information by State, and Recent Legislative Activity.
Recent Legislative Activity
Jun 02, 2023
Conservative Commentator Warns of Dangers of Non-Unanimous Death Sentences
Victims' Families
May 30, 2023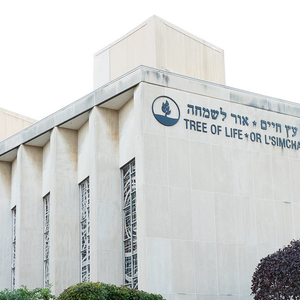 Victims' Families are Divided Over Death Penalty as Bowers Trial Begins