A federal appeals court has found 80-year-old Charles Ray Finch (pictured) "actually innocent" of the murder for which he was convicted and sentenced to death in North Carolina 42 years ago. The pronouncement came in a unanimous ruling issued by a three-judge panel of the U.S. Court of Appeals for the Fourth Circuit on January 25, 2019. In that decision, Chief Judge Roger L. Gregory wrote that "Finch has overcome the exacting standard for actual innocence through sufficiently alleging and providing new evidence of a constitutional violation and through demonstrating that the totality of the evidence, both old and new, would likely fail to convince any reasonable juror of his guilt beyond a reasonable doubt." The U.S. Supreme Court has never recognized innocence alone as grounds to overturn a conviction, so the appeals court could not set Finch free. Instead, the panel reversed a lower court's denial of relief and sent the case back for adjudication of constitutional violations relating to Finch's innocence claim. Jim Coleman, Finch's lawyer and the co-director of the Duke Wrongful Convictions Clinic, said he now hopes to convince North Carolina Attorney General Josh Stein to "remedy the miscarriage of justice in joining us in a motion to overturn Ray's conviction and release him without any further proceedings in court."
Finch was convicted and sentenced to death in 1976 for the killing of Richard "Shadow" Holloman during a failed robbery attempt, but he has consistently maintained his innocence. In 1977, the North Carolina Supreme Court reduced his sentence to life in prison after the U.S. Supreme Court had declared the state's then-mandatory death penalty law unconstitutional. The Fourth Circuit identified significant problems with the evidence used to convict Finch. He was subjected to "suggestive lineups," in which he was the only suspect dressed in a three-quarter length jacket, the same style of clothing that the eyewitness, Lester Floyd Jones, said the perpetrator was wearing. Such lineups have since been declared unconstitutional. "These procedural issues support Finch's allegations of constitutional error that he was misidentified by Jones," Judge Gregory wrote. "No reasonable juror would likely find Finch guilty beyond a reasonable doubt if it knew the high likelihood that he was misidentified by Jones both outside and inside the courtroom as a murder suspect because of the impermissibly suggestive lineups." The court also noted that Jones, who the court said "had cognitive issues, struggled with alcoholism and had issues with short-term memory recall," told police that the killer was armed with a sawed-off shotgun and had never mentioned to the police that the shooter had any facial hair. At the time Holloman was killed, Finch had a long beard and distinctive sideburns. A new review of the autopsy evidence decades after the crime disclosed that Holloman had been killed with a pistol, not a shotgun and new ballistics evidence contradicted prosecution claims that the shells found at the crime scene matched a shotgun shell found in Finch's car. Other witnesses also indicated they had been pressured into providing testimony implicating Finch. "This new evidence," the court said, "not only undercuts the state's physical evidence, but it also discredits the reliability of Jones."
The Fourth Circuit opinion also addressed whether Finch might be guilty under the felony-murder rule, which would require only that he participated in the robbery, even if he did not shoot Holloman. The court identified two problems with this argument. First, though the state now says that Finch's conviction relied on the felony-murder rule, the trial court "provided inconsistent instructions to the jury regarding felony murder but ultimately required the jury to find that Finch fired the fatal shot in order to convict him of first-degree murder." Second, if Jones misidentified Finch, and he was not actually present for the robbery, he could not be guilty even under the felony-murder rule. "Criminal liability under any theory, including the felony-murder rule, would not attach to Finch if there is no evidence that he was at Holloman's store during the murder," the opinion stated.
(Olivia Neeley, Federal court rules in Finch's favor, The Wilson Times, January 28, 2019; Josh Shaffer, He's spent 43 years in prison. Now judges call his murder conviction a 'miscarriage of justice.', Raleigh News & Observer, January 30, 2019; Antionetta Kerr, 80-Year-Old Sentenced to Death Could Be Exonerated Soon, Public News Service–North Carolina, January 31, 2018; Press release, 43 years after death sentence, Charles Ray Finch proves his innocence, North Carolina Coalition for Alternatives to the Death Penalty, January 31, 2019. Photograph by Brad Coville, courtesy of the Wilson Daily Times.) Read the 4th Circuit's opinion in Finch v. McKoy. See Innocence.
Innocence
Sep 20, 2023
Glynn Simmons Exonerated
48

Years After He Was Sentenced to Death in Oklahoma
Arbitrariness
Sep 13, 2023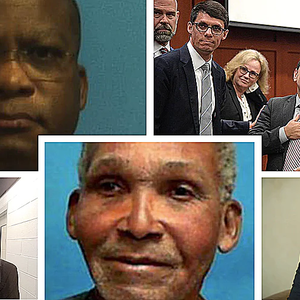 When Jurors Do Not Agree, Should a Death Sentence Be Imposed?