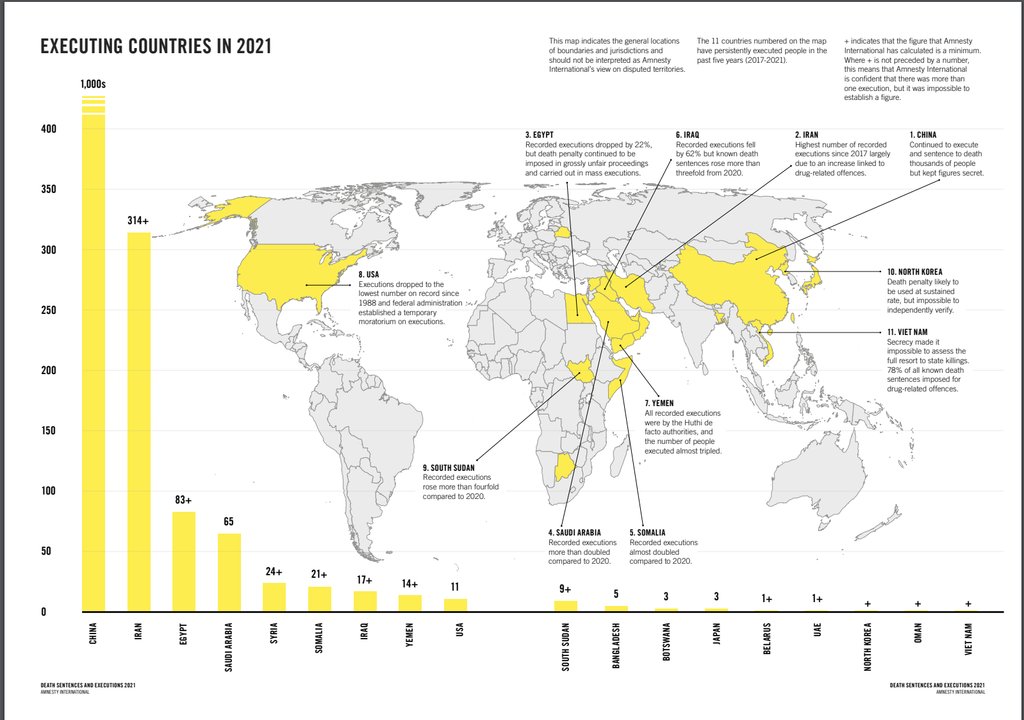 More countries abandoned the death penalty and a record low number carried it out, but extreme practices in a few outlier nations caused global executions to rise in 2021, according to the human rights group Amnesty International.
Amnesty found mixed trends in its annual report on death sentences and executions, as the global geographic erosion of capital punishment continued, but a surge in executions in Iran and Saudi Arabia as pandemic restrictions eased led to a global increase of 20% in 2021. Extreme secrecy made it impossible to track the estimated thousands of executions in China, as well as executions in Vietnam, North Korea, and Iran. Still, Amnesty reported, the 579 documented executions was the second-lowest number of recorded executions since at least 2010, down 12% from the total for 2019. The 18 countries that carried them out matched 2020 for the fewest number of executing nations, Amnesty said.
Sierra Leone and Kazakhstan adopted new laws abolishing the death penalty for all crimes, bringing to 108 the number of nations that had ended capital punishment by the close of 2021. Papua New Guinea began the legislative process to repeal its death penalty laws, which culminated in its abolition of capital punishment in January 2022. At years end, 144 countries — more than two-thirds of the world's nations — had abolished the death penalty in law or practice, Amnesty said. 55 countries still retained the death penalty and had carried out executions in the past decade.
Amnesty said that at least 28,670 people were on death rows around the world at the end of 2021, excluding countries such as China, Egypt, Iran, North Korea, and Saudi Arabia, where a lack of transparency made it impossible to ascertain how many people were imprisoned facing possible execution. Amnesty reported that 2,382 prisoners were on U.S. death rows at the end of 2021, the fourth highest recorded total, behind Iraq (8,000+), Pakistan (3,800+), and Nigeria (3,036+).
Amnesty recorded 2,052 death sentences imposed in 56 countries in 2021, up 39% from the 1,477 in 54 countries in 2020. The rise was fueled by "sharp increases" in reported death sentences in Egypt, Iraq, and Lebanon. The 356 people sentenced to death in Egypt in 2021 was the highest recorded total in any nation, Amnesty said, although China was believed to have imposed thousands of death sentences. Yemen (298+), Bangladesh (181+), India (144), Pakistan (129+), Vietnam (119+), and Indonesia (114+), all imposed more than 100 death sentences, and at least five other nations imposed more than 50 death sentences each. Nonetheless, death sentences were down from the 2,307 recorded in 56 countries in 2019.
The U.S. was no longer among the world's most prolific death sentencers, with its 18 new death sentences ranking 18th among recorded sentences. At least four other countries with unknown sentencing totals, including North Korea, also likely imposed more. The 11 people put to death in the U.S. in 2021 placed the country ninth in the number of recorded executions behind China, Iran, Egypt, Saudi Arabia, Syria, Somalia, Iraq, and Yemen. The U.S. also likely executed fewer people than North Korea and Vietnam, whose executions are considered state secrets.
Sources
Amnesty International Global Report: Death sen­tences and exe­cu­tions 2021, Amnesty International, May 24, 2022; Amnesty International, Death Penalty 2021: State-sanc­tioned killings rise as exe­cu­tions spike in Iran and Saudi Arabia, May 24, 2022; Amnesty International, Death Penalty 2021: Facts and Figures, May 24, 2022; Jennifer Hassan, Executions increased as pan­dem­ic rules eased in 2021, report finds, Washington Post, May 24, 2022; Executions surge 20 per­cent in 2021 led by China, Iran: Amnesty, Al Jazeera, May 24, 2022; Egypt issued high­est num­ber of death sen­tences world­wide in 2021, Middle East Eye, May 24, 2022.
Human Rights
Sep 28, 2023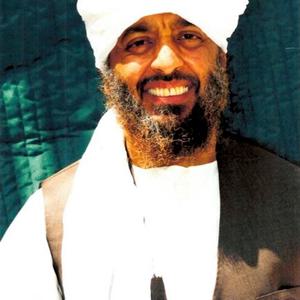 Guantanamo Bay Judge Rules
9

/​

11

Capital Defendant Mentally Incompetent to Stand Trial
Human Rights
Sep 01, 2023
New
DPIC

Podcast: Dr. Roya Boroumand dis­cuss­es cap­i­tal pun­ish­ment in Iran