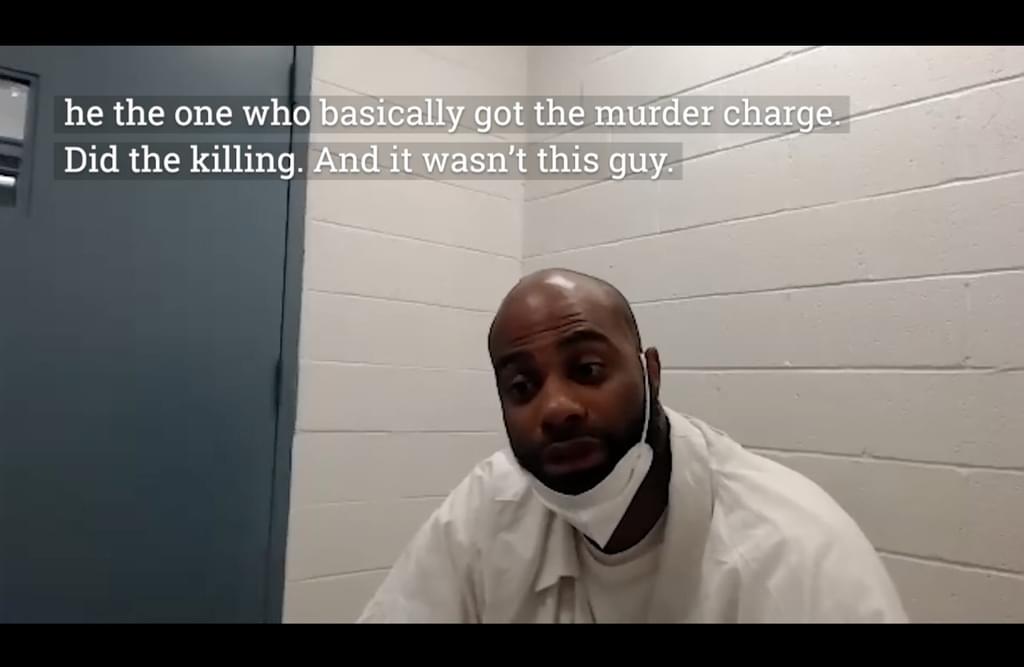 As supporters of Oklahoma death-row prisoner Julius Jones submitted more than six million signatures supporting his petition for clemency, new evidence emerged that another man had committed the killing that sent Jones to death row.
On February 25, 2021, Jones' supporters joined members of his family and Oklahoma City faith leaders for a rally and march to the offices of the Oklahoma Pardon and Parole Board, where they delivered boxes containing petitions signed by more than 6 million people urging the board and Governor Kevin Stitt to grant Jones clemency and commute his death sentence. "It is a beautiful day," said Rev. Cece Jones-Davis, founder of the Justice for Julius Coalition. "It is part of a dream being realized in a very long and arduous journey to bring Julius Jones home to his family. Knowing that the pardon and parole board will review his application beginning March 8 and start a process of determining whether he lives or dies, we are hopeful, we are cautiously optimistic."
Jones' clemency petition and his claim of innocence gained additional factual support on March 1, when his defense team released a letter and a video from a prisoner in Arkansas, Roderick Wesley (pictured), who said that Jones' co-defendant, Chris Jordan, had admitted to Wesley that he had killed a man and that someone was doing time on death row for his crime. In a letter to Jones' lawyers, Wesley wrote that Jordan told him: "my co-defendant is on death row behind a murder I committed." Wesley said that Jordan had made the admission when they were in prison together in 2010, but that he did not know to whom Jordan was referring until he saw a picture of Jordan featured on a documentary about Jones' case, The Last Defense, that aired on ABC on July 14, 2020.
"If this man is wrongfully executed, by continuing to conceal this information, I feel as if I would have had a hand in putting this man to death and I can't live with that on my conscience," Wesley wrote.
Jones, who is African American, was convicted and sentenced to death in 2002 for the murder of Paul Howell, a prominent white businessman, in 1999. The case has been plagued by allegations of racism and official misconduct. Jones, who was an honors student and captain of his basketball team in high school, has steadfastly maintained his innocence. Wesley is the third person to whom Jordan confessed about killing Howell and setting up Jones.
In January 2021, a poll by the Oklahoma City-based firm Amber Integrated found that 60% of registered voters surveyed supported commuting Jones' sentence "to something other than death." The firm reported that 70% of both independents and Democrats and 49% of Republicans said they supported clemency. Only 29% of Republicans said they opposed commutation.
Amber Integrated spokesperson Jackson Lisle said the poll reflected "relatively broad support for the state not to execute Mr. Jones." "This is specific to the case being made that Julius Jones may be innocent, and there is just too much doubt to move forward with this execution," he said.
The Pardon and Parole Board will meet on March 8 for "Stage 1 review" of Jones' clemency petition, after which it will determine whether Jones will be permitted to present witnesses in a Stage 2 proceeding.
Sources
Dylan Goforth, Julius Jones' co-defen­dant admit­ted in prison to Paul Howell slay­ing, inmate says, The Frontier, March 1, 2021; Darla Shelden, Poll shows 60 per­cent of Oklahoma vot­ers sup­port com­mu­ta­tion for Julius Jones on death, The City Sentinel, February 27, 2021; Carla Hinton, Julius Jones' sup­port­ers deliv­er peti­tion sig­na­tures to Oklahoma par­don and parole board urg­ing com­mu­ta­tion, The Oklahoman, February 26, 2021; Perris Jones, Supporters of Julius Jones deliv­er peti­tion with 6 mil­lion sig­na­tures to Pardon and Parole Board, KOCO-TV, Oklahoma City, February 25, 2021.
Read the Amber Integrated poll results here.
Photo: Screenshot from Zoom call between Roderick Wesley and defense coun­sel for Julius Jones.