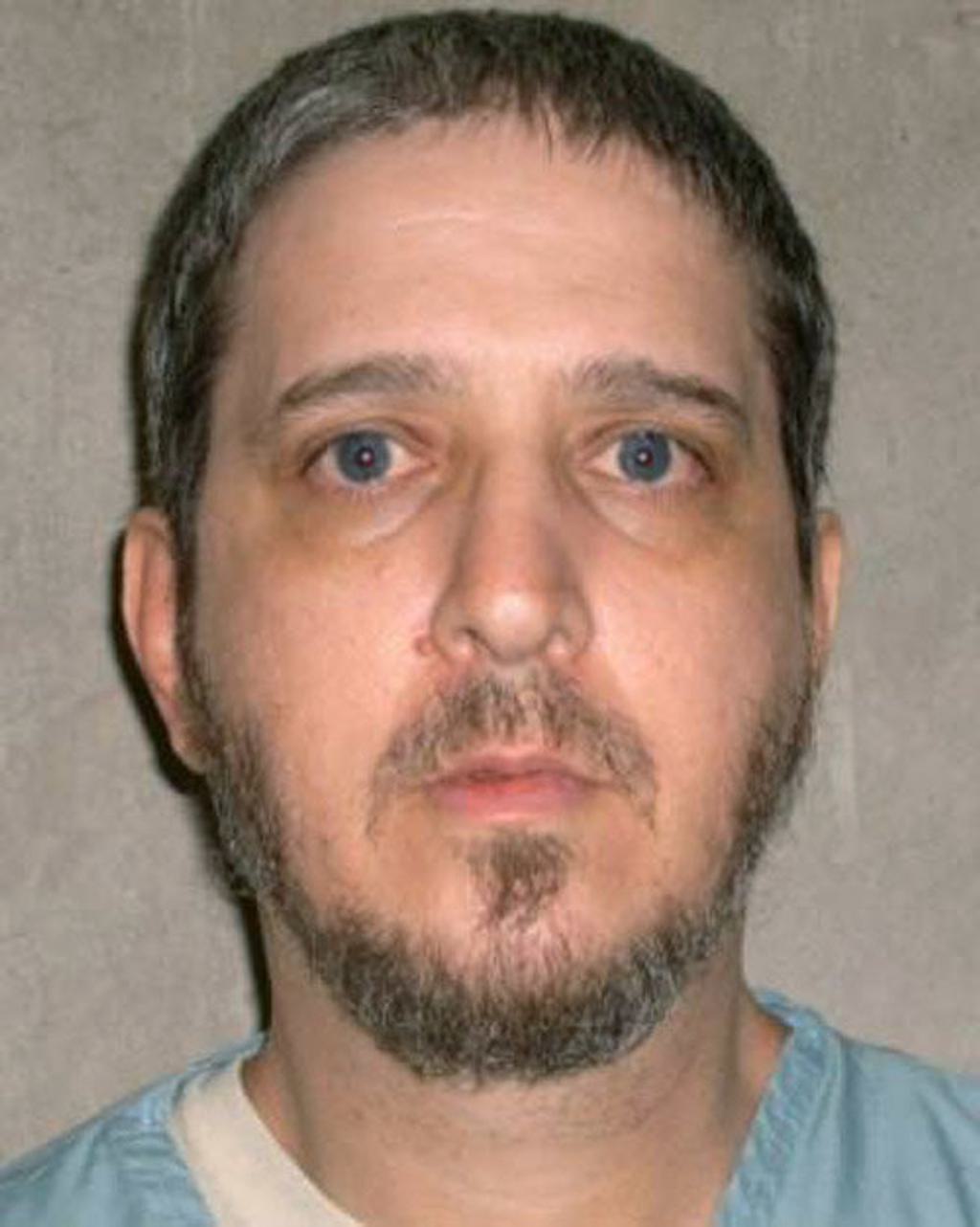 Following additional revelations that Richard Glossip (pictured) may be innocent of the murder that sent him to Oklahoma's death row in 1998, a bipartisan group of 34 state legislators are calling upon Governor Kevin Stitt and the Oklahoma Pardon and Parole Board to conduct an independent investigation into Glossip's case.
28 Republican and six Democratic legislators — including many who are supporters of the death penalty — sent a letter to Stitt and the Board on May 17, 2021 advocating for the investigation. In that letter, they wrote: "Killing Richard Glossip without certainty of his guilt will erode public trust, not only in capital punishment, but in the integrity and fairness of the entire Oklahoma criminal justice system." The legislators held a press conference at the Oklahoma Capitol on June 16 reiterating their call for action. Rep. Kevin McDugle (R-Broken Arrow), who is spearheading the effort, said, "The only reason I'm here is because I do believe personally that we have an innocent man on death row."
Glossip has long maintained his innocence of orchestrating the 1997 murder of Barry Alan Van Treese, his boss at an Oklahoma City motel. No physical evidence linked him to the murder. Justin Sneed, another motel employee, killed Van Treese but, after receiving a deal to avoid the death penalty, claimed Glossip promised to pay him $10,000 to do so.
Flanked by the legislators at the press conference, Glossip's lawyer, Don Knight, described the new evidence discovered from interviews with 190 people over the past six years. He said police found two sets of clothing in the motel's laundry room linked to the murder as well as two murder weapons, suggesting the presence of an accomplice whom police failed to investigate. Multiple prisoners who had been incarcerated with Sneed in the Oklahoma City jail told the defense that Sneed confessed to the murder and told them Glossip was not involved. Other witness reported that Sneed and his girlfriend at the time allegedly had planned to rob Van Treese to get money to feed his methamphetamine habit.
The letter to Governor Stitt states: "Many of those who have signed this letter support the death penalty but, as such, we have a moral obligation to make sure the State of Oklahoma never executes a person for a crime he did not commit. Mr. Glossip's case gives us pause, because it appears the police investigation was not conducted in a manner that gives us confidence that we know the truth." The legislators specifically ask the governor to select an "independent attorney or investigative agency" who would have access not only to records compiled by Glossip's legal team, but also to those of the Oklahoma County "District Attorney's office, or any police or law enforcement agency that investigated this case."
The Long History of Misconduct in Oklahoma County Death Penalty Cases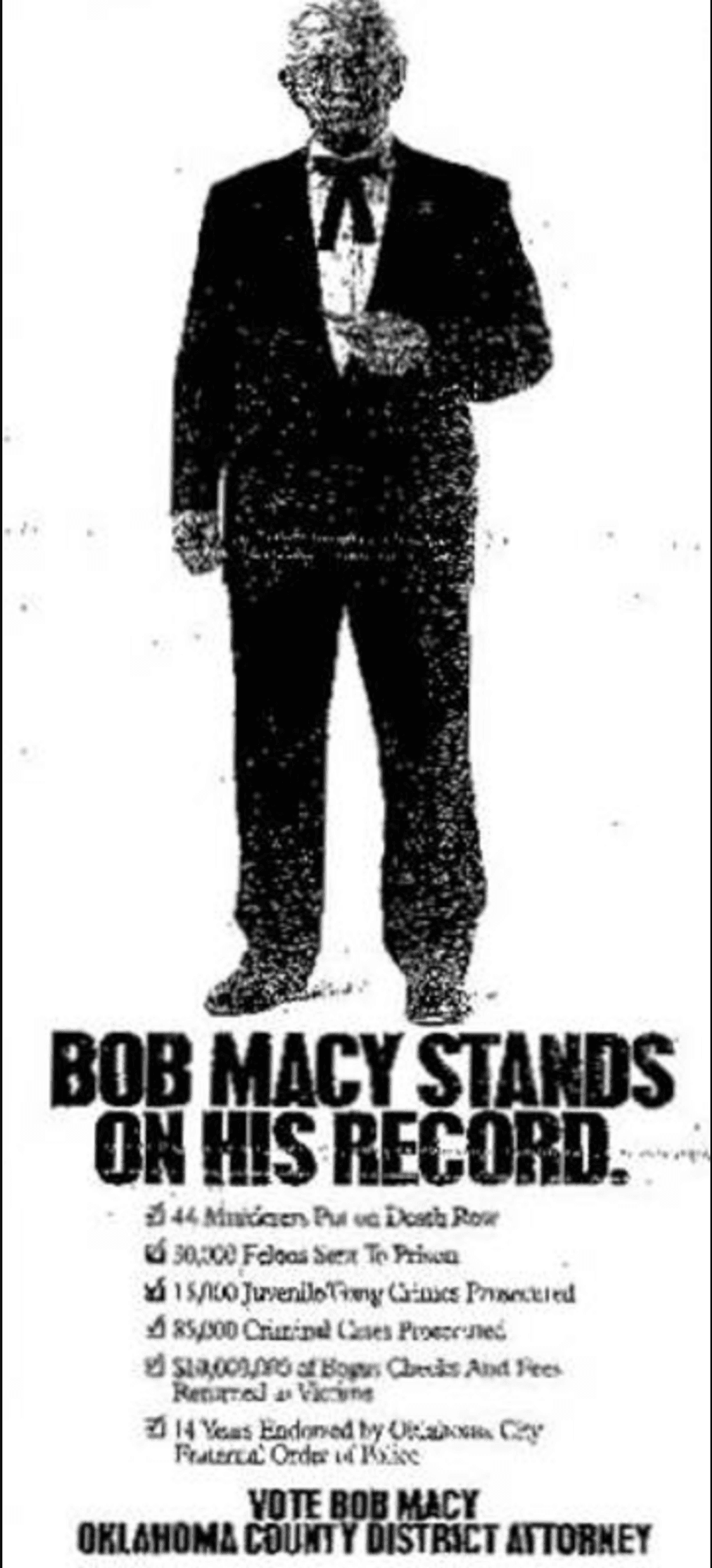 Since the resumption of capital punishment in the 1970s, more prisoners have been exonerated from wrongful convictions and death sentences in Oklahoma County than from all but three other U.S. counties. In February 2021, the DPIC Special Report: The Innocence Epidemic found that five men sentenced to death in Oklahoma County have already been exonerated. All were wrongfully convicted between 1980 and 2001, during the 21-year tenure of District Attorney "Cowboy" Bob Macy.

Only Cook County (Chicago, Illinois), with 15, and Cuyahoga County (Cleveland, Ohio) and Philadelphia (Pennsylvania), with six each, have had more wrongfully convicted defendants exonerated from death row. The Macy administration, which was marred by prosecutorial misconduct, sent 54 people to death row while he was in office and bragged in campaign advertisements about the number of prisoners he had condemned.
Glossip and Julius Jones — two of the highest profile death penalty cases in the United States —were prosecuted in the Macy administration and face execution despite strong evidence of innocence. Both assert that police and prosecutorial misconduct played a significant role in their convictions, and Jones alleges that a combination of racial bias, poor representation, and false informant testimony also contributed to his being sentenced to death for a crime he did not commit.
Glossip's lawyers charge that current Oklahoma County District Attorney David Prater has engaged in witness intimidation to impede Glossip's attempts to prove his innocence. They allege that, after two former prisoners who knew Sneed came forward with information that Sneed had acted alone and had lied about Glossip to receive a reduced sentence, Prater had arrest warrants issued for both men.
'Political theater' and 'falsehoods and lies'
Prater called the legislators' press conference "political theater" and complained that the legislators never reached out to him to discuss the case before calling for the investigation. "They have made no inquiry about any of the claims made by [Glossip's] lawyers or supporters," he said in a statement. "They have not requested transcripts of court proceedings, appellate briefs or anything else." Prater said allegations that his office had withheld evidence in Glossip's case were "falsehoods and lies."
Glossip came within minutes of execution in September 2015, before the state revealed it had obtained the wrong drug for its lethal-injection protocol. Journalistic investigation uncovered records showing the state knew it had obtained the wrong drug, and had previously used it in the January 2015 execution of Charles Warner. Executions in Oklahoma have been on hold since. On February 13, 2020, the state announced plans to resume executions using the same drug protocol that led to a series of botched executions in 2014 and 2015. Prisoners have filed legal challenges to the protocol, and no executions have yet been scheduled.
In March 2020, the Pardon and Parole Board indicated that all prisoners who receive an execution date will be entitled to a clemency hearing. In a prior clemency hearing, Glossip told the board: ""I did not plan and I did not participate in the death of Mr. Van Treese, and I would have never, ever paid for someone to do anything like that."
At the press conference, Knight said, "The board, because of the long delay that has taken place, has said that they will hear clemency once again for Richard Glossip. So there is a clemency hearing that is going to take place." Oklahoma City's News9 reported that Tom Bates, the board's Executive Director, said the board had not offered to rehear Glossip's clemency request. "I have not had any conversation with his counsel about this issue," Bates said. "We are in some uncharted water."
Sources
Josh Dulaney, Oklahoma leg­is­la­tors call for inquiry into death row inmate Richard Glossip's con­vic­tion, The Oklahoman, June 16, 2021; Barbara Hoberock, Oklahoma law­mak­ers call for inde­pen­dent probe into case of man sen­tenced to death, Tulsa World, June 17, 2021; Erika Stanish, Pro-death penal­ty Reps seek new look into death row inmate Richard Glossip's con­vic­tion, KOKH-TV, Oklahoma City, June 16, 2021; Storme Jones, Lawmakers Request Case Review Of Death Row Inmate Richard Glossip In Letter To Stitt, KWTV-DT News9, Oklahoma City, June 16, 2021
Read the let­ter from the Oklahoma leg­is­la­tors to Governor Kevin Stitt and the Oklahoma Pardon and Parole Board.