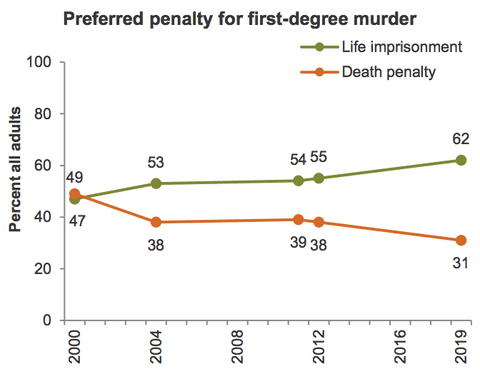 Within two weeks of California Governor Gavin Newsom's announcement that he was halting executions in the state, the decision to issue the moratorium has been bolstered from two unrelated and independent sources. A statewide poll underway at the time of Newson's moratorium announcement and released by the Public Policy Institute of California (PPIC) on March 27, 2019 found that by a record 2:1 margin, Californians preferred life without possibility of parole over the death penalty as the punishment for first-degree murder. Then on March 28, in the first post-moratorium death-penalty decision issued by the California Supreme Court, two justices sharply criticized the state's death-penalty system as "dysfunctional," "expensive," and unworkable.
PPIC had just started its annual multi-topic poll on Californians and their government when Governor Newsom announced the moratorium on executions, and the Policy Institute added a question about the death penalty to the poll. PPIC found that, among all adults, 62% said life in prison with no possibility of parole (LWOP) should be the punishment for those who commit first-degree murder, while 31% preferred the death penalty. Among likely voters, 58% preferred LWOP versus 38% who favored the death penalty. Over the last 19 years, the percentage of Californians who prefer LWOP has risen from 47% to this year's record high, while support for the death penalty has fallen from 49% to this year's record low. Democrats (76%-21%) and Independents (56%-36%) overwhelmingly preferred LWOP, while Republicans preferred the death penalty by 64%-32%. In the 2016 election, California voters defeated a referendum to abolish capital punishment and narrowly passed Proposition 66, a referendum that claimed it would speed up executions. "This is a case where public opinion continues to shift, and shift support away from the death penalty," said Mark Baldassare, president of the Public Policy Institute of California. "The campaigns in 2012 and 2016 were very effective in bringing up examples of horrible crimes that were committed, and it raised questions in people's minds about whether they were prepared to make that decision. Voters are always more willing to vote 'no' than 'yes,'" he said.
In People v. Potts, the first death-penalty opinion released since Gov. Newsom's announcement, two justices on the California Supreme Court issued a scathing rebuke to California's death-penalty system. Justice Goodwin Liu, joined by Justice Mariano-Florentino Cuéllar, agreed with the court that, under the law, Thomas Potts' death sentence should be upheld, but criticized the state's death penalty as "an expensive and dysfunctional system that does not deliver justice or closure in a timely manner, if at all." Liu wrote: "A death sentence in California has only a remote possibility of ever being carried out. As leaders of the judiciary have long observed, the death penalty presents serious challenges for the fair and efficient administration of justice. For decades, those challenges have not been meaningfully addressed." The Potts case, the justices said, demonstrates the futility of California's death penalty. Potts was convicted and sentenced to death in 1998. "Now, 21 years later, we affirm the judgment on direct appeal, but there is more litigation to come in the form of habeas corpus petitions in state and federal courts. This timeline is typical of our capital cases." The justices called Proposition 66 an unworkable proposal that "promised more than the system can deliver."
(Californians and Their Government, Public Policy Institute of California, March 2019; Phil Willon, Californians continue to sour on death penalty, poll finds, feeding momentum to end it, Los Angeles Times, March 27, 2019; Maneeza Iqbal, Poll: Majority of Californians favor life imprisonment over death penalty, KCRA, March 28, 2019; Sophia Bollag, Opposition to death penalty grows in California as Gavin Newsom halts executions, Sacramento Bee, March 27, 2019; Bob Egelko, California Supreme Court justices question state's death penalty, San Francisco Chronicle, March 28, 2019; Sudhin Thanawala, California justice calls death penalty dysfunctional, Associated Press, March 28, 2019; Maura Dolan, 2 California Supreme Court justices say the state's death penalty system doesn't work, Los Angeles Times, March 28, 2019.) See Public Opinion.
New Voices
Feb 08, 2023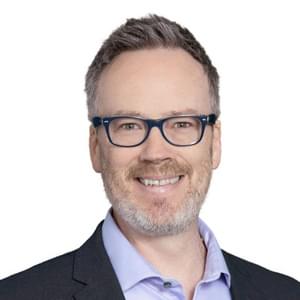 NEW

VOICES

: Tennessee Business Leader Underscores Problems with the Death Penalty
Recent Legislative Activity
Feb 06, 2023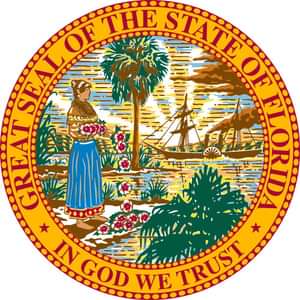 Florida Governor Pushes To Remove Safeguards in Death Penalty Cases