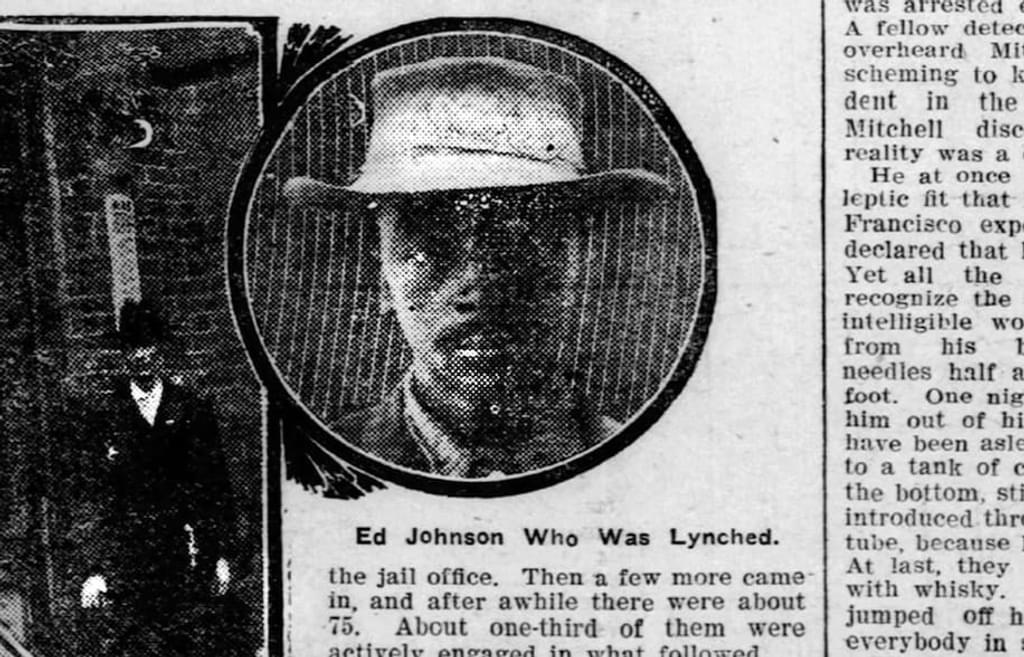 On September 19, 2021, community leaders in Chattanooga, Tennessee dedicated a memorial to Ed Johnson, an innocent Black man wrongfully convicted and sentenced to death in 1906 for allegedly raping a white woman and lynched by a white mob after the U.S. Supreme Court issued an order staying his execution. The memorial also honors the two lawyers who worked to save him.
Eric Atkins, vice chair of the Ed Johnson Project committee, which spearheaded the creation of the memorial, said, "Hopefully with this memorial … we can have a changed heart. An open heart, where we are all free and we all have rights and we can all advance the way that the country is supposed to advance."
Johnson was arrested in January 1906 on charges of raping Nevada Taylor, after a white man falsely accused Johnson so he could claim a $375 reward (equivalent to about $10,000 today). Despite alibi testimony from a dozen witnesses who said Johnson had been working at a saloon on the night of the attack, an all-white, all-male jury convicted him and sentenced him to death. Two pioneering Black attorneys, Noah Parden and Styles Hutchins, took up the case on appeal, risking threats of violence for their efforts to overturn Johnson's conviction.
Parden was able to arrange a 10-minute meeting with U.S. Supreme Court Justice John Marshall Harlan, who had been the lone dissenter in Plessy v. Ferguson, the case that established the separate-but-equal doctrine. Harlan issued a stay on March 18, 1906, to allow the Court to hear Johnson's case. On March 19, a mob broke into the jail where Johnson was being guarded by one 72-year-old sheriff's deputy. They kidnapped Johnson and took him to the Walnut Street Bridge, where they demanded he confess to the crime. He told the mob. "God bless you all. I am a innocent man."
The mob attempted to hang Johnson, but when their hanging attempts failed, they shot him to death. A note was placed on Johnson's body, addressed to "Chief Harlan," which told the justice, "Thanks for your kind consideration of him. You can find him at the morgue."
Johnson's lynching was followed by an unprecedented criminal trial at the Supreme Court, with the justices acting as jurors. To this day, it remains the only criminal trial held by the Court. The justices tried 25 men for contempt of court for their defiance of the Court's stay of execution. Six men, including Hamilton County Sheriff Joseph Shipp, were convicted. Shipp and two others were sentenced to 90 days in jail, the three others to 60 days. They were welcomed back to Chattanooga by a crowd of 10,000 people and a band playing "I Wish I Was in Dixie."
Atkins said that the Supreme Court's reaction was part of what made Johnson's case stand out. "I think we can look to the Ed Johnson case and see that someone actually gave a damn about it and something was actually done about it, even though it was in contempt of court and it wasn't about the lynching," he said. "But you could see that because of the Supreme Court and the instances around the lynching, you could see that someone paid a debt that they owed even though they were small prison terms."
Atkins said the memorial was a step in reckoning with the racist history of the United States. "We've done a lot of work to keep our good name as a nation, while there are many folks outside and within that know we have a complicated history," he said. "And I think the more we deny the things — how we got the land, how my family got to this country — the more we deny those things, I think the less capable it makes us of actually dealing with the fault lines that persist today."
Efforts to create a memorial began in 1999 when LaFrederick Thirkill organized a cleanup of the historic Black cemetery where Johnson is buried. Upon learning of Johnson's case, Thirkill wrote a play, "Dead Innocent: The Ed Johnson Story," and met with other groups around the country that were working to address racist violence. Thirkill used proceeds from a performance of the play to start the Ed Johnson Memorial Scholarship Fund. With the memorial, Thirkill said, the Walnut Street Bridge now "can be a place that doesn't bring so much sadness. This memorial can be a place that brings some healing, for some, and some happiness for others, some vindication, finally some satisfaction that [Ed Johnson's] name is being recognized in such a beautiful way."
In 2000, Pastor Paul McDaniels successfully petitioned the Hamilton County Court to overturn Johnson's conviction. In 2016, the Tennessee House adopted a resolution honoring Johnson and calling his lynching "unjustifiable." At the dedication of the memorial, Chattanooga Mayor Tim Kelly issued a proclamation "apologizing to Mr. Ed Johnson to the miscarriage of justice that occurred on March 19th, 1906."

Donivan Brown, chair of the Ed Johnson Project committee, described the memorial as an opportunity to move forward in the difficult process of healing. "If I burn your house down and then build a monument of your house, we're not going to be healed," he said. "There are some things I may have to engage with you on if I actually want to get to a place of healing. I actually might need to rebuild your house. Now, we can't rebuild Ed Johnson's body. We can't re-import his spirit into a monument, but the best thing we can do is something that is emblematic of his life and the legacy that this case had and his lawyers."
Sources
Photo: Topeka Daily Herald, April 7, 1906. Click here to enlarge.