After ignoring health risks posed by lengthy court proceedings during the coronavirus pandemic and facing criticism that a capital prosecution following the state's abolition of capital punishment would amount to a politically partisan waste of taxpayer dollars, prosecutors in Adams County, Colorado have announced that they will drop the death penalty in a high-profile case involving the killing of a sheriff's deputy.
On March 30, 2020, 17th Judicial District Attorney Dave Young filed papers in the trial court to withdraw pursuit of the death penalty against Dreion Dearing (pictured). Young blamed Colorado Governor Jared Polis for the prosecution's choice to drop the death penalty, saying the Governor's commutation of the death sentences of the three men on the state's death row made continuing to seek the death penalty futile. "The People cannot overcome Governor Polis' stated intent to forego any death sentence with a stroke of his pen," Young's pleading said.
Colorado's death-penalty abolition law applies only to cases in which capital charges are brought after July 1, 2020, leaving open the possibility that prosecutors could still seek the death penalty in a small number of pending and future cases. In El Paso County, prosecutors are still seeking the death penalty against Marco Garcia-Bravo in a trial in which jury selection has been delayed until at least July 17. "Right now, nothing has changed" regarding the pursuit of the death penalty in that case, 4th Judicial District Attorney's Office spokeswoman Lee Richards told the Colorado Springs Gazette.
As the Colorado senate voted to abolish the death penalty on January 30 and the state House followed suit on February 26, Young insisted that Dearing's case would remain a capital proceeding. Jury selection began on March 4 despite coronavirus concerns and other court closures, and Judge Mark Warner on March 9 denied a defense motion to test all empaneled jurors for the coronavirus before the trial began. However, on March 23, Warner reversed course and suspended the proceedings until at least April 6, citing health concerns and the difficulty of empaneling a jury at a time in which public gatherings were being limited
That same day, Governor Polis signed the repeal law and commuted the death sentences of Nathan Dunlap, Sir Mario Owens, and Robert Ray, clearing the state's death row. Those commutations, Polis said, "reflect what is now Colorado law … [and] are consistent with the abolition of the death penalty in the State of Colorado."
"Everybody in the world knew that Mr. Dearing would never be executed[,] … that was clear long ago," said University of Colorado professor and Colorado death penalty historian Michael Radelet. "To put a new guy on death row right now, it just bogs down the appellate court. It's a waste of everybody's time. I hate to be political, but there are three reasons for the death penalty right now. One is politics. Two is politics, and three is politics."
Sources
Shelly Bradbury, Prosecutors ask to drop death penal­ty against man charged with killing Adams County sheriff's deputy, The Denver Post, March 30, 2020; Conor McCormick-Cavanaugh, Prosecutors Drop Death Penalty Possibility in Adams County Case, Westword, March 30, 2020; Shelly Bradbury, Court will not test poten­tial jurors for coro­n­avirus in Adams County death penal­ty case, Denver Post, March 20, 2020; Susan Greene, Months-long death penal­ty jury tri­al starts despite coro­n­avirus cri­sis, Colorado Independent, March 17, 2020; Susan Greene, Colorado attor­neys argue jury selec­tion amid pan­dem­ic putting peo­ple at ​'need­less and severe risk', Colorado Independent, March 17, 2020; Shelly Bradbury, As death penal­ty tri­al kicks off in Adams County, Colorado's gov­er­nor could abol­ish the death penal­ty with a stroke of his pen, The Denver Post, March 4, 2020
International
Jun 01, 2023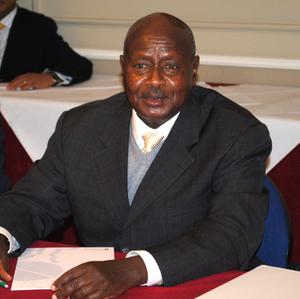 Uganda's Controversial ​
"

Anti-Homosexuality Act" Includes Possibility of Death Sentence