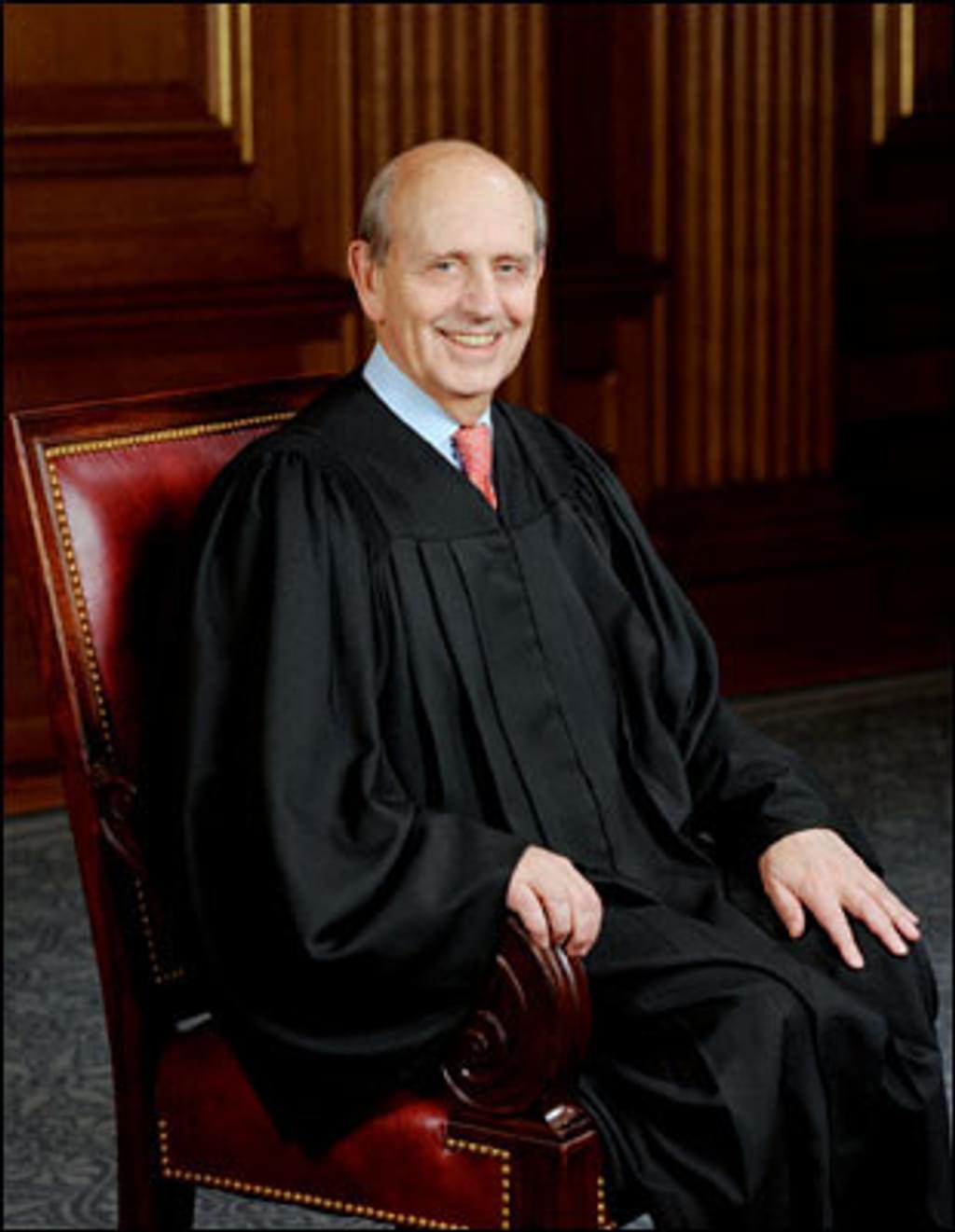 As Richard Glossip faces an execution date for the fourth time, his case is a perfect example of the problems in the death-penalty system that then-Supreme Court Justice Stephen Breyer (pictured) identified in his 2015 landmark dissent in Glossip v. Gross. In an analysis published by Slate, Jeremy Stahl writes, "Whether or not Richard Glossip is ultimately executed for a crime he likely did not commit, his and Breyer's names will be intertwined in death penalty history. Glossip's case is emblematic of the death penalty's major trends over the past two decades. And Breyer's dissent in Glossip, with the moral and legal clarity he evinced, is likely to go down as his most prescient opinion on the court."
Although Glossip was the lead plaintiff in a 2015 challenge to Oklahoma's lethal-injection protocol, the details of his case were not at issue because the question before the Court addressed the method of execution, rather than the death penalty itself. In a dissent joined by the late Justice Ruth Bader Ginsburg, Breyer called on the Court to reconsider the constitutionality of the death penalty. He wrote, "Today's administration of the death penalty involves three fundamental constitutional defects: (1) serious unreliability, (2) arbitrariness in application, and (3) unconscionably long delays that undermine the death penalty's penological purpose. Perhaps as a result, (4) most places within the United States have abandoned its use." Glossip's case, Stahl writes, has come to embody those defects.
Breyer argued that Glossip's strong claim of innocence demonstrates the "serious unreliability" of the death penalty. An independent review of Glossip's case commissioned by a bipartisan group of Oklahoma legislators describes the extensive evidence of Glossip's innocence. Glossip was convicted of hiring another man, Justin Sneed, to kill Barry Van Treese, the owner of the hotel where Glossip worked. Videotape of Sneed's interrogation shows that detectives mentioned Glossip six times in the first 20 minutes, encouraging Sneed to implicate Glossip in exchange for a reduced sentence. Glossip's jury was not shown the interrogation tape. The investigation also revealed a videotaped statement by the lead detective in the case, who directly undermined the state's theory of the crime by saying Sneed got "carried away" while robbing Van Treese.
Glossip's case also exhibits arbitrariness in several ways. He is undisputedly not the person who killed Van Treese, and the actual perpetrator, Sneed, was sentenced to life in prison. He was sentenced to death in Oklahoma County, one of just five U.S. counties responsible for 20% of all executions since 1976. The victim was white, which has been shown to significantly increase the likelihood of a death sentence.
The 23 years Glossip has spent on death row and his three previous execution dates bolster Breyer's observations about the "unconscionably long delays" inherent in capital cases. In 2015, Glossip came within hours of execution before state officials revealed they had obtained the wrong drug, and the execution was called off. Though delays are necessary to reduce the unreliability of capital punishment, Breyer called them "especially cruel" because of the "severe, dehumanizing conditions of confinement." When Glossip learned the state had set yet another execution date for him, he told his attorney, "I'm scared right now that nobody will listen. That nobody will care, that this work has been done to show that I didn't do anything, that I'm not somebody who's capable of murdering anyone, and yet they won't do anything."
Breyer's final point, that executions are becoming increasingly rare, remains true in the vast majority of the United States, even as Oklahoma prepares to execute 25 people over the next two years. If the state does execute Richard Glossip, it may contribute to the further erosion of capital punishment. Oklahoma Representative Kevin McDugle, a Republican and a death-penalty supporter, has become one of Glossip's biggest advocates. "If we put Richard Glossip to death, I will fight in this state to abolish the death penalty, simply because the process is not pure," he said at a June 2022 press conference.