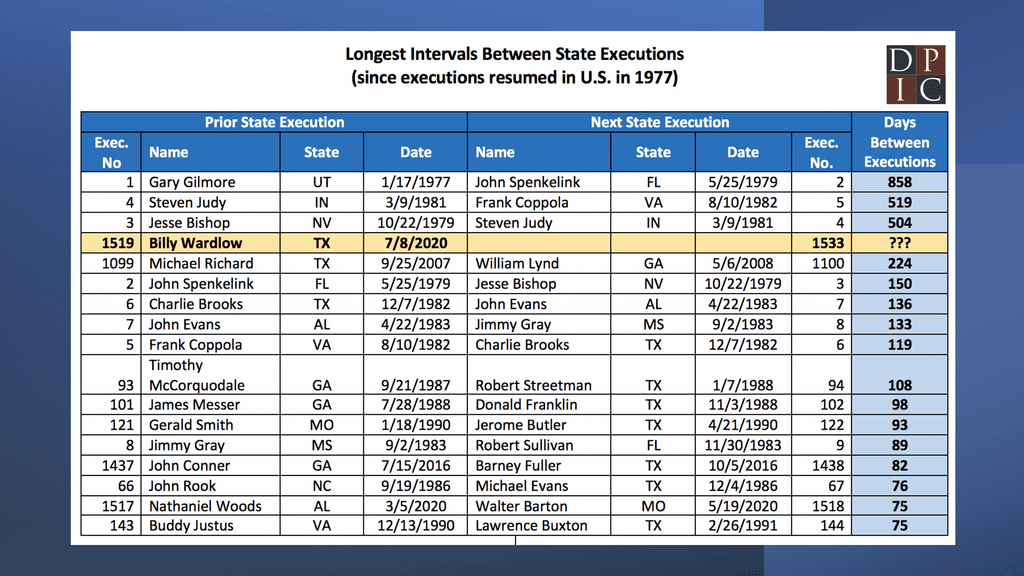 The United States has entered the longest period in 40 years without any state carrying out an execution, an analysis of data in the Death Penalty Information Center execution database has found.
On February 18, 2021, the U.S. reached 225 days since Texas executed Billy Wardlow on July 8, 2020, the last state execution conducted since the COVID-19 pandemic. That interval surpassed the 224 days between the September 25, 2007 execution of Michael Richard in Texas and the May 6, 2008 execution of William Lynd in Georgia, while the U.S. Supreme Court was considering the constitutionality of Kentucky's lethal-injection protocol in Baze v. Rees.
On February 11, the U.S. Supreme Court let stand an injunction against Alabama's scheduled execution of Willie B. Smith III, unless the state agreed to permit his religious advisor to minister to him in the execution chamber. Alabama then called off the execution, which would have ended the stretch of time without a state execution at 218 days. The only longer periods of time between state executions since executions resumed in January 1977 occurred before states had fully resumed capital punishment. Four of the first five executions in the U.S. after the Supreme Court upheld the constitutionality of new death penalty statutes in Gregg v. Georgia, Proffitt v. Florida, and Jurek v. Texas, and in July 1976 involved so-called death-row "volunteers" who waived their appeals.
The longest period of time between state executions in the post-Gregg era is 858 days, from the January 17, 1977 execution of Gary Gilmore in Utah — the first execution of the modern era — to the May 25, 1979 execution of John Spenkelink in Florida. Gilmore had given up his appeal rights and asked to be executed. 150 days passed between Spenkelink's and Nevada's execution of Jesse Bishop, also a volunteer, on October 22, 1979. Bishop's execution was followed by the execution of another volunteer, Steven Judy, in Indiana 504 days later, on March 9, 1981. 519 days later, Virginia executed Frank Coppola on August 10, 1982. Coppola also waived his appellate rights.
At the same time that states were abstaining from executions, the federal government was embarking on the longest and most sustained execution spree in the modern history of the U.S. death penalty. The Trump administration carried out 13 consecutive executions between July 14, 2020 and January 16, 2021, the most consecutive executions by any jurisdiction since capital punishment resumed in the U.S. in the 1970s. The 186 days of the execution spree was the longest period of time a single jurisdiction was responsible for multiple executions while no one else executed anyone.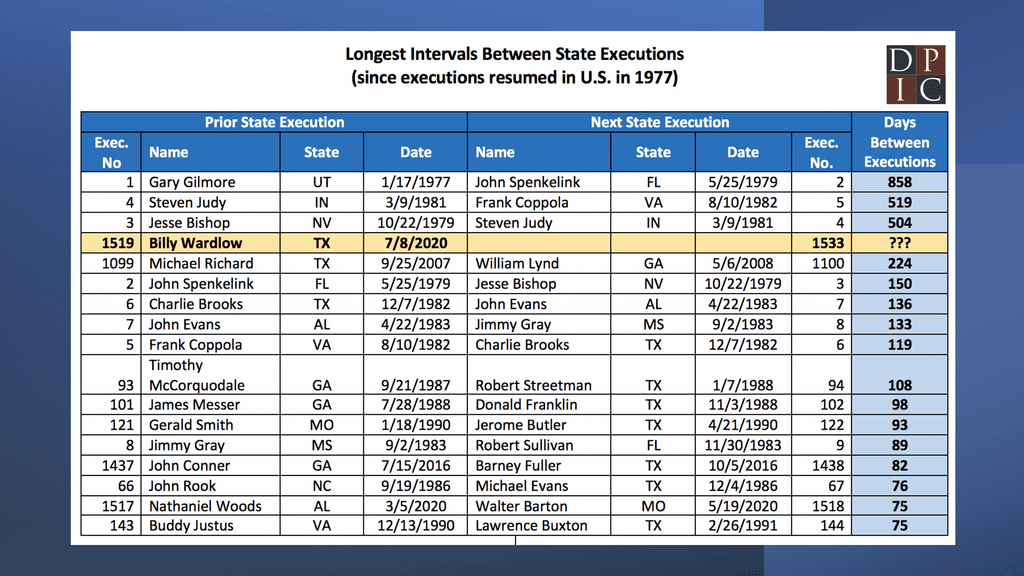 Sources
Death Penalty Information Center, Execution Database. Analysis by Executive Director Robert Dunham.
Human Rights
May 19, 2023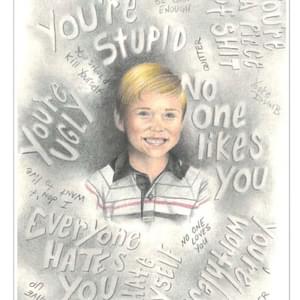 Missouri Clemency Petition Highlights Prisoner's Extraordinary Artwork