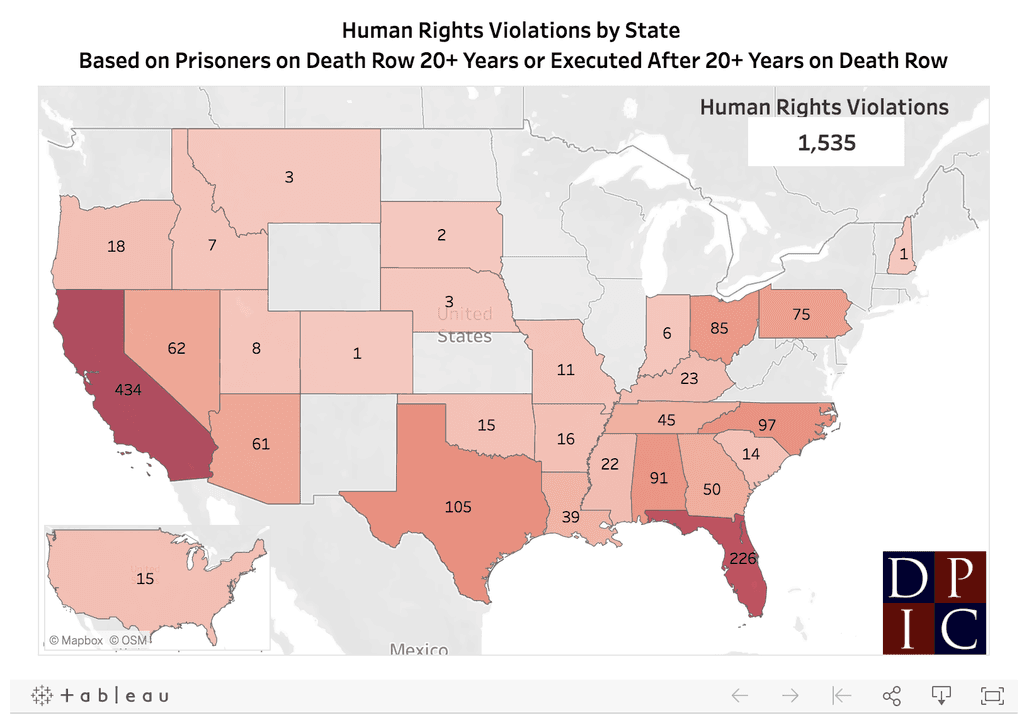 At least 1,300 prisoners have been imprisoned on U.S. death rows for more than two decades, in violation of U.S. human rights obligations, a Death Penalty Information Center report on death-row incarceration practices has found. The number represents more than half of all U.S. death-row prisoners as of January 1, 2020. Nearly one third of the prisoners whose lengthy death-row incarcerations violate their human rights are on death row in California.
DPIC also found that an additional 191 prisoners have been executed 20 or more years after having been sentenced to death and that 13 men and women who had been wrongfully convicted and sentenced to death since 1973 had spent two decades or more on death row prior to their exonerations, also in violation of U.S. human rights obligations. In all, the report documented more than 1,500 death-penalty-related human rights violations by U.S. states and the federal government.
California, with 429 prisoners on death row for 20 or more years, had the most human rights violations of any state. Florida was next with 192 death-row prisoners incarcerated more than 20 years, followed by North Carolina with 95. Florida had the most human rights violations arising out of the execution of prisoners who had been on death row for 20 or more years, with 34. Texas was next with 31, followed by Georgia with 28 and Alabama with 20.
Three of the exonerees — Paul Browning in Nevada, Henry McCollum in North Carolina, and Glenn Ford in Louisiana — had been on death row 30 years or more before they were exonerated.
DPIC's analysis was motivated by several recent decisions of the Inter-American Commission on Human Rights (IACHR) — the body of the Organization of American States (OAS) that reviews potential breaches of human rights by member nations in the Western Hemisphere — which determined that extended incarceration on death-row under the continuing threat of execution violated the American Declaration of the Rights and Duties of Man. In 2018, the IACHR declared in the case of Missouri death-row prisoner Russell Bucklew that "[t]he very fact of spending 20 years on death row is … excessive and inhuman" punishment. In April 2020, the IACHR returned to the issue and found that California's 27-year imprisonment of Nvwtohiyada Idehesdi Sequoyah (formerly Billy Ray Waldon) on death row violated U.S. human rights obligations.
The IACHR held the United States responsible for violating Sequoyah's "right to humane treatment," saying his extended incarceration under threat of death constituted "cruel, infamous or unusual punishment" under the American Declaration. It further ruled that his execution after such a lengthy period on death row would constitute an additional human rights violation and recommended as a remedy that his death sentence be commuted to life imprisonment.
DPIC reviewed data related to current and executed death-row prisoners to assess the breadth of the nation's human rights violations arising from lengthy confinement under sentence of death. The report found that 1,344 current prisoners on 26 state, federal, or U.S. military death rows have been incarcerated facing execution for more than 20 years. With the 191 executions carried out by 20 states more than 20 years after prisoners were first sentenced to death, these two categories of death-row prisoners accounted for 1,535 human rights violations.
DPIC Executive Director Robert Dunham noted that the analysis significantly understates the magnitude of U.S. human rights violations. DPIC reviewed the portions of its death-penalty database relating to the 2,620 prisoners on death row as of January 1, 2020, the 1518 U.S. executions since 1977, and the 169 death-row exonerations since 1973. The data reviewed did not include former death-row prisoners who spent 20 or more years on death row before being resentenced to life or less or having their death sentences commuted; or those who died in custody after 20 years or more confinement on death row.
The information DPIC reviewed in determining the scope of the U.S. human rights violation is part of a larger database it is compiling for its Death Row Census of all persons sentenced to death in the United States since 1972. The first phase of this multi-year project, which will contain information on the status of more than 9,400 death sentences imposed across the country since the U.S. Supreme Court struck down existing capital punishment statutes in June 1972, is expected to be completed this summer.
International
Jun 01, 2023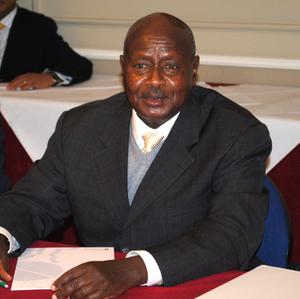 Uganda's Controversial ​
"

Anti-Homosexuality Act" Includes Possibility of Death Sentence
Victims' Families
May 30, 2023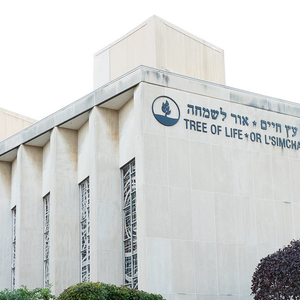 Victims' Families are Divided Over Death Penalty as Bowers Trial Begins