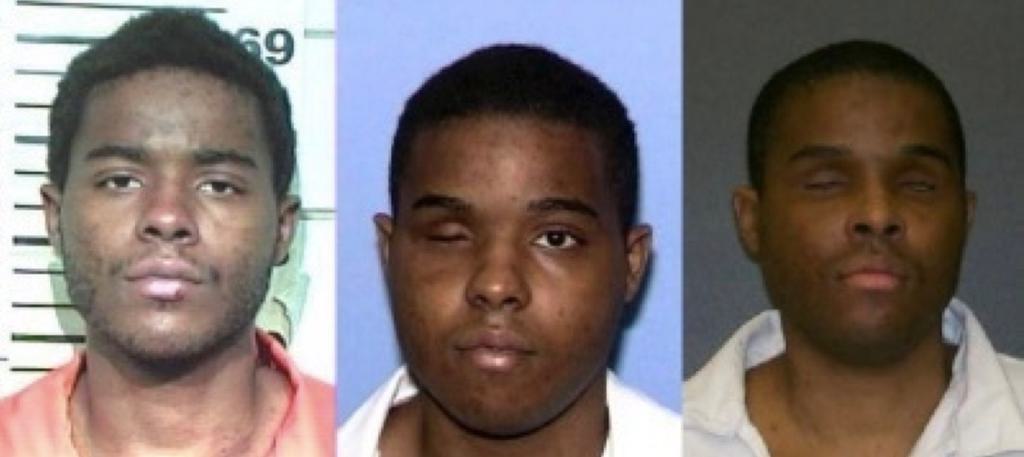 A severely mentally ill Texas death-row prisoner who gouged out his eyes and ate one of them has asked a federal appeals court to allow him to appeal a lower court decision that upheld his conviction and death sentence and found that he had been competent to stand trial.
Andre Thomas (pictured, left when arrested; center, after gouging out his right eye prior to trial; right, after gouging out and eating his left eye while on death row); is seeking review of his claims that his conviction and sentence must be overturned because he is severely mentally ill, received inadequate representation at trial and at sentencing, and his jury was tainted by racial bias. On June 5, a panel of the U.S. Court of Appeals for the Fifth Circuit heard oral argument on whether Thomas is entitled to a "certificate of appealability" ("COA"), a procedural prerequisite to obtaining appellate review of the issues in his case.
Thomas was sentenced to death in 2005 for the murders of his ex-wife, their son, and his ex-wife's daughter. His lawyers did not contest that he had committed the murders, but argued he was incompetent to stand trial.
Thomas began hearing voices at age nine and began smoking marijuana and using alcohol during his childhood. His condition sharply deteriorated shortly before the murders, as he heard voices, repeatedly mutilated himself, put duct tape over his mouth for days at a time because he believed God had told him not to talk, and attempted suicide.
While in jail awaiting trial, Thomas gouged out his right eye. In 2008, while on death row, he then gouged out and ate his left eye.
Three psychologists who evaluated Thomas before trial said he had paranoid schizophrenia and was incompetent to stand trial. However, after just six weeks of treatment, a state hospital psychologist claimed that Thomas had been exaggerating the symptoms, changed his diagnosis to "substance-induced psychosis," and judged Thomas competent to be tried. Thomas's trial lawyers did nothing to contest the competency finding—allowing the trial to proceed—failed to retain an expert to challenge the state's diagnosis of drug-related psychosis, and failed to present significant evidence of his mental illness.
On appeal, Thomas challenged his lawyers' performance on these issues. Appeal counsel also argued that, as a result of trial counsel's failures, Thomas's jury was impermissibly tainted by racial bias.
Thomas is Black; his ex-wife was White. Written questionnaires submitted by several jurors suggested this raised serious concerns for several of the jurors. One juror wrote that he opposed interracial marriages because he believed "the bloodlines shouldn't be mixed." Another expressed concern that "any children" of an interracial marriage "would not have a specific race to belong to." A third said "interracial relationships were contrary to God's intent." Although Thomas's trial counsel were aware of these responses, they asked no follow-up questions of these jurors, and accepted them to serve on the jury.
Finally, Thomas's current lawyers argued that subjecting people like him, with severe mental illness, to the death penalty is categorically unconstitutional. "There is a growing consensus against the execution of the severely mentally ill," they wrote in a brief. "The leading legal and mental-health professional organizations—including the American Bar Association, the American Psychiatric Association, and the American Psychological Association—oppose the death penalty for the severely mentally ill."
[UPDATE: The Fifth Circuit granted Thomas a certificate of appealability permitting him to appeal the denial of his claims that his lawyers were ineffective in failing to challenge his competency, failing to present mitigating evidence relating to his mental illness, and failing to take action to keep jurors who expressed clear racial animus off his jury. The court denied his request for a COA on the constitutionality of executing prisoners who are severely mentally ill.]
Sources
Keri Blakinger, Lawyers argue whether Texas death row inmate who ate own eye­ball too men­tal­ly ill to exe­cute, Houston Chronicle, June 5, 2018; Michael Graczyn, Appeals Court Hearing for Texas Inmate Who Ate His Eye, Associated Press, June 5, 2018; Michael Hall, Is Andre Thomas Too Crazy to Be Executed?, Texas Monthly, June 4, 2018; Editorial, Death penal­ty inap­pro­pri­ate for a con­vict­ed mur­der­er who ate his own eye, Houston Chronicle, June 4, 2018.
See Mental Illness.
Innocence
Sep 20, 2023
Glynn Simmons Exonerated
48

Years After He Was Sentenced to Death in Oklahoma
Arbitrariness
Sep 13, 2023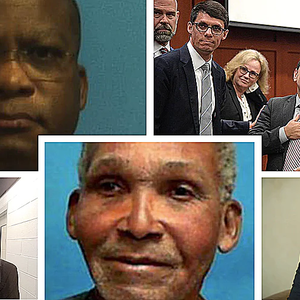 When Jurors Do Not Agree, Should a Death Sentence Be Imposed?