Texas executed Mark Soliz (pictured) on September 10, 2019, after a federal appeals court denied him a stay and dismissed his claim that his lifelong mental impairments resulting from fetal alcohol syndrome should exempt him from execution. Soliz had sought a stay and to be resentenced to life without parole, arguing that his mother's alcohol consumption during her pregnancy impaired his intellectual development in a manner that was the "'functional equivalent' of conditions already recognized as disqualifying exemptions to the death penalty."
In 2002, the U.S. Supreme Court ruled in Atkins v. Virginia that people with intellectual disability cannot be executed. Soliz's appeal stated that "[e]xpansion of the Supreme Court's holding in Atkins to protect offenders suffering from FASD [fetal alcohol spectrum disorder] is a constantly evolving doctrine that merits further consideration." He also argued that recent changes to the DSM-5, the most recent diagnostic manual used by mental health professionals to diagnose mental illness and developmental disorders, such as intellectual disability, mean that "higher IQ scores no longer bar a diagnosis of an intellectual disability."
Soliz's attorney, Seth Kretzer, said the execution "should certainly be stayed. … Mr. Soliz is a victim of his mother's ingestion of harmful substances in the womb. Supreme Court doctrine will not permit the execution of people who are functionally developmentally impaired." On September 9, 2019, the U.S. Court of Appeals for the Fifth Circuit rejected Soliz's appeal and denied his application for a stay, noting that federal habeas corpus review is limited to federal constitutional law that has already been clearly established by prior U.S. Supreme Court decisions. The appeals court said that the . Supreme Court's ruling in Atkins declared the death penalty unconstitutional only when applied to individuals with the particular development disorder "intellectual disability" (then known as "mental retardation"), as opposed to persons who have general intellectual disabilities as a result of other disorders.
Soliz's counsel had argued in an earlier appeal that he qualified for a diagnosis of intellectual disability. The courts, however, rejected his claim ruling that that Soliz's IQ score of 75 was slightly above the threshold for a diagnosis of intellectual disability. Texas prisoner Dexter Johnson successfully obtained a stay of execution in August, arguing that the Texas court's denial of his intellectual disability claim should be reconsidered in light of the changes in the new DSM relating to the way in which intellectual disability is determined. The Fifth Circuit distinguished its ruling in Johnson's case, writing that for Johnson's holding to apply to him, Soliz "needed to show a meaningful change in the manner in which the medical field diagnoses FASD and that his disorder is now medically equated to intellectual disability as defined in Atkins."
Like many death-row prisoners, Soliz experienced chronic trauma throughout his childhood. He witnessed his aunt's murder and was surrounded by prostitution and drugs. Defense attorney Greg Westfall said of Soliz: "That case was overwhelmingly sad for everyone involved. The effects of neglect and trauma on a developing brain are becoming better known. Basically, Soliz had a monstrous childhood and should not be executed. The death penalty is stupid. It fulfills none of the promise of closure and is incredibly expensive."
Soliz's case also highlights the high costs of death-penalty trials. According to Johnson County District Attorney Dale Hanna, "It was our most expensive and longest trial in the county's history. The expense of these type trials is just staggering." County Auditor Kirk Kirkpatrick said the trial, which ended in 2012, cost $903,544.13, not including the cost of Soliz's incarceration or appeals.
Sources
Matt Smith, Convicted killer of two set for exe­cu­tion, Cleburne Times-Review, September 7, 2019; Sarah Marloff, Death Watch: Mark Soliz Hopes One Stay Leads to Another, The Austin Chronicle, September 6, 2019; Juan A. Lozano and Michael Graczyk, Texas inmate set to be exe­cut­ed for killing woman in 2010, Associated Press, September 10, 2019; Joseph Brown, North Texas man apolo­getic pri­or to exe­cu­tion, The Huntsville Item, September 10, 2019.
In re: Mark Anthony Soliz, U.S. Court of Appeals for the Fifth Circuit, September 9, 2019.
Innocence
Sep 20, 2023
Glynn Simmons Exonerated
48

Years After He Was Sentenced to Death in Oklahoma
Arbitrariness
Sep 13, 2023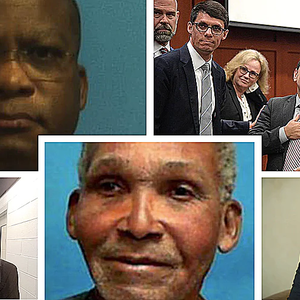 When Jurors Do Not Agree, Should a Death Sentence Be Imposed?