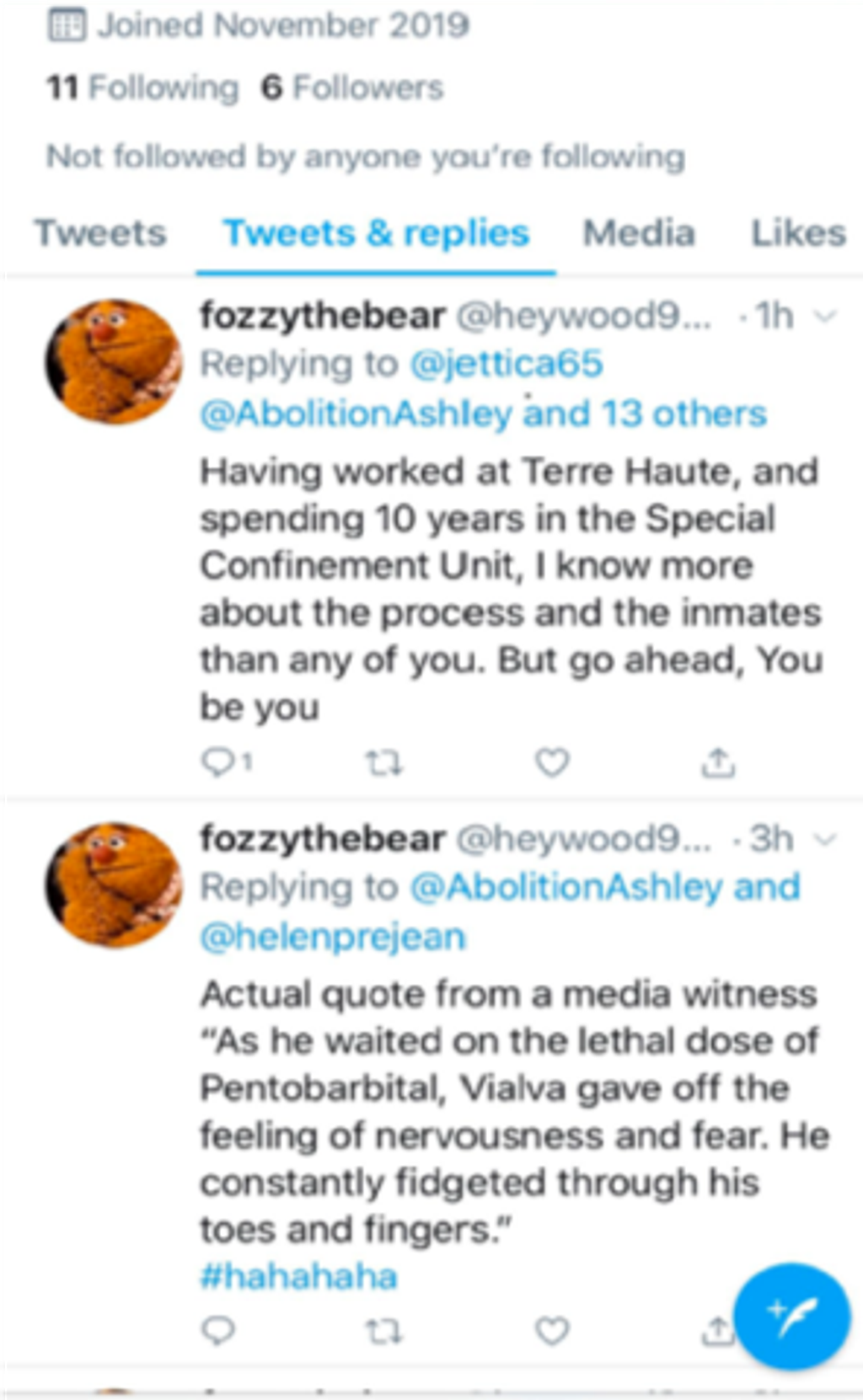 The Federal Bureau of Prisons (BOP) has removed a senior prison official from his position as a death-row counselor in the wake of charges that he used an anonymous Twitter account to troll a death-penalty activist and to mock federal death-row prisoners.
Andrew Sutton, a Special Confinement Unit (SCU) Counselor at the Federal Correctional Complex — Terre Haute, was quietly reassigned after he was linked to a Twitter account named fozzythebear that, a lawsuit alleges, disparaged, defamed, and taunted an anti-death penalty lawyer. The lawsuit, filed on December 28, 2020 by Ashley Kincaid Eve, a lawyer who assisted Christopher Vialva's defense team with Vialva's social media outreach and clemency petition, accuses Sutton of anonymously tweeting information he obtained in his professional capacity to "harm [her] reputation and lower her standing in the community regarding her legal advocacy" and to intentionally inflict emotional distress.
The lawsuit alleges that Sutton used privileged information to "go out of his way to taunt her." As Kincaid Eve worked to spread news about Vialva's case, an anonymous Twitter account named fozzythebear tweeted that "[t]his crazy lady is not a part of his legal team. She is just trying to be famous." Screenshots of postings from the since-deleted Twitter account show another fozzythebear tweet asserting that "Eve isn't on Vialva's legal team. She's a con-artist looking for 15 minutes of fame from the 'first black man' executed in 15 years. She's using Vialva for her own gain."
Screenshots of the fozzythebear tweets also show a posting deriding noted death-penalty opponent Sister Helen Prejean as "#fakenun."
As SCU Counselor, Sutton was responsible for setting up legal calls, legal visits, and other forms of contact for the prisoners on federal death row. Kincaid Eve was in regular communication with Sutton as she attempted to set up phone calls and in-person visits with Vialva. She alleges that Sutton divulged privileged information about her that he learned through his official position on the anonymous Twitter account.
Just nine days before Vialva's execution — on the same day Sutton in his official capacity denied Kincaid Eve a legal visit with Vialva — fozzythebear anonymously tweeted that Vialva "is getting exactly what he deserves" in response to a tweet about Kincaid Eve's advocacy in the case. The lawsuit alleges that this tweet "caused [Kincaid Eve] extreme mental distress … because not only had fozzythebear defamed her, she was aware that individuals at the Bureau of Prisons had been monitoring her social media."
After the execution, another fozzythebear tweet exulted over Vialva's apparent anxiety in anticipation of being put to death. "Vialva gave off the feeling of nervousness and fear," fozzythebear quoted a media witness as saying, and concluded "#hahahaha."
Kincaid Eve supported her allegation that fozzythebear had divulged confidential BOP information based upon his response to a tweet that three federal executions remained pending in 2020. "Don't count your chicken [sic] before they hatch," fozzythebear tweeted; "hopefully November and December will be a [sic] very busy month!" Later, more executions were scheduled over the course of 2020.
"It was clear this Twitter account existed solely for the purpose of expressing pleasure and support of executions," Kincaid Eve wrote in the lawsuit.
On September 26, 2020, Kincaid Eve emailed Sutton, writing, "By the way — and maybe it's even you — but some BOP (Bureau of Prisons) official who got promoted after ten years of working on death row has been defaming me and got a little too Twitter happy over the last few months about the sadistic pleasure being taken from these killings," according to the lawsuit. Sutton was subsequently removed from his position as SCU Counselor in September or October, according to the lawsuit.
Sources
Vic Ryckaert, Lawsuit: Federal death row coun­selor removed from post after tweets cel­e­brat­ing exe­cu­tions, Fox 59, December 28, 2020; Mark Fitton, Lawsuit: Death row coun­selor removed from job, Tribune Star, December 29, 2020; Trone Dowd, Prison Counselor Created a Burner Twitter Account to Mock Death Row Inmates, Lawsuit Says, Vice News, December 29, 2020.
Read the law­suit Kincaid Eve filed against Andrew Sutton here.
Victims' Families
May 30, 2023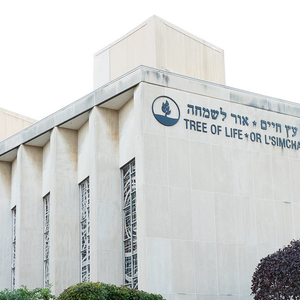 Victims' Families are Divided Over Death Penalty as Bowers Trial Begins
Sentencing Data
Mar 22, 2023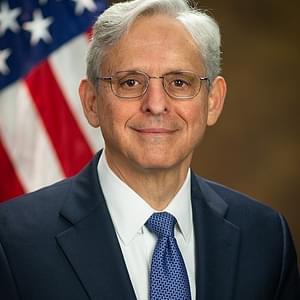 Federal Government Announces Withdrawal of Intent to Seek Death in North Dakota Case