A federal jury voted today that Zacarias Moussaoui should serve a sentence of life in prison without parole despite the government's assertion that his lies to FBI officials contributed to the terrorist attacks of September 11, 2001. Earlier the jury had found that Moussaoui was responsible for some of the deaths that took place on September 11, and that he was eligible for the death penalty. After weeks of testimony during the sentencing phase of the trial, the jury took 7 days to recommend a sentence of life without parole. In their verdict, the jury unanimously agreed that Moussaoui "knowingly created a grave risk of death" for more than the intended victims of September 11th, and that he committed his acts with "substantial planning," two of the aggravating factors listed in the death penalty statute.

Moussaoui's defense team, with whom he did not cooperate, argued that he is a delusional schizophrenic. They maintained that Moussaoui took the witness stand to confess his role in the September 11 attacks because he wanted to achieve martyrdom through execution. During the sentencing phase, jurors heard testimony from victims' family members, some of whom supported and some who opposed the death penalty for Moussaoui, from mental health experts, and others who were directly impacted by the events of 9/11.

Following the verdict, Terry Rockefeller, whose sister was killed in the World Trade Center attacks, noted, "Had the jury sentenced Zacarias Moussaoui to death we would have turned a man with long-term mental health problems, whose direct responsibility for the 9/11 attacks are tenuous, into a martyr. Evidence introduced during the trial cast significant doubt on Moussaoui's importance within al Qaeda… . [M]ost fundamentally, I oppose the death penalty because I do not want to be the citizen of a state that kills. I do not want to be a party to more violence and killing."

The attacks took the lives of nearly 3,000 people and were the deadliest terrorist attack in U.S. history. The Alexandria courthouse where the trial was held is just miles away from the Pentagon, where one of the 9/11 attacks occured. Federal judge Leonie Brinkema is expected to impose the life sentence on Thursday, May 4.

(CNN & Associated Press, May 3, 2006, and Statement issued by Terry Rockefeller, May 3, 2006). Read the Jury's Verdict Form. See Federal Death Penalty and Arbitrariness.
Innocence
Sep 20, 2023
Glynn Simmons Exonerated
48

Years After He Was Sentenced to Death in Oklahoma
Arbitrariness
Sep 13, 2023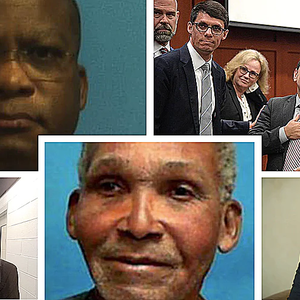 When Jurors Do Not Agree, Should a Death Sentence Be Imposed?