An Illinois woman who was sentenced to death without a trial as a result of a false confession coerced by a disgraced Chicago detective has been exonerated after 29 years.
Marilyn Mulero (pictured at a news conference following her exoneration) was exonerated on August 9, 2022 when a Cook County judge granted motions filed by State's Attorney Kim Foxx to dismiss all charges against her and six others who were framed for murder by former Chicago detective Reynaldo Guevara. Mulero is the 190th person and the third woman exonerated in the U.S. since 1973 after being wrongfully convicted and sentenced to death.
"We no longer believe in the validity of these convictions or the credibility of the evidence of these convictions," Foxx said.
Mulero's exoneration brings the total number of death-row exonerations from Cook County, Illinois to 16 — more than any other U.S. county. At least 14 of those exonerations have involved official misconduct by police or prosecutors, and eight have involved false confessions. The 22 death-row exonerations in Illinois are second only to Florida's 30 death-row exonerations.
Thirty-one wrongful convictions tied to Guevara's misconduct have now been overturned since 2016, including that of death-row exoneree Gabriel Solache. Guevera has been accused of framing defendants of murder in more than fifty cases, beating, threatening, and coercing suspects to obtain false confessions. According to the Illinois Innocence Project, Guevara refused to provide Mulero with legal counsel and subjected her to more than 20 hours of interrogation involving threats and manipulation.
Mulero spent 28 years in prison, five of them on death row, before being released in April 2020, when Governor J.B. Pritzker commuted her sentence. At a press conference after her charges were dismissed, Mulero said, "I had to be a strong individual because I had two toddlers when I was incarcerated. I had to fight for them. I had to be strong for them."
"There's other women out there that are incarcerated, that are innocent, that I will keep fighting for, just like our other Guevara victims that are in there," she said.
In its 2021 report, The Innocence Epidemic, DPIC explained that Cook County's then 15 death-row exonerations "are directly related to endemic police corruption, as the notorious 'Burge Squad,' operating under Chicago Police Commander Jon Burge, and disgraced Chicago detective Reynaldo Guevara systematically tortured or coerced innocent suspects into confessing to murders they did not commit. Illinois' high rate of wrongful convictions in death cases was a major factor in the state's 2011 repeal of capital punishment, as state officials decided there was no way to correct the inaccuracy of the state's death penalty system."
In 1992, Mulero and two other women were charged with luring two gang members to a park where they were shot to death, allegedly in retaliation for a prior gang killing. She was interrogated by Guevara and former Chicago Police Detective Ernest Halvorsen over the course of a 20-hour period in which she was denied sleep and access to counsel and threatened with the death penalty and loss of her children. She eventually signed a statement prepared by the detectives confessing to one of the murders.
After the trial court denied her motion to suppress the confession, Mulero's court-appointed lawyer advised her to plead guilty, which she did in September 1993. A jury was empaneled for the sentencing phase of trial and sentenced her to die. In May 1997, the Illinois Supreme Court overturned her conviction because her trial prosecutor improperly cross-examined her about the suppression motion and then argued to the jury that her answers indicated a failure to express remorse. She was resentenced to life without parole in 1998.
Represented by the California Innocence Project, the University of Illinois Springfield's Illinois Innocence Project, and the University of Chicago Law School Exoneration Project, Mulero successfully sought clemency in 2020 when Governor Pritzker reduced her sentence to time served.
After charges against Mulero were dropped, Illinois Innocence Project Co-Director Lauren Kaeseberg said, "today's exoneration of Marilyn and these other innocent men is a shining example of perseverance and a testament to the power of the human spirit. Their bravery in telling their stories gives us all hope that good can always prevail over evil."
Sources
Chicago top pros­e­cu­tor: 7 con­vic­tions tied to ex-cop vacat­ed, Associated Press, August 9, 2022; Adriana Perez, 7 mur­der con­vic­tions over­turned in a sin­gle day after pros­e­cu­tors stop back­ing group of cas­es tied to alleged mis­con­duct by dis­graced for­mer Chicago police detec­tive, Chicago Tribune, August 9, 2022; Sam Charles, Bronagh Tumulty, and Tahman Bradley, ​'We kept push­ing for­ward': Joy at the crim­i­nal cour­t­house after wave of exon­er­a­tions, WGN, August 9, 2022; Longtime UIS Illinois Innocence Project Client Marilyn Mulero Fully Exonerated, Illinois Innocence Project, August 9, 2022; Marie Fazio, She's spent more than half her life in prison. Now her lawyers say she should be freed because Chicago detec­tives coerced con­fes­sion., Chicago Tribune, October 10, 2020.
Photo by Gus Zaruba, cour­tesy of the Illinois Innocence Project. Illinois Innocent Project (IIP) client Marilyn Mulero speaks to press at the Cook County Courthouse in Chicago fol­low­ing her exon­er­a­tion on Tuesday, August 9, 2022; to the left is IIP Co-Director Lauren Kaeseberg.
Human Rights
May 24, 2023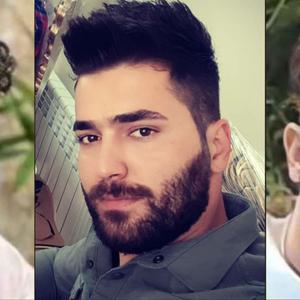 Iran Continues Aggressive Use of Death Penalty Despite International Condemnation