Robert Cindrich, a former U.S. District Judge and U.S. Attorney for the Western District of Pennsylvania, recently wrote an op-ed for the Harrisburg Patriot-News calling Governor Tom Wolf's moratorium on executions in Pennsylvania "appropriate" and "reasonable." Expressing concerns about "multiple, serious problems with the death penalty" in Pennsylvania, Judge Cindrich says Governor Wolf "was absolutely correct" that no executions should take place until the Pennsylvania Advisory Committee and Task Force on Capital Punishment completes its study of the state's death penalty and makes recommendations for reform. In particular, Cindrich is "highly concerned about the fairness of [Pennsylvania's] capital punishment system." He points to "the reversals of most death sentences, the poor compensation of public defenders in capital cases, and the racial bias in Pennsylvania's imposition of death sentences" as areas all "in dire need of improvement." More than half of the 400 death sentences imposed in Pennsylvania have been reversed "due to serious flaws or misconduct at trial," he says, which indicates "that far too many individuals received unfair and unwarranted sentences of death."
Judge Cindrich also criticizes the underfunding of public defenders. "Pennsylvania's capital public defenders are among the lowest-paid in the nation…Our low pay scale can result in low-quality lawyering where only the highest standard fits the gravity of the possible sentence at hand – the taking of a human life by the state." Finally, he highlights the racial disparities in death sentences, quoting a Pennsylvania Supreme Court Committee that found, "one-third of the African American death-row inmates in Philadelphia County would have received life imprisonment if they had not been African American." He concludes, "If we are to have the penalty of death imposed on citizens by Pennsylvania, we should use every tool available to make capital punishment as fair as it can possibly be." The Pennsylvania Supreme Court has scheduled oral argument on Thursday, September 10 on the Governor's authority to use his reprieve power to impose a moratorium on executions.
(R. Cindrich, "Gov. Wolf made the right call on death penalty moratorium: Robert Cindrich," The Patriot-News, September 3, 2015.) See New Voices and Pennsylvania.
Innocence
Aug 17, 2022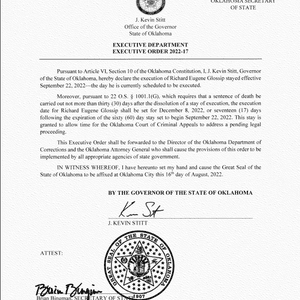 Oklahoma Governor Delays Richard Glossip's Execution to Allow Litigation of Innocence Claims