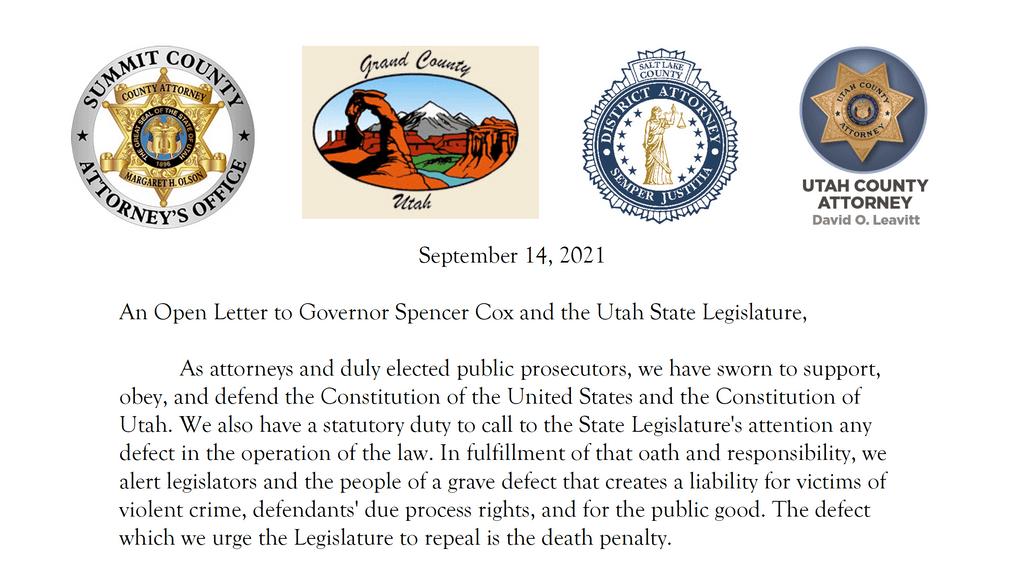 Four Utah district attorneys, representing counties that comprise 57.5% of the state's population, have urged the state legislature and Utah Governor Spencer Cox to enact legislation to repeal and replace Utah's death penalty.
In an open letter to Cox and the legislature released September 14, 2021, Salt Lake County District Attorney Sim Gill, Grand County Attorney Christina Sloan, Summit County Attorney Margaret Olson, and Utah County Attorney David Leavitt — two Republicans and two Democrats — called capital punishment "a grave defect" in the operation of the law "that creates a liability for victims of violent crime, defendants' due process rights, and for the public good."
The four prosecutors wrote, "the death penalty in Utah today is a permanent and irreversible sentence within an imperfect system. It fails to deter crime. It retraumatizes victims. It disproportionately applies to minorities. It is expensive. And it makes plea negotiations coercive." Endorsing legislation proposed September 8 by State Representative Lowry Snow and State Senator Daniel McCay, the prosecutors said "[t]he Legislature would better serve Utah by replacing the death sentence with [a] 45 years to life term," permitting aggravated murder in the state to be punishable by a sentence of life without parole, 45 years to life, or 25 years to life.
The prosecutors unveiled their letter in a news conference hosted by Gill and attended by Leavitt and Olson. Gill, whose office serves the nearly 1.2 million people in Utah's largest County, stressed the untrustworthiness of the justice system to perfectly protect the innocent. Noting that one death-row prisoner has been exonerated for every nine people executed since capital punishment resumed in the U.S. in the 1970s, Gill said, "If a pilot was good only 90% of the time at landing the plane, we would say that person shouldn't be flying." Leavitt, whose office serves the 665,000-person Utah County, the second largest in the state, was more blunt. "The death penalty," he said, "is simply a big lie that we tell ourselves to help us believe that we're making a difference."
Snow and McCay emphasized the death penalty's adverse impact on family members of murder victims in their earlier news conference announcing the repeal effort. Olson returned to that theme at the prosecutors' news conference. "Instead of the death penalty providing closure to victims," she said, "the constitutional appeals that follow mean a death sentence will take decades to impose if it ever happens. … Since the year 2000, more men have died of old age on death row [in Utah] than by execution."
The open letter also directly addressed the issue of racial discrimination in Utah's death penalty. The population of Utah is more than 86% white but its death row is 42.9% prisoners of color. The letter states that the first two people executed in the Utah territory were Native American and two of the seven people executed in Utah since 1977 were Black. "Utah is more likely to execute racial minorities than white people for the same offense," it says. The state's seven-person death row currently includes one Black, one Latinx, and one Native American prisoner.
The prosecutors also addressed what they described as the "inherently coercive impact" of the death penalty on plea negotiations. "A defendant's need to bargain for one's very life in today's legal culture … gives already powerful prosecutors too much power to avoid trial by threatening death," the letter states. Leavitt told Salt Lake City news outlet KSL, "Do we really want to live in a society where the government will threaten to kill us unless we agree to spend the rest of our life in prison, and at the same time we allow the government not to prove its case against us?"
The prosecutors conclude their letter with a call to add a sentencing option of 45 years to life to Utah's aggravated murder statute. "As prosecutors, we are not seeking mercy for the murderer but justice for the people," they explain. "A 45 to life sentence will mean that if an offender ever gets out, it will not be until the twilight of their lives. That will protect the public and, to the extent possible, provide a small measure of justice for what that person has taken away." Their proposal would still permit life without parole or 25 years to life as alternative sentencing options.
Gill said the prosecutors had worked with legislators to draft repeal legislation, and that they believed the addition of a 45 years to life sentence was essential. "I've talked to far too many victims who just said, '25 to life? That's all we can look forward to?' So, it was a very deliberate number that I chose, which was 45 to life. That says, this takes this matter seriously. That recognizes the seriousness of the harm and the kind of accountability that victims are looking for. And it will age somebody out so that they will never be able to commit that type of offense again," he said.
The letter was released less than a week after two Republican legislators announced a renewed effort to repeal the state's death penalty and Leavitt announced he will no longer seek death sentences. The prosecutors' letter echoed the sentiments expressed by Snow and McCray, who said the death penalty "sets a false expectation for society, sets a false expectation for the victims and their families, and increases the cost to the state of Utah and for states that still have capital punishment."
Sources
Paighten Harkins, Utah pros­e­cu­tors urge law­mak­ers to pass bill abol­ish­ing death penal­ty, The Salt Lake Tribune, September 14, 2021; Austin Facer, ​'Extremely sig­nif­i­cant': Death penal­ty expert believes Utah may be on path to elim­i­nate cap­i­tal pun­ish­ment, ABC4, September 14, 2021; Pat Reavy, 4 coun­ty attor­neys in Utah call for end to death penal­ty, KSL, September 14, 2021.
Read the pros­e­cu­tors' open let­ter to Governor Cox and the Utah legislature.
Innocence
Mar 31, 2023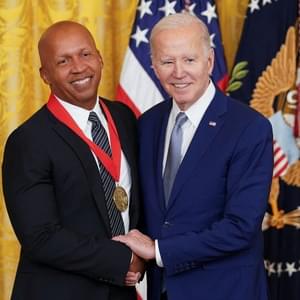 Bryan Stevenson Honored with the National Humanities Medal